by Steve Urena
Score One for Sports… Literally
By Steve Urena
Offer kids an opportunity to attend a writing camp, and you're likely to be greeted with blank stares. Offer those same kids a chance to write about sports and it's a whole new ballgame. That's the concept behind Write On Sports, the brainchild of veteran sportswriter and editor Byron Yake, who opened the afterschool program and summer camp in 2005. Since then, hundreds of aspiring scribes have pursued their passion, while honing skills that will serve them for a lifetime.
Yake, who worked for the Associated Press for two decades, wanted to give back to the journalism community by passing down his knowledge to the next generation of sports journalists. The Write On Sports director designed his program so that children could strengthen their communication and literacy skills by using sportswriting as a learning tool. The high-interest subject matter keeps them motivated, as does the 4:1 student-to-instructor ratio.
Write On Sports has focused primarily on middle- schoolers in order to prepare them for high school and beyond. One of its success stories, Kevin Lopez, parlayed his success in the program to become class valedictorian at Newark Technology High School for 2012, and now attends Princeton University. Lopez credits his own personal successes to being a three-time participant in the Write On Sports program.
"Write on Sports helped me, overall, in school," he says. "My self-expression skills have improved and a blank piece of paper is no longer a fear. Before, I used to think writing was something they made us do. Now it's something I like to do."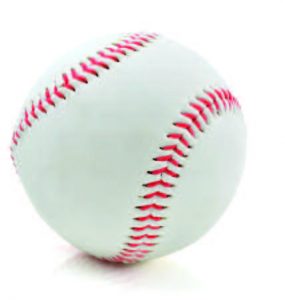 Among the high points of the program are the visits from working sportswriters, including writers from The Daily Record, The Star-Ledger, Sports Illustrated, ESPN The Magazine and several TV and radio stations. During Super Bowl week this year, NFL writer Peter King took four young writers out to lunch to talk shop. Another popular feature of Write On Sports is attending and writing about live games, as well as interviews with players and coaches. The curriculum has expanded to touch on sports blogging and also video journalism, with the kids getting to work with microphones and video editing equipment.
"Seeing children who are not very confident about their writing transform at the end of the program with a new sense of confidence is the most rewarding part of this job," explains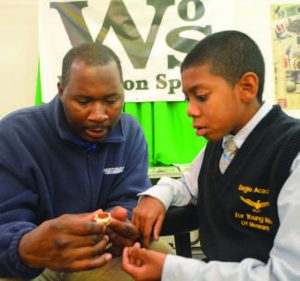 lead instructor Andy Beutel. "This is their summer vacation. They are choosing to do this and are enjoying themselves when writing. I don't think schools give children the opportunity to do that very often, so Write On Sports definitely gives kids that chance to have fun while learning."
Editor's Note: Steve Urena began writing about a wide range of sports as a teenager, and is currently working for World Wrestling Entertainment. For more information about Write On Sports camps and after-school programs, log onto writeonsports.com. At right, former Tampa Bay Bucs linebacker Al Singleton shows off his Super Bowl ring during a visit with an aspiring sportswriter.