EDGE takes you inside the area's most creative kitchens.
Sonny's Indian Kitchen • Sonny's Butter Chicken
225 Main Street • CHATHAM (973) 507-9462/9463 • sonnysindiankitchen.com
Sonny's butter chicken is one of the best, delicious, smooth buttery and richest among Indian curries. It is made from chicken marinated overnight and baked in a clay oven then simmered in sauce made with tomatoes, butter and various spices.
— Chef Sonny
---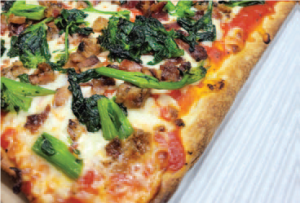 Krust Kitchen • Philly Special
7 Cross Street • MADISON (908) 525-7878 • krustkitchen.com
A 12" x 18" Grandma style pizza with roast pork, bacon, sautéed broccoli rabe and our Midwest cheese blend. Chili flakes on request.
---
Common Lot • Wagyu Beef Tartar
27 Main Street • MILLBURN (973) 467-0494 • commonlot.com
Our wagyu beef tartar is paired with a Singapore style pepper sauce, summer herbs and flowers and sea beans.
— Head Chef/Owner Ehren Ryan
---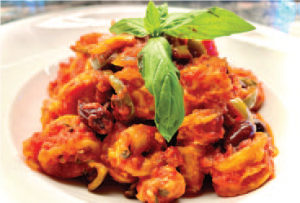 Trattoria Gian Marco • Calamari Toscano
301 Millburn Avenue • MILLBURN (973) 467-5818 • gianmarconj.com
Another delicious addition to our fabulous menu. Tender calamari fried and sauteed with cherry peppers, capers and kalamata olives in our plum tomato sauce.
— Chef Genero
---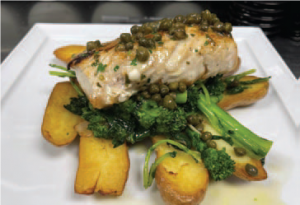 PAR440 • Mahi Mahi
440 Parsonage Hill Road • SHORT HILLS (973) 467-8882 • par440.com
Pan seared Mahi Mahi with capers over broccoli rabe and fingerling potatoes.
— Chef Pascual Escalona Flores
---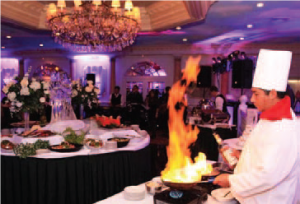 Galloping Hill Caterers
Galloping Hill Road and Chestnut Street • UNION (908) 686-2683 • gallopinghillcaterers.com
Galloping Hill Caterers has been an incredible landmark for over 70 years. We pride ourselves in delivering "over the top" cuisine, impeccable service and outstanding attention to detail. That is the hallmark of our success! Simply, an unforgettable experience. Pictured here is one of our crepes flambé that really creates lots of excitement!
— George Thomas, Owner
---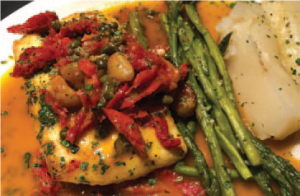 Limani Seafood Grill • Pan Seared Halibut with Sun Dried Tomato
235 North Avenue West • WESTFIELD (908) 233-0052 • limaniseafoodgrill.com
Extra virgin olive oil, roasted garlic, lemon juice, capers, white wine, parsley, served with roasted potato and garlicky green beans.
— Chef/Owner George Vastardis
---
Welcome Back!
The restaurants featured in this section are open for business and are serving customers in compliance with state regulations. Many created special items ideal for take-out and delivery and have kept them on the menu—we encourage you to visit them online.
Do you have a story about a favorite restaurant going the extra mile during the pandemic? Post it on our Facebook page and we'll make sure to share it with our readers!
EDGE is not responsible for any typos, misprints or information in regard to these listings. All information was supplied by the restaurants that participated and any questions or concerns should be directed to them.