by Diane Alter
SOAR! addresses the retirement needs of the 'religious elderly'
By Diane Alter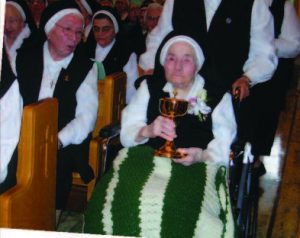 In the secular world, we don't think much about the retirement needs of Catholic priests, sisters and brothers. Yet, as exceptional and unwavering as they are in their devotion to others, they are just as susceptible to the challenges of aging as we are. Perhaps more so, in fact.
Many turn to Support Our Aging Religious (aka SOAR!). Based in Washington, D.C., SOAR! is a non-profit, grant-generating organization that connects people of all religious denominations, all across the country, whose lives have been touched by unrivaled contributions from the professional Catholic community. Its aim is to raise funds, educate the public about serious retirement needs of the "elderly religious" and develop a national network of those who want to help.
"We support priests, sisters and brothers of religious orders," says Sister Kathleen Lunsmann, President of SOAR!. "While we don't support diocesan pri
ests, we do support Franciscans, Dominicans, Benedictines, etc. However, it's primarily sisters who are most in need of our help."
Born and raised in New Jersey, Sister Kathleen is a former member of New Providence's Our Lady of Peace Parish, where she remained until entering The Congregation of the Sisters, Servants of the Immaculate Heart of Mary in Scranton, Pennsylvania. However, with siblings and their families still in the Garden State, Sister Kathleen frequently comes back across the Delaware. A recent visit included a stop at the Conventual Franciscan Friars in Seaside Park to bring them a grant check for $25,000. The money will be used to replace windows in the home of retired Franciscan priests.
"In my position at SOAR!, I am honored to raise money to help elderly sisters and brothers," she says. "These dear religious men and women have given their lives in service to others and now it's time for us to give back and care for them. For most of their working years, sisters who are now retired received little compensation for their work in schools, hospitals and parishes. Today, it's different. Congregations are compensated for the work of the sisters. But retired sisters need to rely on benefactors like their former students to help them in their aging years."
The sisters are not asking for much, explains Sister Kathleen. For example, they might need funds for a bathroom renovation to accommodate a wheelchair. Or there might be a need for money for a stair lift so sisters can access a floor on their own.
For more information on SOAR! log onto soar-usa.org.