by Caleb MacLean
A Trinitas Family Spans Three Generations
What's in a name? Every day, we pass by buildings and parks and other public spaces that bear the names of people we know little or nothing about. In the case of the new Thomas and Yoshiko Hackett Ambulatory Surgery Center at Trinitas Regional Medical Center, there's more to those names than perhaps anyone knows.
The Hacketts have left behind a thriving legacy of a hardworking family which has remembered its roots. Tom Hackett was born in Elizabeth to Irish immigrants. He served in the Air Force during the Korean War, and while overseas he met his future wife, Yoshiko, in Japan. The Hacketts lived in Elizabeth for three decades, raising eight children, all of whom were born in St. Elizabeth Hospital. They moved to Roselle Park and then Clark in 2007. Tom was a letter carrier for the U.S. Post Office in Elizabeth for 35 years. He also worked many part time jobs in order to provide for his family of 10. Yoshiko worked part time for the Elizabeth Board of Education for a number of years. Tom passed away in 2010 and Yoshiko earlier this year.
During their lifetimes, Tom and Yoshiko were longtime supporters of Trinitas. Their legacy lives on since their generosity has made it possible for Trinitas to realize a vision for better health care for the community. In 2014, the family's generosity and devotion was recognized with the opening of the Ambulatory Surgery Center bearing their names. The 9,500 square foot outpatient facility has already proven vital to the community, and has reduced the demands on the hospital's busy main operating rooms.
As Gary S. Horan, President and Chief Executive of Trinitas, explains, "The measure of a man is often based on what he does in his lifetime and in the legacy he leaves behind. Tom and Yoshiko Hackett loved Elizabeth and never forgot the City in which they lived, worked and raised their family. They passed along that abiding love and regard for their hometown to their children who, like their parents, are committed to supporting programs and initiatives that help Trinitas meet the health care demands of the communities it serves."
Their daughter, Eileen, is currently a member of the Trinitas family, working in the Information Technology department, and their son, Patrick, serves on the Trinitas Regional Medical Center Board of Trustees. Eileen and Patrick's siblings—Ali, Faith, Tom, John, Michael and Mary Catherine—have also remained connected to the hospital in various ways, including annual giving to the Trinitas Health Foundation. A third generation is also involved with Trinitas as several of Tom and Yoshiko's 19 grandchildren are donors and event volunteers.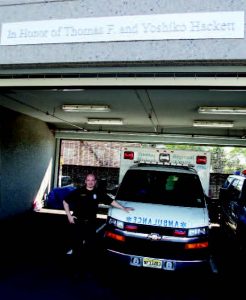 "Our parents were hard-working and very caring, and taught all of us the importance of helping each other and supporting others in the community," says Patrick Hackett. "We are so pleased to have the opportunity to honor them at Trinitas, an organization they had such important connections to and that meant so much to them."
The Hackett family's connection to Trinitas—now three generations and growing—continues to move the medical center forward. More important, it will benefit the people in Union County and beyond for generations to come. EDGE
Editor's Note: In addition to the Ambulatory Surgery Center, Thomas and Yoshiko's names also grace the Trinitas Emergency Services headquarters (right) in the Center for Regional Education (CORE) on Elizabeth Avenue in midtown Elizabeth. Nick Schoendorf, Communications Supervisor, (right) represents his fellow EMTs.