by Rachel Rutledge
Keeping a marriage on track takes hard work and an open mind. The obstacles are unrelenting. The rewards sometimes seem few and far between. Money, job stress, child rearing and personal growth (or lack thereof) are among the big-picture challenges. Just as vexing are all the little conflicts that must be resolved merely to stay focused on moving the relationship forward. Then one day you wake up, look at your mate and wonder, "Do I really know this person?" Or worse, "Do I really know myself?" The good news is that successful couples find a way to muddle through and come out stronger on the other side. As a rule, they learn to divide their stress load as time and circumstances dictate. However, they make sure to deal with the "big stuff" as a team. This strategy is vitally important when facing the health issues that crop up as couples age. Almost every family will have to deal with a major illness at some point. How couples get through it can depend as much on their teamwork as it does on their doctors. That is why the medical field is placing increasing emphasis on providing the highest quality information and support to patient and spouse long before the physical healing process even begins.
"Patients' emotional stability is as important as their physical well being, which is why—if and when possible—they should embark on this journey with their significant other," says Alan P. Krieger, MD, whose patients include men undergoing prostate cancer treatment. "Couples should absolutely go through the initial steps together. Both need to understand what's going to happen, and that works best when the doctor is able to meet both patient and partner." Indeed, where once spouses were spared the unpleasant details of a surgical procedure—and as a result were unprepared to deal with the aftermath—now full disclosure is a crucial part of recovery.
That begins with understanding the options. For instance, most people understand that hysterectomies are performed for several reasons (ranging from unusual conditions such as ovarian carcinoma to something relatively common, such as irregular bleeding or pelvic pain). Yet they have no idea how many ways this procedure can be performed. At Trinitas Regional Medical Center, many operations—including prostate surgery and hysterectomies—are now done with the da Vinci robotic surgical system. "Good vision and maneuverability translates into more precision and a faster recovery for the patient," says Kamran Khazaei, MD, FACOG. "The da Vinci lets surgeons see in high-definition. And by using the robotic arms with both hands, we are able to perform very delicate procedures. In many cases where patients used to need four or five days to recover, they are walking and eating the next day. In the more aggressive surgeries, recovery has been reduced from weeks to days."
Not all cases can be addressed robotically, Khazaei cautions, ovarian cancer being one example. Likewise, not all options involve surgery. "You have to cater to each patient individually," he says. "With medications. Injections. Therapy. As physicians, our job is to treat our patients in the least invasive way possible." "In issues related to menopause," he adds, "we are sensitive to the fact that women experience it, but also that men deal with it. We look for ways to keep both parties sane." Sanity also comes into play with another medical issue that has become increasingly common among couples: Obesity. The patients treated by Joao A. Lopes, MD, and Muhammad S. Feteiha, MD, FACS, often are at the end of their rope. After years of yo-yo dieting and deteriorating health, they want to discuss a surgical option, either a gastric bypass or a gastric band. Lopes can quote the statistics on both procedures chapter and verse. Bypass patients achieve around 80 percent of the weight they anticipated losing, while band patients drop about 40 percent. That easily outweighs the option of doing nothing.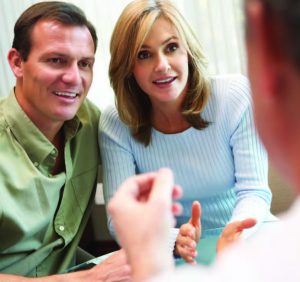 Those who fail to address their obesity in a substantial way (through diet, exercise, surgery or a combination of the three) are 300 times more likely to die 15 years earlier than people who keep their weight under control. The number that impresses Lopes most, however, is that more than 70 percent of the patients he sees come in as couples. "Success depends greatly on the understanding and support of partners and spouses," he says. "It helps tremendously to have someone encouraging your new lifestyle, exercising with you and taking part in the process. A husband or wife must take part in their new eating behavior and move toward healthier types of foods." As with most medical procedures, sorting through the options as a couple is the first step in a successful outcome. In the case of a band or bypass, knowing what has to happen afterwards is just as crucial. "Bariatric surgery patients really have to understand the new diet and what they're getting into in terms of the process after surgery," says Lopes. "The support of a spouse is tremendous, and we have a bariatric coordinator here in the office to help. Basically, we get through it together." To help support his recovering patients, Dr. Krieger actually started the first New Jersey chapter of Us TOO, which counsels prostate cancer survivors and their partners. "My main goal is to cure the cancer," he says, "but a key part of the recovery is for couples to know how they can work together to improve their lives and their relationship."
 Editor's Note: Rachel Rutledge is EDGE's ace Editorial Assistant. Lisa Milbrand, who usually writes our Healthy Edge feature, conducted the interviews for  this story.