by Yolanda Navarra Fleming
The Connie Dwyer Breast Center opens at Trinitas.
By Yolanda Navarra Fleming
Connie Dwyer, a breast cancer survivor from Summit, was not shocked by her breast cancer diagnosis back in 1999. In fact, she almost expected it, in spite of the fact that her parents lived long, cancer-free lives and she was not considered high-risk. But there were other factors that came into play. For instance, her father smoked cigars. She grew up in Niagara Falls, NY near chemical plants. Connie even smoked for a short time when she was in college. Perhaps the most interesting fact of all was her older brother's breast cancer diagnosis five years prior to her own. He lived for 17 years without traditional therapies until it spread to his lungs and eventually his brain, before he died.
"Early screening is the most important thing," she said. "I have friends who don't like doctors and don't go to the doctors. But I always felt that I was going to get breast cancer. I had a dear friend when I was in my early 30s, who was 10 years older, who passed from breast cancer and because of that, it was always on my mind. So I always went for my mammograms. And then when my brother was diagnosed, I would get a mammogram, see a breast surgeon and my gynecologist, so I was seeing someone four times a year because I just had a feeling."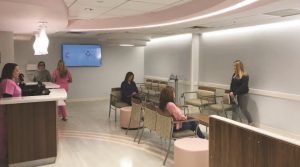 The year she was diagnosed, it had only been 11 months since her previous mammogram, which meant it would not be covered by insurance. She paid for it and that's when it was discovered. "Had I waited and we went away for the summer like we usually did, it would have been another four months. My instincts were good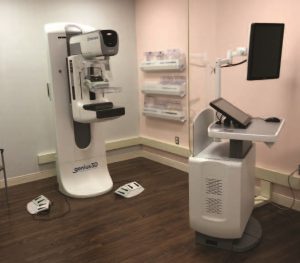 She had a double mastectomy and chemotherapy, and shortly after being released from the hospital, her oldest daughter learned that she had a lump that needed to be removed. It was benign and she has been fine ever since
Her experience inspired her to go to the next level
 "During my chemo, there was a young girl who took a bus to get her chemo. She was a single mother with two children who took two buses to get to work after chemotherapy. I thought to myself, if you don't have family around to help you, can you imagine how much harder it would be? That's what inspired me to do what I do. And what I do could not be done without the board I have. I couldn't do this on my own. It's everyone who works with us that makes the outcome possible
Connie and a dedicated group of friends began a grassroots effort, where she worked tirelessly to create awareness and raise funds. By 2005, the doors of the first Connie Dwyer Breast Center had opened at St. Michael's Medical Center in Newark. However, when St. Michael's was purchased by a for-profit, Connie began looking for another non-profit hospital for a new center
"What inspired us to partner with Trinitas Regional Medical Center is that our missions are so similar—to serve the poor and vulnerable women in the community. When I walked into Trinitas, not only was it one of the cleanest hospitals I've been in, everyone was happy. That in itself made us want to be there."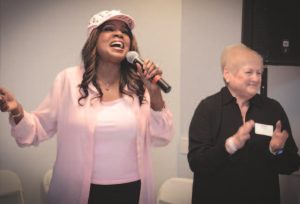 Just in time for Breast Cancer Awareness Month, the $3.4 million Connie Dwyer Breast Center opened at Trinitas on October 1 with a ribbon-cutting ceremony featuring Connie Dwyer, the Trinitas leadership, local officials such as Elizabeth Mayor Christian Bollwage, and a special guest appearance by Grammy award-winning singer Gloria Gaynor (left, with Connie), who sang "I Will Survive
Trinitas has partnered with The Connie Dwyer Breast Cancer Foundation to bring a highly empathic approach to screening, diagnosis, treatment, and community outreach and education to all women, regardless of financial status, in a brand new facility that evokes comfort and a sense of well-being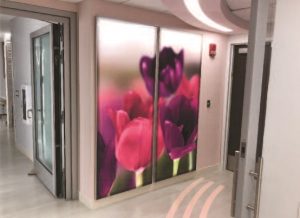 The Breast Center, staffed with board-certified bilingual specialists, offers the most up-to-date equipment and services available, such as 3D imaging, which allows radiologists to view the breast tissue in several layers. This breakthrough technology can detect 41 percent more invasive breast cancers and can reduce false positive results by up to 40 percent.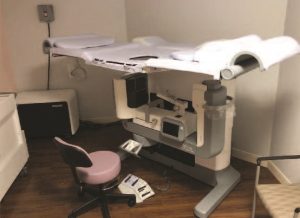 The American Cancer Society recommends that all women over the age of 40 have regular breast exams and mammograms. Most women who undergo screening will be healthy and not require further services until their next scheduled screening. However, patients who require continued care will meet with a Breast Navigator, a highly trained guide who answers questions and assists through the process of diagnosis and treatment.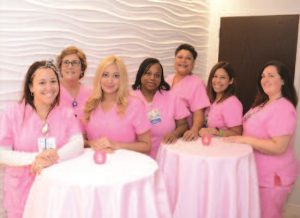 Gary S. Horan, FACHE, President and CEO of Trinitas, says, "With the generosity of Connie Dwyer, the new Connie Dwyer Breast Center at TRMC is a beautiful, calming and comprehensive center for women in our community to have everything from their yearly screening mammograms to the latest diagnostic studies. In addition, it is a one-stop shop where care can be coordinated for the patient among our dedicated, compassionate multidisciplinary care team." 
In November 2017, Connie was diagnosed again with breast cancer. 
"That was shocking to me, almost more shocking than the first time," she says. "It had been 18 and a half years. I was still going every six months to the oncologist. I was very sad. I felt badly for my girls, my husband, and my 12 grandchildren. But they were very inspirational to me. They talk about how strong I am and it makes me want to be strong."  
Her strength, at 75, is remarkable, in spite of cancer. "I'm still here. On many days I feel good. I might have to nap in the afternoon. I do complain, but in the big picture, how lucky am I? Within us there's a strong drive to stay alive and be happy. I am really lucky to have so many good people around me. It's amazing how good people can be. It makes me hopeful for the future.