by Diane Alter

Tablets join SMART Boards, e-Readers and other technologies that are transforming the classroom experience.
Around this time last year, Steve Jobs introduced the iPad to an eagerly waiting world. For many tech critics, the device was a head-scratcher. It was dubbed the "Giant iPhone" by its detractors. Among those who immediately saw the awesome potential of the iPad were educators. Tablet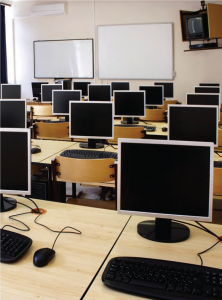 devices and e-readers (by this time next year there may be close to 100 out there!) seemed tailor-made for the technological needs and aspirations of schools at every level. Teachers, students and educational researchers all nod in agreement that we have come to at an important place in the evolution of learning. Things seem to be changing at light speed. The same pulse-quickening technology that drives lunchroom chatter is finding its way into classrooms all over the state in the form of SMART Boards, iPads and other devices that connect kids to information in attention grabbing ways. It's an exciting time to be a student. For teachers, it's a time of transition. They must evolve with the technology. Fortunately, the traditional forms of delivering information, despite losing ground, are not leaving the scene.
Teachers know how to get students involved and active, and emerging technology is just another weapon in their arsenal. Power, after all, comes not from a cord. Knowledge is power. Allison May, Director of Curriculum and Instruction at the Chatham Day School, confirms that the newest trends in education rely on technology. "Technology allows teachers to personalize education more effectively," she says. "By using the Kindle and iPads, teachers can attract more students to read." May also notes that online textbooks offer myriad tools for teachers to engage and retain students' attention. At the Pingry School, teachers have found integrating tablets into the classroom flow to be a more or less natural process. "They are using iPads to create a forum for discussion, and a way to share which apps are working best for each student," reports Ted Corvine Sr., Pingry's Assistant Headmaster and Lower School Director. "The next generation of technology is creating additional opportunities for differential learning and student collaboration in the classroom." At Oak Knoll School in Summit, students are benefiting from technology and online capabilities. They learn how to sift through data on wiki sites, utilize digital cameras, make use of computers, apply software and employ apps to learn, and make multimedia presentations. Science teacher Tatiana Kurjaninow notes, "Because businesses, companies and educational institutions are collaborating more online than ever, I believe it is so important for us to be teaching our students how to use these technology tools now in the classroom."
Technology is also transforming the way parents, students and teachers keep in touch. Through email, blogs, and teacher websites, parents can communicate with the school 24/7. As we grown-ups catch up to our tech-savvy kids, this kind of communication will eventually just become a part of ordinary parenting. Jennifer Phillips, Director of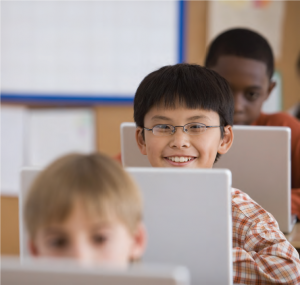 Educational Advancement at Far Hills Country Day School, predicts that, 10 years from now, no one will be questioning the role of technology in schools. Everyone will have it and everyone will use it. "No longer will we be asking, 'Should we use technology in this lesson?' Technology will be portable and accessible all the time, everywhere—and a given tool for all learning." When Donna Toryak of Mount Saint Mary Academy looks into her crystal ball, she predicts that paper, pencils and textbooks will be passé, and will no longer be a staple of the traditional classroom. "Online and virtual classrooms may replace what we now see as students sitting in rows at desks, listening to a lecture or annotating the day's lessons. Technology is a very thrilling theme for the future." The future has arrived at a growing number of New Jersey schools, and in some cases it's in the hands of four-year olds. The Rumson Country Day School built a Passport to Adventure afternoon enrichment program around 10 recently purchased iPads. "Our pre-school iPad program enables students to learn through interaction with technology," explains Laura Small, a teacher and administrator at RCDS. "They practice and master letter recognition, handwriting and math concepts technologically as well as traditionally.
The iPads also enable our preschoolers to explore hands-on different cultures, traditions and animals from around the world." Remember when teachers used to reprimand students for having their heads in the clouds? Well, Michael Chimes, Director of Academic Technology at Gill St. Bernard's School in Gladstone, looks into the future and says, "Institutions like our school, and users like our faculty and students, will move to the Cloud." The Cloud is a service that stores applications and data on remote servers, allowing users to access programs and files without having to invest in expensive hardware or software. It is sometimes referred to as virtualized computing. "In other words, remote servers will hold the software and the files we work with," says Chimes. "The web and all that is available will be far more accessible." For budgetary reasons—with which New Jersey parents are all too familiar—the most sophisticated learning technology tends to be in private schools right now, from kindergarten all the way through 12th grade. However, most schools have begun the transition to new technology and, as competition between hardware and software manufacturers intensifies, those schools that have had to wait will find it less expensive to play catch-up. For now, the price tag of staying on the leading edge is still considerable. With tuitions rising in private schools and public school budgets gobbling up 60 to 70 percent of property taxes in some towns, many would argue that this is not a good time to pour precious dollars into educational gadgetry. Granted, keeping up with technology may seem expensive and taxing. But, in the end, the price of ignorance is so much greater.