Selling your plugged-in kids on summer camp.
By Diane Alter
The current crop of 6-to-16-year-olds represents the most connected generation in human history. And the most disconnected. We have social media, gaming, smart phones and the Internet to thank for that. We also have those things to thank for the fact that our kids may never fully appreciate the sounds of frogs singing, crickets chirping and cicadas humming. They will likely miss out on trekking through unknown territory (without GPS help), the smell of liberally applied bug spray and what happens when you move too suddenly in a canoe. They will be camera-ready at all times, to be sure, but by the time they want to relive their childhood summers, it'll be too late to realize that those cameras were mostly pointing the wrong way.
Fear not. Thanks to a robust group of thriving summer camps, unplugged and idyllic times are still possible. Camps offering unspoiled days starting with quiet, dewy dawns and ending with dusk's pale pink and bright orange skies do exist. As for the kids who prefer to tap their inner selves and take a more cerebral approach to summer, the specialty camps that cater to this market also do a good job getting them out in the fresh air (albeit occasionally against their will). Study after study shows that kids exposed to camp experiences and outdoor sports at an early age are likely to continue them for the rest of their lives. They also have better self-esteem and tend to do better in school than non-campers.
"The benefits include everything from improved mental health to brain restoration to community building," confirms Laurel Peak, program manager and mentor at Wild Whatcom—a popular adventure camp in the Pacific Northwest.
Seeing as this is the time of year most parents finalize their plans for sleep-away summers, it's a good idea to get a feel for the range of offerings around the United States. These 10 do an excellent job of promoting outdoor experiences. Some are thousands of miles away, while others are a relatively short drive away.
The Appalachian Mountain Club, founded in 1876, promotes the protection, enjoyment, and understanding of the mountains, forests, waters, and trails of America's Northeast and Mid-Atlantic regions—with the goal of making kids lifelong stewards of the great outdoors. With chapters from Maine to Washington, D.C.—including groups in Boston, New York City, and Philadelphia—young people enjoy activities like hiking, paddling, cycling, and skiing. "AMC is committed to getting kids outside, enjoying the time spent outdoors and fostering a closer connection with nature through our many offerings," says Rob Burbank. "Without question, it's a challenge to get kids outdoors. But we offer a number of enticing programs that enable kids to interact with the outdoors and achieve a deeper connection with a great big world that's void of cellphones and computers."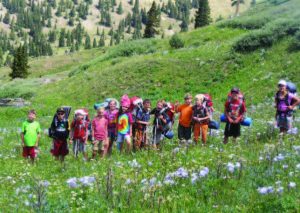 Avid4Adventure in Boulder, CO teaches hiking, biking, climbing and paddling—building skills, grit and determination. "Kids from all over the country come for our outdoor adventures," says Ileana Street. "Stand-up paddle boarding, rock climbing, and mountain biking are just some of our activity offerings. We make sports inviting not intimidating. It's empowering to master a new skill and it's a confidence-booster." Campers stay in comfortable (but not cushy) cabins, and meal-wise, Avid4Adventure accommodates any kind of diet. Programs change every year so that repeat guests are introduced to new challenges.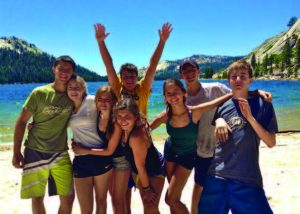 Bold Earth in Golden, CO, offers teenagers an adventure-travel summer camp filled with exploration, learning and discovery. The camp focuses on small groups and promotes leadership, teamwork and excellence in a supportive environment. "We introduce kids, in a very successful way, how to be in the game instead of simply playing the game," says Abbott Wallis. "There are no locked doors, no HBO, and it's all super-honest. We teach kids how to connect with others. We turn the entertainment on while turning the computers off. In bringing out laughter, dancing, and singing, we make sure that when kids return home they have a big story to tell—It was incredible…I was incredible." Since 1976, over 15,000 students from 50 states (and more than 55 countries) have attended Bold Earth. Parents and teens are actually interviewed before being accepted.
Camp Harmony in Warren, NJ has both day-camp and one-week sleep-away programs. It offers a safe and friendly environment where girls and boys can make friends, discover new passions and learn to be independent. Activities include archery, arts and crafts, computers, cooking, drama, earthlore, gaga ball (a type of pinball), hip-hop dance, karate, music, miniature golf, tennis and other sports. "Camp Harmony and its staff dedicates itself to the mission of ensuring the safety and well-being of every single child, while providing a fun, unique and creative learning experience that fosters unforgettable moments, lasting friendships, an unrivaled sense of belonging and lifelong memories," says  Carol Amedo. The goal, adds her husband, Jerry, is to create the "ultimate summer of their lives."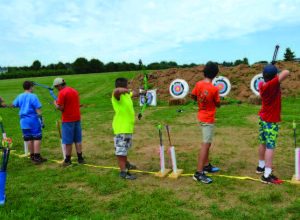 Hi-Hills Day Camp at Gill St. Bernard's in Gladstone, NJ offers a variety of programs for children ages 3 to 15 across 10 summer weeks. Whether a family's goal is enrichment, academics, sports, fine arts or traditional camp programs, Hi-Hill has become quite good at offering something for everyone. Traditional camp activities include instructional tennis, yoga, archery, pottery, nature, technology, swimming, and dance. Teen travel programs (for ages 13 to 15) offer a mix of day camp activities and travels to nearby attractions, plus one five-day overnight trip. Enrichment programs includes academics, athletics, creative and performing arts—all which can be combined with any of Hi-Hills day camps. "What makes Hi-Hills unique," says Allyson Day, "is that we are one of the most flexible camps. We recognize that summer is just as busy, if not busier, than a hectic school year. With that in mind, children can attend one or more of our programs for a half-day, half-week or whatever fits into their schedule."
International Ivy offers summer enrichments programs at 11 New Jersey locations. It was established to give kids creative, hands-on and intellectually stimulating learning experiences during the summer. International Ivy offers 50 week-long, full- and half-day classes that run the gamut from computer programming to biomedical engineering to the engineering of ice cream to golfing to chess. "Our ultimate goal is to help our students find their passion," says Lily Wong. "Once they find it, they are self-motivated to learn and explore further. For students who opt for our indoor classes, we build in two 30-minutes breaks each day for some outdoor activity and sun." A former head of innovation at Pfizer, Wong makes sure International Ivy's classes always feature the latest technology. The Caldwell branch offers residential housing for international students.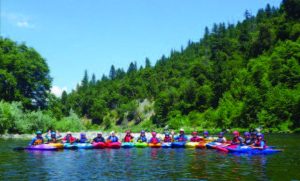 Otter Bar Lodge Kayak School on the Salmon River in Northern California is a premier kayak school. Its location may be remote, but the atmosphere is intimate and friendly. "Our concept is simple: keep it small, personable and first-class," says Peter Sturges. "While we specialize in river kayaking, we also offer a number of other outdoor activities. Some kids come as kayak newbies, while others are experienced. Many come back year after year." There is no Internet service for the kids, adds Sturges's wife, Kristy, and they aren't allowed to bring any electronics. "We keep them busy from dawn to dusk, so they don't miss their smartphones or video games," she says. "We have found over our thirty years in operation that given the choice, kids would rather be outdoors, learning or perfecting a new sport than typing away on electronics." She adds the kids actually enjoy the remoteness, church-like silence and absence of tech distractions.
Sandborn Western Camp in Florissant, CO has been hosting boys and girls from all over the world for six decades. The western-themed camp offers horseback riding, rock climbing, canoeing, swimming, tubing, archery, pottery and more. For many suburban campers, Sandborn is the first time that they know what it really means to be content without electronics. "We offer outdoor adventures that are appropriately challenging," says Mike MacDonald. "We have over six thousand acres for kids to explore. They find great value and power in being outdoors." Kids learn to become truly aware of nature's bounty, he adds, and that awareness stretches their minds and helps them grow as people. "They're eager to 'climb the mountain'—whatever the mountain might be—and find out just how unique and strong they are."
EXPLORE MORE
For more information on the camps in this section, log onto the web addresses below. Camps in (or close to) New Jersey are in bold:
Appalachian Mountain Club • outdoors.org Avid4Adventure • avid4.com
Bold Earth • boldearth.com
Camp Harmony • campharmony.com
Hi-Hills at Gill St. Bernard's • hihills.com International Ivy • iisummer.com
Otter Bar Lodge • otterbar.com
Sandborn Western Camps • sandbornwesterncamps.com Wilderness Adventures • wildernessventures.com
Wild Whatcom • wildwhatcom.org
Wilderness Adventures has dedicated the last 41 years to helping teens from all over the globe become responsible adults through challenging and meaningful year-round outdoor adventures—from surfing to snowboarding. With each passing year, the company finds it must focus more and more on what used to be considered the "basics" of the camp experience. "Many young people today don't know how to communicate face-to-face," says Mike Cottingham. "We show them how. We've been electronics-free from the beginning; these days it can be difficult to convince kids that escaping the comforts of home will open them up to a new world that's far more fun than the one they leave behind. Yet we do. Our students experience beauty beyond description, and become valuable contributors to our small groups. They establish lifelong friendships and many discover who they really are for the first time in their lives." Wilderness Adventures camps are located in Washington, Oregon, Alaska, California, Hawaii, Wyoming, Idaho, Colorado, Utah, Arizona, New Mexico and in several international destinations.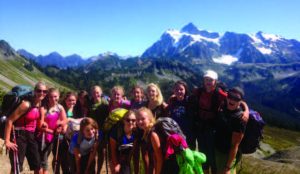 Wild Whatcom in Bellingham, WA immerses boys and girls in exploration of the Northwest's vast forests, wild rivers, mountainous meadows, tumbling waterfalls and pebbled beaches. "We aim to help kids discover their capabilities through suitable challenges, to better understand themselves and others," says Laurel Peak. Wild Whatcom campers hike the Cascade ridges, watch the sunset over the Pacific, sleep under a star-studded sky, and play games that promote meaningful connections and new discoveries.
Editor's Note: After working for many years on Wall Street covering for brokers, Diane Alter started covering the markets for print and electronic media in 2009. She is a regular features contributor to EDGE and other publications and web sites. When not writing, she is likely running.
Last year, Diane Alter wrote a story for EDGE about Extreme summer camps. You can find it at edgemagonline.com in the Family section. Also in that section is a helpful How-To story by Chris Gibbs on picking the right camp for your child.