by Mark Stewart
 In Search of the Ultimate Sports Poster
Most experts agree that there are four cornerstones to a successful marriage. 1. Trust. 2. Honesty. 3. Unexpressed anger. 4. No sports junk on the walls. Many a man has tested rule #4 only to see that framed jersey or signed photo, without warning, donated to a local charity auction. Like a game of Jumanji, the priceless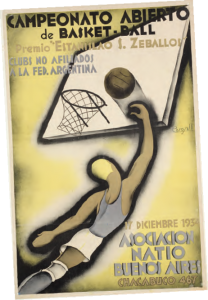 heirloom insidiously then works its way into another home, where it initiates marital chaos all over again. Bill Crouse is the exception that proves rule #4. One of the world's leading authorities on Art Deco posters, his collection may be the best ever assembled. When Crouse purchases a sports poster, it's invariably a jaw-dropper. In these pages we present a handful of sporting selections from the renowned Crouse Collection. You won't find these masterpieces at your suburban gala or fundraiser. You will see them in museums and galleries in Europe and the U.S. (including right now at the Guggenheim's Chaos and Classicism exhibit). If you want to buy them at auction, be prepared to spend somewhere in the mid-six figures!
Cycles Brillant • A. M. Cassandre (1901-1968) Only a few copies of this 1925 poster—a gleaming example of Cassandre's adherence to minimalism—are know to exist. Not many commercial artists would be brave enough to hand a client an ad concept for a bicycle that shows no details of the product. Even fewer could actually pull it off.
Campeonato Abierto de Basket-Ball • Caroselli (Dates Unknown) The image of the angled competitor was popular among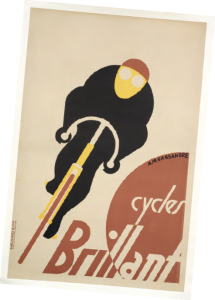 Art Deco posterists. In this advertisement for a 1934 tournament, Caroselli used this technique—along with an airbrushed black "cocoon"—to capture the energy of a layup.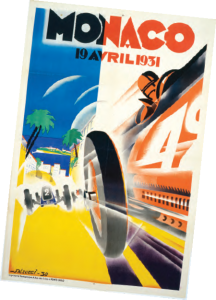 Monaco/19 Avril 1931 • Robert Falcucci (1900-1989) This rarest of Monaco GP posters—possibly the only example in private hands—shows a Mercedes SSK in hot pursuit of a red Bugatti. Falcucci's use of white streaks running the length of the racer, concentric arcs of white behind to convey the rush of the wind, and the bright palette of red, yellow and blue give this streamlined design great panache. A multitalented painter, decorator and illustrator, Falcucci received his formal training in Paris and served as the historical painter for the French Army.
Beristain/Todo Para Deportes • Jacint Bofarull (1903-?) on prior page Although Bofarull earned a reputation as a politically outspoken artist, none of his political leanings are evident in this promotion for Beristain's Barcelona department store and its line of sporting equipment and apparel. Despite the fact that pipe-smoking is no longer a part of sports, it would not be a stretch to call this 80-year-old poster "timeless."
Coupe Davis • A. M. Cassandre (1901-1968) In Cassandre's advertisement for the 1932 Davis Cup, he grabs viewers'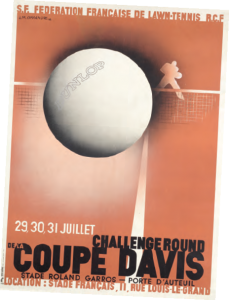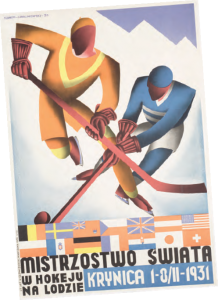 attention by placing them in the path of an oncoming shot at net. The use of geometry and dynamic perspective in this extraordinarily rare poster— as well as the ease with which the design's elements are assembled—are superb examples of what made Cassandre the most important Art Deco figure in the history of advertising posters.
Mistrzostwo Swiata/Krynica 1931 • Stefan Osiecki (1902-1939) Jerzy Skolimowski (1907-1985) This promotion for the 1931 World Ice Hockey Championships in Poland can barely contain the action within the frame. The featureless depiction of the competitors captures the team-oriented nature of the sport, while the flags along the bottom clearly convey that 10 national teams will by vying for the title.
Sables d'Or les Pins • Lec (Dates Unknown) For the dedicated golfer, playing a well-designed course borders on a religious experience. In this breathtaking 1926 poster, the artist captures this feel using a stained-glass style.
III Olympic Winter Games • Witold Gordon (1885-1968) Gordon left no doubt in this iconic poster where the center of the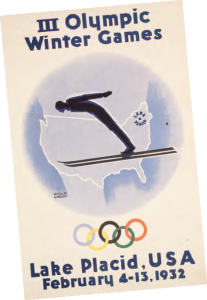 sports universe would be in February of 1932: Lake Placid. These Winter Games—the first held in North America—were opened by New York Governor (and soon-to-be U.S. President) Franklin Roosevelt. Gordon also designed the grand murals at Radio City Music Hall and the 1939 World's Fair."
World's Greatest Air Race • Percy Trompf (1902-1964) The 1934 England-to- Australia air race covered more than 11,000 miles and was won by Lieutenant Charles William Anderson Scott and Captain Tom Campbell Black. Their scarlet DH.88 Comet finished with a time of 71 hours. Art Deco posters typically pared down or simplified the human element. However, in this poster, Trompf chose to zero in on the pilot's face to convey the focus, determination and uncompromising will of the participants. Trompf created thousands of posters for companies in his native Australia, and attracted clients in England and Canada, too.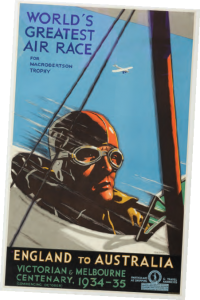 1er Campeonato Mondial de Football • Guillermo Laborde (1886-1940) This poster for the inaugural World Cup is the Holy Grail collectible for soccer fans. Laborde conveys the action and athleticism of the sport with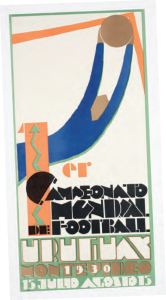 just a few linear elements. An acclaimed South American artist and sculptor, he agreed to judge the poster submissions for the 1930 World Cup. Later, Laborde resigned from the panel and submitted two of his own—which came in first and third.
Editor's Note: Special thanks to Tim Gazinski for his assistance in selecting and describing these posters. William Crouse's 2009 book Grand Prix Automobile de Monaco Posters was hailed as "unmatched in the field" by the International Poster Center.