by Christine Gibbs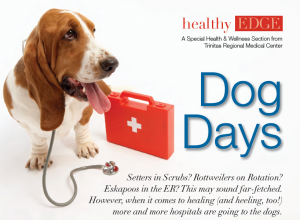 Heart attack victims who have pets tend to live longer. Watching fish in a tank can lower blood pressure. In senior adults, canine companionship can keep mental health complications from turning into physical deterioration. Indeed, considerable evidence supports the healing potential of pet therapy. There is plenty of history to back up the power of pet therapy, too. The first documented account of animal therapy dates back to the 9th century in Gheel, Belgium, where farm animals were used to help disabled people cope. In Washington, D.C. in 1919, psychiatric patients at St. Elizabeth's Hospital had dogs available for their recognized therapeutic value. And in the decades since, the medical community has come to embrace this interactive approach to improving the quality of life, both for patients in recovery and for those whose health may be in decline. For the record, today the more politically correct term for pet-related therapy is either Animal-Assisted Activities (AAA) or Animal-Assisted Therapy (AAT). AAA is a more casual meet-and-greet approach to hands-on contact between patients and pets, while AAT is a more formal clinical approach with patients who may be challenged physically, emotionally, or mentally.
PAWS FOR HEALTH Among the myriad patient services offered by Trinitas Regional Medical Center is its own Animal-Assisted Activities program, headed by Carol Pepe, Director of Case Management Services. Whether politically correct or not, everyone at Trinitas still calls it the "pet therapy program" and, indeed, this is Pepe's pet program. She launched it almost five years ago with the approval of a multi-discipline committee of hospital representatives. To date, the AAA program's success can be measured by the more than 3,700 visits arranged for older inpatients and cancer treatment outpatients. The Trinitas program utilizes dogs only, although many AAAs and AATs involve a variety of animals ranging from cats, birds and horses to more exotic creatures. One, in Thailand, uses elephants. The dog handlers at Trinitas are typically employee volunteers. A volunteer escort is always present, as well, to monitor overall pet–patient interaction. Currently, there are six participating therapy dogs at Trinitas: four males (Winston, Murphy, Buddy and Harley) and two females (Ribbon and Bonnie). Males and females of all breeds, including mixed, are potential candidates. Temperament always trumps sex or bloodlines. Trinitas has a close working relationship with St. Hubert's Animal Welfare Center in Madison. Through their Paws for People program, St. Hubert's trains and certifies both dogs and their owners/handlers. All pets are temperament-tested to assure that only appropriately friendly, stable and disciplined dogs make the cut. The owner/handler must attend a three-hour class, and both dog and owner must complete rigorous homework exercises to be certified.
THEY CALL IT PUPPY LOVE Linda Reynolds, Director of the Adult Outpatient Unit in the Department of Behavioral Health and Psychiatry, is in charge of a similar pet therapy program, which she launched only two months ago. Currently, she is the sole owner/handler of a canine "therapist,"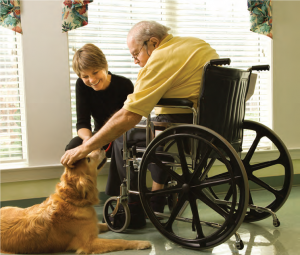 her five-year old beagle, Murphy. Both have been certified by St. Hubert's. Reynolds recognized early on that Murphy had the necessary qualifications, since he had become an ambassador of goodwill in her own neighborhood, particularly among senior residents. Currently, the psych department's group sessions are held at Trinitas, with special visits paid to the on-site nursing facility—the domain of Harley, another gifted pet "therapist." The adult outpatient groups are often organized according to particular challenge. Two of the currently active groups are focusing on anxiety relief and partial vs. unconditional love. Reynolds refers to these sessions as her "puppy love" groups. "I really just knew I had to share him," Reynolds says of Murphy, who wears a hospital staff photo ID badge, as do all the therapy dogs. It is attached to his favorite bandana; Reynolds realized that Murphy needed a work wardrobe and provided it. Murphy is typically on the job two or three days a month. A typical day includes sessions with two to three groups, each with five to ten patients. Patients are not the only recipients of Murphy's healing powers. Staff members having a bad day often drop by for a visit and a pet. Murphy is happy to oblige. "No stranger is too strange for Murphy," Reynolds says.
JUST SCRATCHING THE SURFACE The immense potential of animal-assisted therapy is particularly clear to Reynolds and Pepe, each of whom has special memories of pet–patient bonding. Pepe recalls one terminally ill patient who related incredibly to Bonnie, spending her last three weeks with regular visits. In Bonnie's company, the patient was more relaxed and less stressed because there was no need to put on the brave face she did for family members. She even occasionally let Bonnie borrow her wig, which elicited peals of laughter from patient, handler and escort—not to mention Bonnie's joy at being the center of so much attention. The patient was able to share some smiles and also some tears with Bonnie until the very end. Reynolds remembers a bipolar patient in a group session who had vehemently verbalized her dislike of dogs—which only encouraged Murphy to make friends. He ultimately won her heart and brought a smile to someone who hadn't smiled in months. Pepe herself underwent surgery two years ago and became an active participant in her own program. The owner of three dogs, she experienced a case of severe pet withdrawal while in-hospital. Through some therapy dog visits, Pepe can now personally attest to the healing comfort that comes from simply petting a friendly, furry, four-legged creature. "We're in the business of small miracles," Pepe says. "The dogs bring smiles where before there was only pain." EDGE  
Editor's Note: Every word you read in EDGE has to go through Christine Gibbs first. This is the first story she has authored for EDGE since joining the staff in 2009. Chris freelanced in the finance, international business and healthcare sectors as a technical writer and editor before coming aboard.