by Sarah Rossbach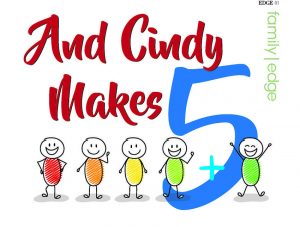 One family's pandemic response.
My kids, a boy and a girl, are grown and  I thought I was way beyond having another child.  Yet in the midst of the  first outbreak of the COVID-19 virus, on March 15th, we welcomed another daughter to our family. It was not an ominous, painful Caesarian delivery to beware of on the Ides of March, but the fortuitous and joyful arrival of our third child, Cindy. Really, I'm so over diapers and bottles, and, happily, so is Cindy—after all, she was delivered to our home at a full-grown mature-ish 26 years old.   
Cindy's arrival was unexpected. As the pandemic raged in New York City, our daughter Charlotte had debated for over a week whether to leave her apartment in Astoria, Queens. On a whim, she sent out a blanket invitation to her New York-based friends asking if anyone wanted to shelter in place at our house in  New Jersey. Cindy, a former college classmate living  in Brooklyn, with 24 hours' notice, filled a book bag  with clothes, grabbed her laptop and joined Charlotte on a turbulent ferry ride from Pier 17 to New Jersey and settled in our once empty nest. 
My husband and I didn't properly welcome them, because we were "vacationing" for two weeks in Florida when the virus hit. Restful and relaxing, it was not. As Vero Beach restaurants closed like dominos, our stress level rose. We cancelled our plane reservations, packed up our shorts, swimsuits and sandals and headed north in our rental car five days earlier than expected. We spent two nights with relatives near Charleston and then stayed another night in Richmond at the huge, cavernous Jefferson Hotel, where we well may have been the only paying guests and certainly were outnumbered by the staff. For two weeks after we finally arrived home, our kids and Cindy social distanced from us—nothing new about that, only now they had a good excuse. 
I was curious how we, as a family that once lived separately, would acclimatize to being two generations of adults, no less with an additional Millennial in the mix. 
Cindy was ensconced in the guest bedroom and it was a huge relief that we could tell from the beginning that she easily was more like a family member than a guest. We carted up a small wooden table that served as her telecommuting desk and made sure she knew she was welcome to stay through the months ahead. Our main concern was for everyone to be healthy and safe.   
An extra person in one's home could spell disharmony, stress and strife. To her credit, Cindy fit in seamlessly: a friend, confidant and walking partner to our daughter; the only one who could discuss Dungeons & Dragons and video games knowledgeably with our son; and a little buddy to me as we shared similar sensibilities and sense of humor.   
Cindy was socially astute as she quickly read my husband's amusing, if naughty, trickery, cleverly dodging questions that really were ways to ensnare the unwary.  When his eyes narrowed in mock earnestness and he queried, "Who's the most chill person in the family?" or "Who is or was the most badass person at the table?" or "Who is the shining star of the family?", she would foil his ploy and answer with: "It's a trap, right?" It's not easy to fit into quirky humor, but Cindy did and even added her own brand to the mix. 
So that's how we became a family of five, all with our own careers, habits and social groups. Every day, we met for early breakfast, and then we disappeared into our separate Zoom realms within our own bedroom cyber-offices where we dealt with educational funding, Garden Club challenges, asset management and cultural exchanges. (As well as the occasional dog-walking gig thrown into the mix.)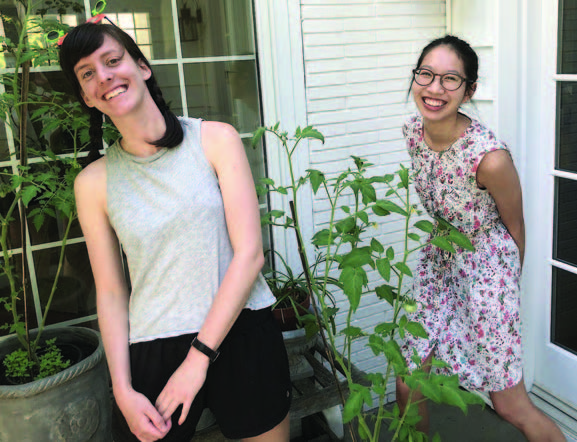 My husband and I are not newcomers to taking in friends in need. In fact, after Super Storm Sandy, we invited a family of five—three boys aged one to six and their parents—whose home had been flooded and was uninhabitable for two months.  We and they had a blast together living like a cross-generational dorm. 
Our new family of five established a routine as the coronavirus lockdown wore on. Wednesday, for example, was family game night, where Cindy taught us—sort of—the finer points of poker and video dancing and our son set up amusing online group games. Our leisure pastimes became a cross-section of cyber activities  and capers. Saturday was Zoom craft night for the girls and Zoom cocktails for us. And every non-working moment, our son was gaming virtually with former college friends.  Saturday morning, Sunday and Tuesday nights, Cindy was telelearning French, Chinese and Japanese, respectively.   
Most importantly, Sunday was clean-your-bathroom day.  
Efforts to create positive experiences spilled over to internet activities. Charlotte's co-workers hosted an international Zoom Karaoke night that engaged Cindy and me—although I am challenged tonally and ignorant of the hits of the last 20 years. And then there were countless girls' movie nights watching a cache of chick-flicks through the ages from The Women to the latest release of Little Women and My Man Godfrey. Who could tire of a diet of binge-watching comforting Jane Austin films and their offshoots like Clueless for Emma and Bridget Jones' Diary for Pride and Prejudice?  Thank goodness for WIFI and our unlimited usage plan
I recognize that it's not easy to move into a family with a quarter-century of established traditions, habits and idiosyncrasies. Yet Cindy adapted to all, incorporating routines and rites, adopting family traditions and adeptly demonstrating that she too shared in (or at least accepted) many of our quirks. She further endeared herself by embracing our interests
My home activities tend to revolve around writing, cooking and gardening, as well as Garden Club. Our garden, the culmination of 26 years of planting, dividing, pruning and propagating, was particularly well-tended during Cindy's months here thanks to our son being furloughed for a couple of months, and our hiring him to weed, mulch and plant. It became a subject of fascination for Cindy. While the pandemic has been frightful and constricting, the delayed Spring brought unexpected joys in the garden. It made me happy that Cindy seemed impressed and charmed as the seasons changed and blossomed in our garden; the years of planting perennials had created a magical botanical experience for her. The evolution from camellias and daffodils to tree peonies and lilacs to herbaceous peonies and hybrid tea roses to summer's hydrangeas, daisies and phlox were highlighted by the delight  and wonder Cindy found in our garden. The sudden enlargement of our family, as well as concern for  food safety during the pandemic, inspired me to propagate edibles in window boxes, normally reserved for wildly colored ornamental flowers. Cindy watched as I harvested lettuce, radishes, chervil and micro-basil—all grown from seed among pansies and nasturtiums, also edible flowers. You may wonder why I didn't plant a full-blown "victory garden"…the answer is a four-letter word: DEER.  
Wildlife presented diverting attraction, particularly hummingbirds—the kids found a nest the size of a demitasse cup. Also aggressive groundhogs, perhaps emblematic of the monotony of our COVID existence, ventured uncomfortably near our home. Cindy, in her fearless fascination and enthusiasm of the new, chased them away in energetic pursuit
When it rained, we occupied ourselves with 1,000-piece jigsaw puzzles, family Scrabble, and backgammon. Much of our insular pandemic life revolved around food. While none of us gained the legendary COVID-19 pounds, I cooked up a storm. Our kids, string beans all, ate like sumo wrestlers. A huge vat of Bolognese sauce disappeared in two sittings.  An iced chocolate zucchini cake for 16 vanished in two days with us ploughing through even the portion reserved for a godparent. And no one was more appreciative than Cindy. Every morning, be it waffles or oatmeal or smoothies, I'd hear her appreciative Oooooh. And Cindy always arrived first for lunch—often grilled cheese and homemade soup—and was my best customer for dinner. It's easier to cook when everything you concoct is greedily inhaled. Nothing like a thankful public to spur on the home chef. 
I cooked during the week and my husband and kids cooked during the weekend and were specifically not allowed to ask me about recipes. Food, the source of survival, variety and taste thrill, was a gathering point as we all emerged from our bedroom offices to eat and savor, share work complaints and challenges and give positive support during the trials of the pandemic. 
During this anxious, dismal time of sickness, contagion and death, many have felt isolated, frustrated, and at loose ends. So much has been lost, even if temporarily. Gone are exotic travel to distant lands or even to  two states over. Visits to museums, the cinema and friends' homes are temporarily obsolete. And our naturally social beings are being constricted. Our world has gotten smaller and we are living, communicating, working and amusing ourselves through home electronics. The days are monotonous, one running  into the next, with little change. Yet we hold on to a deep gratitude that we are alive and well.   
After four months, Cindy had become part of our  family fabric. She was a bright spot, always upbeat,  with a ready and, dare I say, infectious smile. We all  felt blessed to have her in our lives and I dreaded the day she would leave.  I saw Cindy as a buffer—a friendly shock absorber between potential sibling conflict  and a humorous shield between the generations, safeguarding family harmony in close quarters. 
Did I neglect to mention that Cindy's mother owns a hair salon in Wisconsin and her mother trained and entrusted her to color her own gray locks? Due to social distancing and state-mandated closure of hair salons, many friends have had to embrace the truth of the  aging process. While I'm pretty low maintenance—no Botox, fillers, nip or tuck—thanks to Cindy, I can continue the pretense of forever-young hair. So as I started to observe during Zoom meetings and parties that friends and colleagues' coifs were evolving into various iterations of the skunk family, my own tresses remained deceptively brown. I love my local salon stylist and wonderful colorist Coleen, but for endless months, that was not an option. Cindy and a regular shipment on "auto-order" of Madison Reed's Veneto Light  Brown hair dye kept me looking like my old self—but not that old. 
Cindy and I also are crossword enthusiasts, and she would email me her Sunday New York Times—which she received, for an extra fee, that I have been unwilling to pay for but happy to print out hers. Cindy is a joy. She is fun, smart and engageable.  
It was a super sad day in mid-July when, after dinner, Cindy gulped and announced that she would be leaving our house to pack up her room in Brooklyn and drive with a roommate back to Wisconsin. While we knew the day would come, we choked out a Say it ain't so.  I fretted with Cindy's impending departure: How to  plan for meals for four rather than five? What or who would serve as glue for our vastly different offspring? How would our kids view us without the humor that Cindy brought to our family? (Don't tell me, we're still annoying.) The morning arrived with Charlotte loading her car to move out of Astoria and then drop off Cindy. I handed Cindy a bag filled with an assortment of her favorite foods—Heritage Flakes, smoked oysters in oil, chipotle aioli—and hugged her goodbye.  
Cindy had been an important part of our family's emotional survival during the first four months of COVID-19. She was a sweet, friendly, sunny cure for the isolation and strangeness of the pandemic and we dreaded her inevitable exit. We anxiously speculated how were we going to endure what might be another year or so without someone who had become such an integral and positive member or our family. But it's a funny thing, that life goes on. We are a family that has enough love to open our house and hearts to Cindy and we are happy she is back with her mother and on to a new adventure.  
We definitely miss Cindy and I think we are a better foursome thanks to her. But my heart doesn't ache the way I worried it would. We stay in touch; she will always be a part of us. In case I forget, every Sunday—or sometimes Monday—an email arrives from Cindy to challenge and engage me with The New York Times Sunday crossword. 
Oh, and in case you're wondering, Charlotte became my expert new colorist. Before departing to the wilds of Wisconsin, Cindy taught her how.