by Steve Urena
Mother-daughter relationships are as complex as they come. At least, they're supposed to be.
Following in the footsteps of a parent can be a perilous journey. Expectations are high, comparisons are many, and the challenge to measure up to that legacy can result in an enduring personal struggle. Not so for Dr. Michelle Cholankeril, whose choice to follow her mother, Mary, into oncology not only proved to be the simple one, but the right one, too.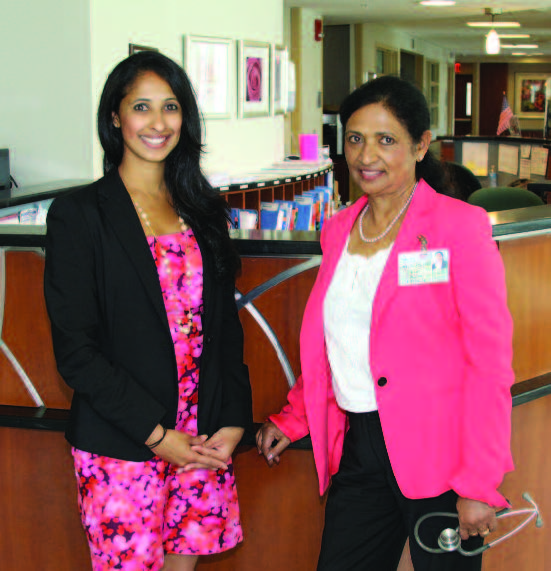 "All of my life, I have watched my family do charitable work," she explains. "My grandfather was a physician, my mother was a physician, and through them doing their jobs, I felt like this was a career I wanted to pursue—where I could actually go out into the community to help people and gain personal satisfaction from contributing to medical society."
Dr. Cholankeril practices hematology and medical oncology at the Trinitas Comprehensive Cancer Center. She is the one beaming as she walks through the doors of her hospital each day, ready to take on any and all challenges. And those conversations with her mother—as both a colleague and a daughter gathering insight?That's a wonderful bonus.
Trinitas Regional Medical Center is something of a second home to Dr. Cholankeril. She has been working at the hospital since high school. She started as a volunteer behind the entrance desk in the main lobby, worked in the ICU as a medical student, and continued to maintain a family connection to Trinitas in the years that followed. In 2013, her career came full circle, as it were, when she joined the Trinitas staff as an M.D.
Working in hematology and oncology has a particular appeal to Dr. Cholankeril. "These are the most grateful patients, in a sense, because not only do they value their life, but they also understand the value of the diagnoses they have," she says. "It's really great to be involved in a field where you can witness a cure in some of your own patients. It's quite fulfilling to be a part of something so extraordinary."
Needless to say, Dr. Cholankeril is a student of her specialty as well as a practitioner. She helps submit abstracts to the American Association for Cancer Research (AACR) and the American Society of Clinical Oncology (ASCO). She is currently a part of clinical trials run by Trinitas, and also does work with the Jefferson Kimmel Cancer Center in Philadelphia to further expand clinical trials. The progress she has witnessed firsthand in her field convinces her that cancer will ultimately be defeated through advancements that have been made in just the last few years.
"A lot of what we know about cancer today is based on the research we obtained from yesterday," she says. "If you are involved in research today, then you are able to be a part of the future of oncology. So far it has been a great learning experience."
Dr. Cholankeril's career path might have been paved by doctors in the generations before her, but at the end of the day she leaves footprints of her own, building on the wisdom of her mother and grandfather. As she treks through the daily challenges and triumphs, however, she is keenly aware that the apple hasn't fallen all that far from the tree. And she's okay with that.
"My mother always said to pursue what my calling is, whatever that may be," she points out. "She never suggested one thing or another. I suppose she thought I was responsible enough to make my own decisions, so she told me to follow a career path that makes me happy. And that's what I ended up doing."   EDGE
Editor's Note: You can contact Dr. Cholankeril in her Trinitas office at (908) 994-8771.