by Christine Gibbs
A Path Between EXTREMES
DBT treatment builds a life worth living.
By Christine Gibbs
May is Mental Health Awareness Month. It would not be an exaggeration to say that, thanks to the COVID pandemic, this May we are more aware than ever of the precarious state of our nation's mental health. The National Institute of Health (NIH) has compiled a daunting set of statistics, including that one in five Americans today is living with at least one of a wide range of mental issues. That translates into more than 50 million people.
Not that COVID is the lone culprit. Pre-pandemic life was already a pressure cooker of high-stress triggers such as financial panic, job anxiety, inflation, debt— I could go on and on, but suffice it to say that life for almost everyone can be a challenge. However, burnout syndrome has certainly been exacerbated by COVID these past two-plus years and there has been a noticeable increase in the number of Americans suffering from depression and anxiety that can reliably be traced to COVID-specific restrictions, from lockdowns to mask mandates. That most definitely includes children, adolescents and emerging young adults who are exhibiting signs of depression in greater numbers as a result of forced isolation and remote education.
What is the actual degree to which we can attribute our elevated levels or incidences of stress and depression to the pandemic? That is endlessly debatable…and it also misses the point. If it feels as if you or a loved one is struggling emotionally—regardless of why—the more critical question is where should I look for help? Admitting that a problem exists, and recognizing that the situation has escalated to a point where managing it without help is no longer possible, is a critical first step. If you or someone close to you is exhibiting behavior that is concerning, harmful or uncontrollable, the time is now to seek help. Trinitas offers a full array of mental health support and services, providing almost 200,000 behavioral health outpatient visits a year.
One program that has enjoyed particular success is the Trinitas Institute for Dialectical Behavior Therapy and Allied Treatments—the DBT Institute, for short— which is headed by Co-Directors Atara Hiller, PsyD and Essie Larson, PhD. Dr. Hiller manages the Adolescent DBT Program, and Dr. Larson runs the Adult DBT Program.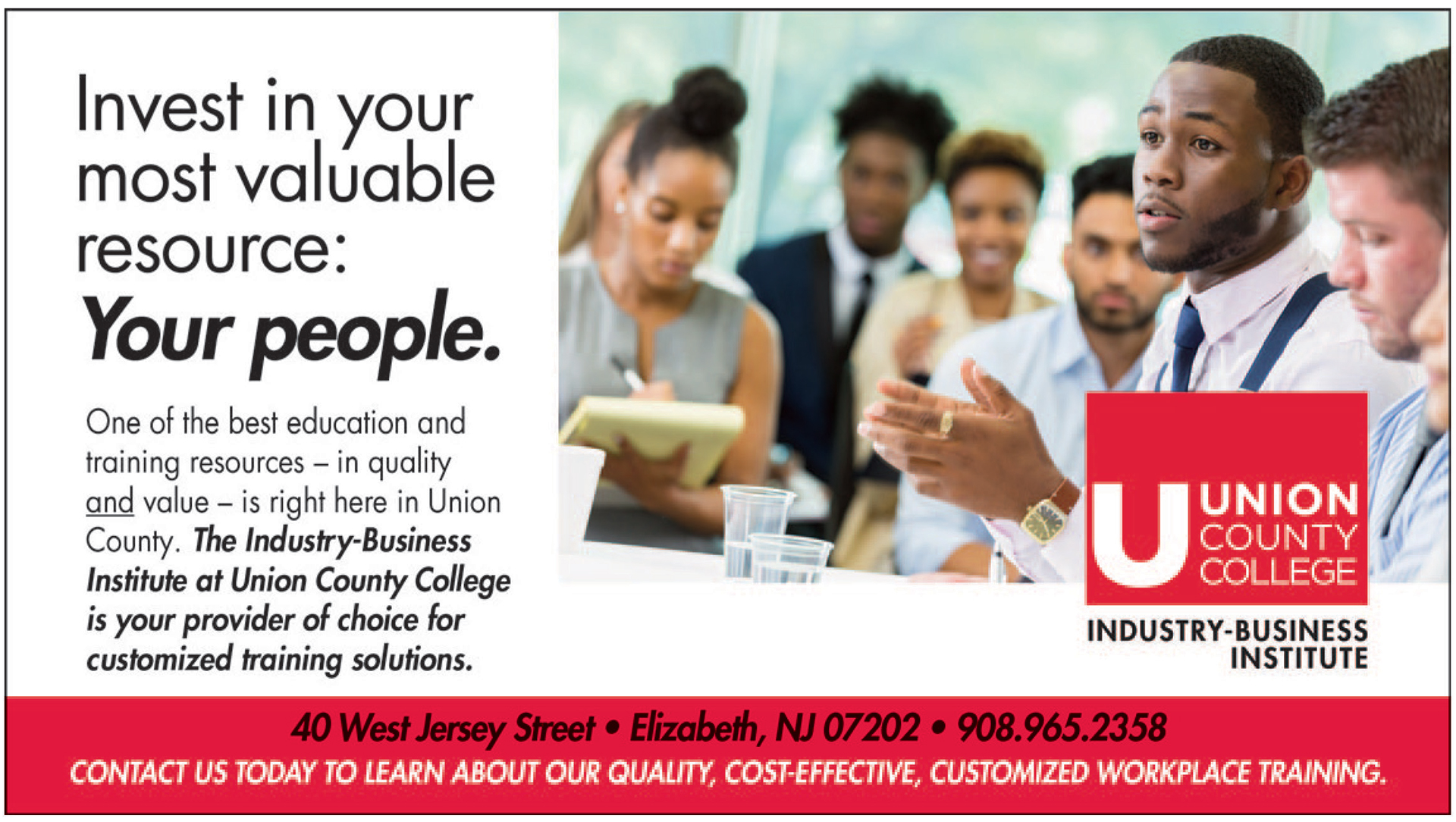 "It Depends"
DBT is a type of cognitive behavioral therapy with the goal of building a life worth living by developing behavioral skills to improve impulse control, emotional regulation, interpersonal effectiveness and overall functioning, and replace old harmful ways of thinking and behaving with new, healthier ones. A fundamental principle of DBT treatment is finding "middle-of-the road" solutions to help overcome the extreme positions that interfere with adapting to real-life situations. In other words, for many of us, the concept of "it depends" is a fact of life—we recognize that the everyday decisions and situations we encounter are not binary, either/or, black-and-white, etc. For some people, however, this is extremely difficult to accept and tolerate. For them, the world is filled with battles between opposing forces of, for example, right and wrong or good and evil. Needless to say, it is an emotionally exhausting way to go through life.
When discussing the dialectical perspective, Dr. Hiller explains, "The key to successful adjustment may be accepting that the real truth is that there is no absolute truth at all. DBT accepts that two seemingly opposite truths can both exist at the same time, and that it is possible to modify behavior patterns to adopt a reasonable middle ground as a healthier response, instead of succumbing to either extreme position."
"The reality that is encouraged is that there is no absolute truth, but rather everything is a mixed bag," Dr. Larson adds.
The emphasis in DBT is placed on increasing emotional and behavioral regulation so that individuals can make effective choices that help them work towards their long-term goals. Clients undergoing this therapy are passionate about almost everything—and consequently are often judged as being irrational, attention-seeking, excessive or hot-headed because they react so quickly and take so long to cool down.
At the DBT Institute, these individuals are regarded as "exquisitely sensitive" and "super sensors." The objective is to teach and encourage self-acceptance by validating their passionate internal experiences, while also guiding them to identify and change behaviors that interfere with reaching their personal goals. By providing a supportive, validating, and goal-oriented therapeutic environment, the team of DBT therapists helps the clients (and in the case of adolescents, their families as well) to learn and use the variety of skills taught in the treatment.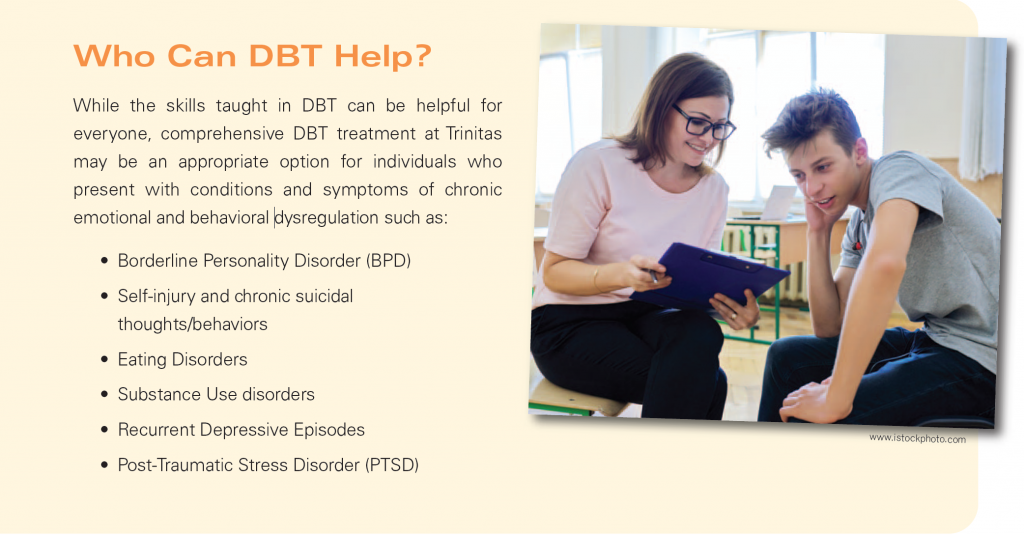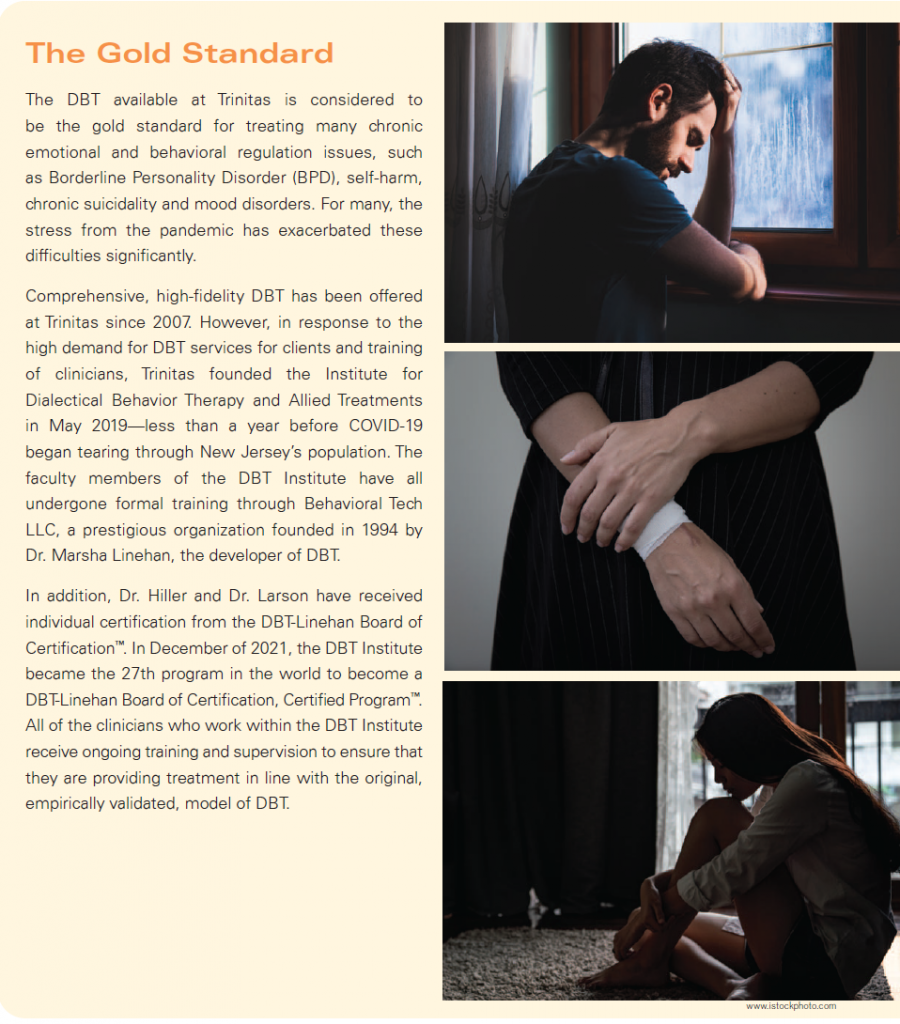 Getting Help
We all know family members, friends or co-workers who seem to be intractable in their views and behavior at times. However, individuals who benefit the most from DBT struggle with this at a much higher level of intensity. Typically, a DBT candidate presents as a person with challenges in multiple areas of life who has had previous unsuccessful experiences with other types of therapy. Behaviors such as self-harm, impulsivity, substance use, eating disorders and aggression become these individuals' primary problem-solving methods to tolerate the debilitating emotional distress that they experience. Unfortunately, these behaviors seriously interfere with quality of life and social integration.
The objective of developing a healthy skillset is reflected in the DBT mantra: Build a life worth living! Comprehensive, outpatient DBT programs that follow the empirically based model are organized into three hours of weekly meetings—consisting of two hours of skills group (Adult DBT groups are for the clients only, while Adolescent DBT groups include parents/ caregivers) and one hour of individual therapy for the client. Between session, phone coaching is also available to help clients use their skills in their day-to-day lives. In addition, both the Adult and Adolescent programs offer services for graduates of the program to help them further solidify what they have learned. Across the Adult and Adolescent programs there are nine staff members, including Dr. Hiller and Dr. Larson. In addition, there are between 7 and 10 trainees at any given time. Several of the staff and trainees see both adult and adolescent DBT clients.
The adult DBT program requires an initial commitment of 52 weeks, followed by the opportunity to extend for another 26 weeks to complete two full cycles of the skills curriculum. The duration for one cycle of the curriculum for English-speaking adolescents/families is 20 weeks, whereas for Spanish-speaking adolescents/ families, the duration for one cycle of the curriculum is 24 weeks (because the groups are provided in both English and Spanish). Adolescent DBT requires that at least one parent/caregiver must also commit to the treatment by attending group and family sessions, and individual parent coaching sessions as needed. This is because having parents/caregivers support the use of DBT skills is essential. Clients in the Adult DBT program attend treatment alone with free monthly education nights provided for family members and friends who are interested in learning more about DBT treatment, DBT skills, and supporting their loved ones. All types of insurance are accepted. There is currently a substantial waiting list for both programs.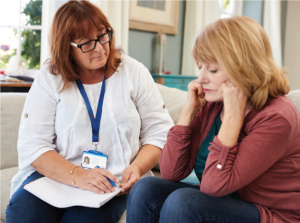 During the pandemic, the Institute continued to serve clients through Zoom sessions. Despite an adjustment period, therapy quality was never compromised. Some clients (especially those living at a distance from Trinitas) found teletherapy to their liking, while others rejoiced when in-person therapy resumed. Most importantly, all of the DBT clients continued to make progress in the face of heightened stress and anxiety.
"The skills we teach were the perfect tools to deal with uncertainty and major life changes," says Dr. Larson.
Key Ingredient
Both Dr. Hiller and Dr. Larson emphasize that the indispensable component of successful completion of the DBT program is "commitment…commitment…and more commitment." Clients must first believe, even if hesitantly, that their life can potentially improve and then they must be willing to put in the hard work—with the support and encouragement of their therapists—to start making it happen. "The foundation of any DBT program is that it is totally voluntary and therefore, by definition, requires an incredibly high degree of resolve," Dr. Hiller explains. To be accepted into either the adult or adolescent programs, clients must sign a personal contract outlining the terms of their commitment.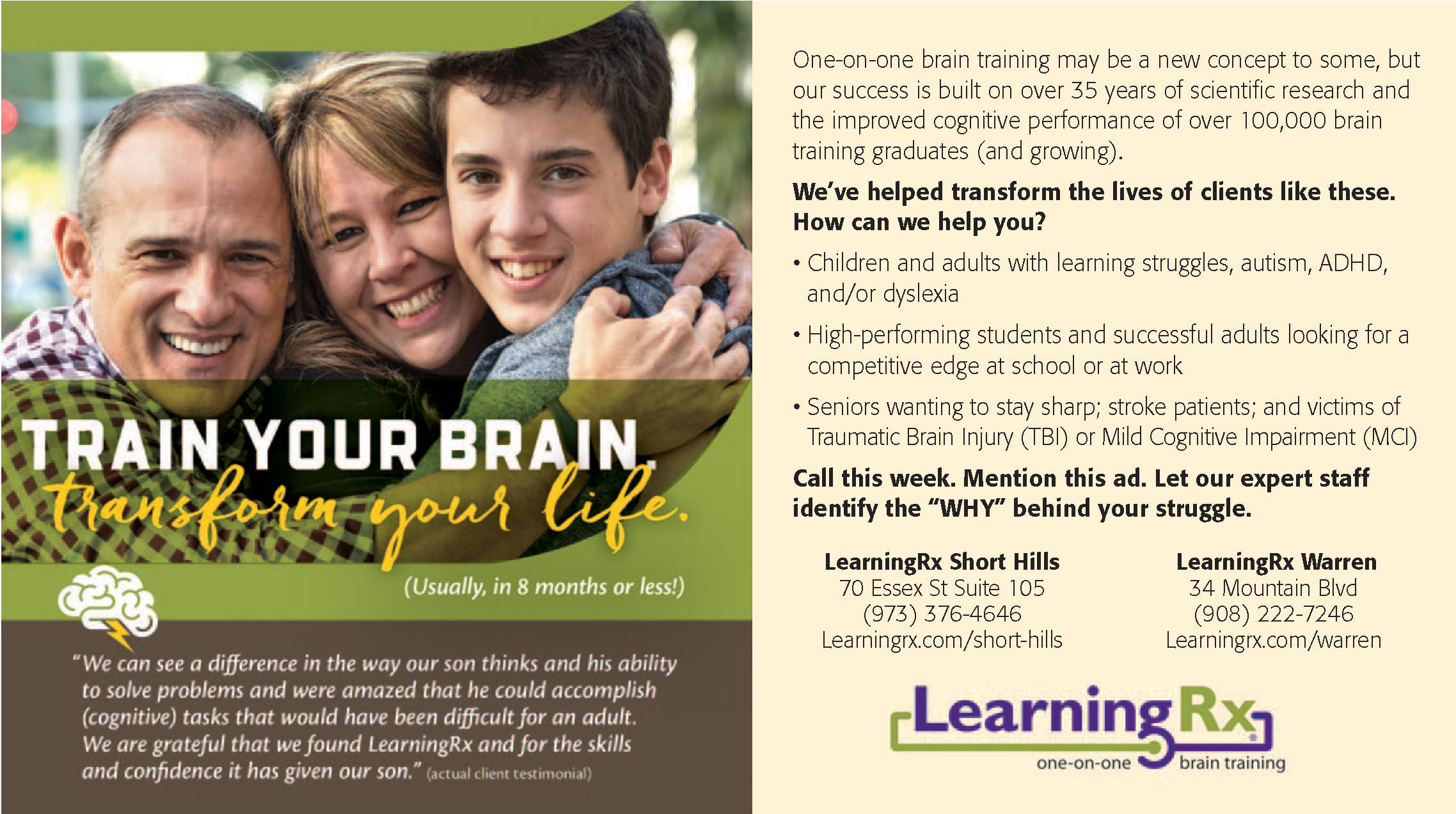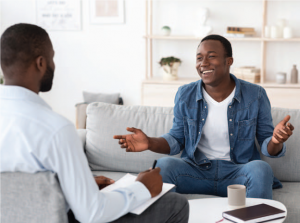 Modifying ingrained behavior patterns requires a whole-hearted dedication to achieving a balance between emotional extremes and learning how to identify and make more effective choices. Before being accepted, the DBT team spends time screening prospective clients on the telephone, followed by personal interviews to discern levels of motivation, increase commitment, troubleshoot potential issues and agree on a collaborative approach to reaching goals. The DBT program provides the tools and encouragement; the commitment to apply them to daily life is up to the client.
As a goal-oriented therapy, successfully completing what is referred to as Stage 1 DBT treatment in the Adult Program requires clients to demonstrate at the end of two cycles of the curriculum that they have moved closer to their goals by learning and applying the skills taught to them. In the Adolescent Program successfully completing Stage 1 DBT treatment may occur after one cycle, although most families stay for two cycles to solidify the improvements. Time limited graduate level treatment can be arranged for certain clients in both the Adult and Adolescent Programs, however Dr. Larson emphasizes that, compared to many other types of mental health therapy, DBT is meant to have a tangible end point. "DBT is a recovery-based model," she says. "The goal is to get clients to the point where they no longer need therapy."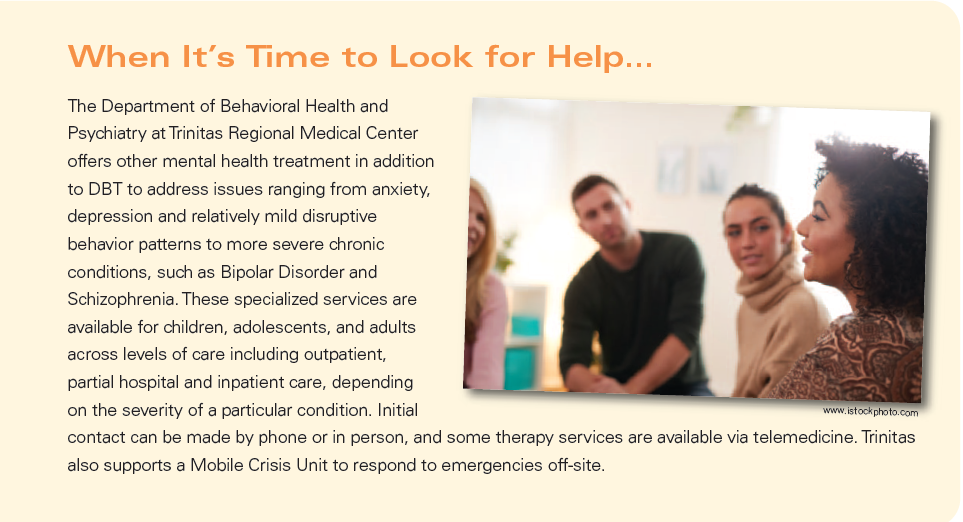 Editor's Note: The Trinitas Institute for DBT and Allied Treatments for adults is located at 654 East Jersey Street in Elizabeth (908) 994-7087. Adolescent DBT treatment is located at 655 East Jersey Street (908) 994–7378 (English) and (908) 994–7589 (Spanish). For more information, visit dbtnj.org. The Institute also offers a variety of training, supervision and consultation services to support clinicians interested in learning DBT or to hone their DBT therapy skills. Clinicians who are still in school or already licensed may apply to formally join the DBT Institute teams for comprehensive training. Applications can be found on the website.