by Gary Lee
Ecotourism is all the rage. Even in a gray economy, most Americans say they would pay a premium to travel green. Saying and doing, however, can be two very different things.
With America's green revolution in full swing, being a savvy traveler now means more than merely ferreting out five-star resorts and
three-star prices. For the globally conscious adventurer, the ideal vacation includes an environmentally sustainable destination and, even better, a rental car that runs on renewable fuels. A truly green traveler will encounter the pollution created by the round-trip flight by donating to solar power.
Limiting your planetary impact is a noble goal and worthy challenge. But just how realistic are these goals?
Good intentions aside, defining what constitutes a sustainable destination—and finding the right lodging or tour operator—can be daunting, especially for newcomers to ecotourism. The first hurdle is sorting out the legitimately environmentally conscious travel purveyors from the so-called "greenwashers," or those companies promoting green credentials to attract customers, but which engage in little or no environmental protection. Fortunately, there are several information sources devoted to socially and environmentally sustainable travel, available online or in bookstores. Trip planners can use these and other resources to come up with a shortlist of potential resorts, hotels, or tour operators.
"These kinds of resources have made environmentally and socially responsible travel easier than people think," says Martha Honey, President of the Center For Responsible Travel, a Washington, DC nonprofit. "While we're not quite to the point of one-stop shopping, there is a wealth of information and it's pretty accessible."
When vetting hotels, guesthouses, or resorts, suggests Ronald Sanabria, Director of Sustainable Tourism for the Rainforest Alliance, check to see whether they have received environmental certification certificates from third-party organizations.
While there is no overarching international certifying agency, a growing number of countries, U.S. states, and international organizations review the environmental practices of resorts or operators and award certificates. Australia-based Green Globe 21—one of the best known—has certified over 700 properties and organizations worldwide. In searching for lodging in the U.S., look for a stamp from Energy Star, an EPA program that helps hotels and other companies reduce energy use. Many environmentally progressive countries—including Costa Rica, Ecuador, and Kenya— have strong certification programs. Here in America, about 25 state programs also offer certification.
Because resorts or tour operators with a strong environmental commitment are not always certified, it certainly doesn't hurt to contact intriguing properties directly and inquire about their environmental policies. Try to determine in what ways they contribute to the sustainability of the surrounding community. Start with a few basic questions: How do you reduce waste? How do you conserve water usage? What chemicals do hotel staff use for cleaning or gardening? Do they hire local workers and use local products in the kitchen?
"The answers to these questions should give travelers a sense of the property's commitment to sustainability," Honey says. Offering guests the option of passing on towel or sheet changes is now considered the basic minimum environmental policy for hotels. More serious properties have gone further by switching to alternative energy sources or using organic produce in the kitchen.
After finding a suitable green resort or tour operator, some take steps to counter the air pollution created by their transportation. This is the eco-travelers carbon footprint— the amount of carbon dioxide pollution each person is responsible for producing by flying jet-fueled airplanes, driving car rentals, or taking any means of transport using fossil fuels. To help counterbalance the potential environmental impact, a growing number of carbon trading companies calculate how many carbons travelers burn, then collect funds from them and invest them in renewable energy resources to offset the damage.
What's that compute to on, say, a flight from Newark Airport to Aruba? Climatecare, a UK outfit that specializes in helping travelers and companies offset the carbon pollution they cause, calculates that a couple will burn 1.38 tons of carbon emissions on this trip. The company will then collect the $20.40 needed to create an equivalent amount of clean energy. They invest the funds in wind power, biomass, or other renewable energy projects, usually in the developing world.
Now, if you can find a rental car that runs on electricity, you've accomplished something…namely a guilt-free eco escape!
Editor's Note: Gary Lee won the Lowell Thomas Award for Travel Journalism for his coverage of 9/11 in The Washington Post. Fluent in five languages, including Russian, Gary served as the Post's Moscow Bureau Chief. He was nominated for a Pulitzer Prize for his articles about Gorbachev's Russia.
Starting Points
INTERNATIONAL ECOTOURISM SOCIETY
(www.ecotourism.org) promotes sustainable tourism, offers a succinct definition of what ecotourism is about: responsible travel to nature areas that conserves the environment and improves the well-being of people. It also links to The Travel Green Guide, which includes tips, approved lodging, and tour operators.
THE RAINFOREST ALLIANCE has compiled a list of hundreds of environmentally responsible properties and operators worldwide. Log onto www.ecoindextourism.org.
National Geographic Traveler's ULTIMATE GUIDE TO SUSTAINABLE TRAVEL. Many country guides published by Lonely Planet include a GreenDex, a quick reference index of sustainable accommodations, and other eco-tips.
Three For Money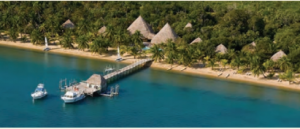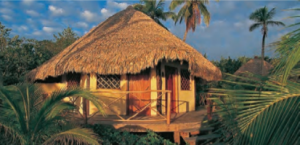 These luxury resorts come with impeccable eco-credentials…
Kanantik Reef & Jungle Resort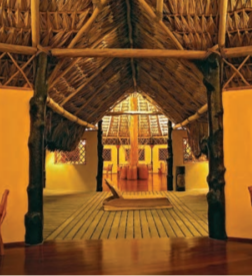 Set amidst 300 acres of jungle along the southern coast of Belize, this property is a luxurious haven in a sweep of exotic flora and fauna. Guests are housed in 25 Mayan huts with thatched roofs and hardwood floors. A member of the International Ecotourism Society, Kanantik is unflinchingly respectful of the surrounding ecology. No chemical sprays are used on the grounds. A special ecologically sensitive septic system handles waste, and refuse from the kitchen is composted. Meals are made with local organic products. Be advised—there is no shopping or nightlife nearby. But with jaguar-watching in the adjacent Cockscomb Basin, canoeing in the nearby uncharted rivers, 1,300 feet of beach just out the door, and excursions to the ancient Mayan ruins at Xunantunich, who needs modern distractions? The room rate includes meals and some excursions.
877-759-8834 • kanantik.com
Bardessono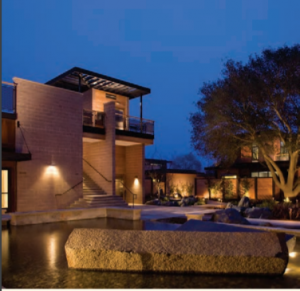 Open less than a year, this 62-room Napa Valley property has already become the gold standard for luxury eco-hotels. The spare, low-rise buildings are constructed from walnut laurel bay and other wood salvaged from surrounding Northern California. Solar panels provide much of the electricity used on site. An elaborate system of underwater wells and pumps are used to heat and cool the guestrooms. No
plastic is used on property in order to minimize waste. The environmentally au courant management has even forgone rugs, to cut back on allergens. Bardessono's Zen-inspired design does allow for creature comforts, including flat-screen televisions, 300-count organic linens, deluxe bath products, a gourmet restaurant, in-room spa treatments, and just about every other perk you'd expect from a five-star destination.
707-204-6000 • bardessono.com
Closer to Home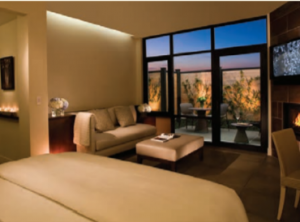 Just this January, Starwood launched its Element brand right here in the Garden State. The Element
Ewing Hotel is "flawlessly and certifiably state-of-the-art green" according to the property's opening-day publicity. What exactly does that mean? From the naturally lit lobby to the guest rooms (which feature low-flow fixtures and stylish recycling bins), there is
an impressive balance of energy efficiency and topflight hotel amenities. Eco-friendly materials are used throughout the hotel, right down to the paint and carpeting and the housekeeping staff is armed with an arsenal of green cleaning products. 609-671-0050 • starwoodhotels.com/element.
La Casitas Del Colca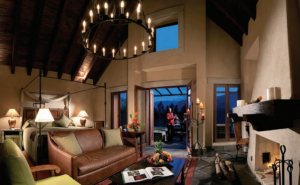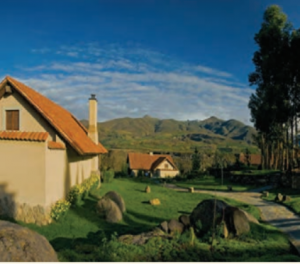 At the end of a dusty road in the rustic Colca valley of southern Peru, this collection of 20 cabins enables guests to experience rich, raw
nature and first-class service all at once. The structures, constructed of local Laja stone and other natural materials, blend seamlessly
into the pristine natural surroundings. Strongly committed to the protection of southern Peru's delicate ecosystem, the hotel grounds
include an organic garden that supplies the kitchen with most of its fruits and vegetables. Las Casitas del Colca also composts organic waste for the garden and sends wastewater to a treatment plant for purity. The vegetable garden on the grounds is also used to provide produce for the nearby Mission of Sister Antonia soup kitchen. Guests are encouraged to volunteer at the mission. The major draw of the area is the Colca Canyon, located a short drive from the hotel. The 10,725-foot deep gorge offers a front-row seat for some serious condor-watching. That number is correct—it's twice as deep as the Grand Canyon! The room rate includes all meals. 011-51-1-610-8300 •lascasitasdelcolca.com