by ANDREA CLURFELD
"It is Didier now," says the gentleman in the Hermes tie and dapper suit as he sands, head bowed slightly in our direction, at the foot of our corner table at Chez Catherine. "Not 'Sir.' No more. I am Didier."
Even Didier Jouvenet's admonishments can flatter. I've just addressed him as "Sir" in a quick series of queries at the end of our dinner, and the owner/maitre d'/sommelier of this intimate and pure French restaurant in Westfi eld is insisting on doing away with distance between diner and proprietor. That's how the old restaurant pros do it, and the veteran of La Grenouille and The Carlyle Hotel in New York is nothing if not the consummate pro. Chez Catherine has been around a long time in its somewhat incongruous home in the bosom of a Best Western motel near the downtown district. But it's been reinvigorated by the current stewardship of Didier Jouvenet and his wife, Edith. They have secured the services of chef de cuisine C.J. Reycraft to turn out the French classics. There are very few places in New Jersey where brandade de morue and confit of duck and profiteroles are done with textbook care.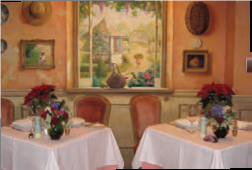 If the foamists have their way, or if designer burgers snatch any more menu space—or if yet another Everything-Asian eatery takes hold in a strip mall—restaurants such as Chez Catherine could find themselves on the culinary endangered species list of New Jersey. We shouldn't let that happen. The Jouvenets and their kitchen crew give us too much reason to let that happen. The dining room may be a touch too pretty-pink, a tad cluttered and close-quartered. Yet the dishes served forth are precise, heartfelt translations of those that once made France the culinary capital of the planet. They merit attention. Brandade de morue, a soul-satisfying mash of housecured salt cod, potatoes and roasted garlic, is given a lick of olive oil to help smooth it on accompanying toasts. If you've ever thought fondue was fun, well, Chez Catherine's brandade offers the same communal dip-in pleasures, with a different and arguably more intriguing base. Risotto, as popular in parts of southern France as it is in northwestern Italy, is given a creamy lift with the addition of mascarpone, which balances the tannic shreds of spinach nicely. Is a shot of truffle oil overkill? Not in the hands of Reycraft, whose deft hand keeps this often-overused condiment in proper check. It's background here, wisely elusive. But the foie gras is brawny and bold. A hunk of the stuff serves as the centerpiece of a plate with a rash of partners that allow you to enhance the fatty liver in various ways.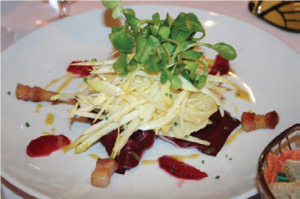 There are pert cubes of Grand Marnier gelee, slivers of toasted hazelnuts, a compote of vanilla-laced pineapple and a swirl of pink peppercorn-infused blood orange. No reason to be shy; lap it all up, for all of it works. Skate, splayed gloriously on a wide plate, showed the wing span of an eagle—and the sure hand of a kitchen willing to let an expertly cooked piece of fish stand just about on its own. A little acid from nibs of citrus was all that was needed. Duck confit, plucked from the annals of the classic bistros of southwestern France, didn't miss either. This is the dish that defines falling-off-the-bone tender, and Chez Catherine's rendition is the snapshot for a cookery bible. Factor in a scattering of tart, dried cherries for counterpoint, a pile of wild rice for texture and long-braised scallions for sweetness, and you have an air-tight case for respecting tradition. Chez Catherine's kitchen also knows how to respect lamb. Fat rib-eye chops come cosseted by a chestnut puree and Brussels sprouts—an appropriately (and pleasantly) bitter sideshow to rich meat. The parade of classics doesn't let up at dessert. How long has it been since you've had a proper profiterole? Here, your new best friend, Didier, will pour from a miniature gravy boat a ration of hot chocolate sauce over and around buttery puffs of pastry with an inner prize of vanilla ice cream. The original molten chocolate cake, done to death at chain restaurants everywhere? It's here in true French fashion, fastidiously made so it tastes of fine dark chocolate, not something insidiously sweet, and served with a scoop of pomegranate ice cream. The best of the finales may have been the lemon tart, with a curd that resonates sour, spooned into a meringue shell and then set astride flecks of Marcona almonds, a thimbleful of lemon verbena-mascarpone sorbet and a flourish of blackberry sorbet. Mon dieu, do the French know balance, or what?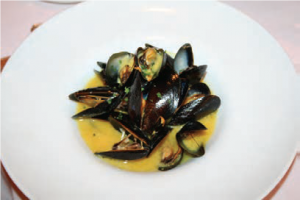 I do wish, however, that the wine list was better balanced. It weighs heavily in favor of the high-priced (way highpriced) standbys, while all but ignoring the highly nuanced, spirited small-producer bottles from the south of France that would sing with Reycraft's food. If you're willing to shell out three figures (or four), you can enjoy a solid Burgundy or Bordeaux. But the $60-to-$80 price range is far too thin, lacking in imagination and educational value, for the list to be considered worth a trip. But the food at Chez Catherine is. It makes me hope France's life at New Jersey's tables is long lived.
Dress for Dining Success
Gents, Chez Catherine is a place that doesn't demand jacket and tie, but certainly deserves to be honored by appropriate attire. While a jacket alone will do, the same clothes worn to accomplish household chores will not. Ladies, workout wear is unsuitable here. This is a place where diners should feel inspired to rise to the occasion, even if that occasion is simply dinner out. Clothes worn to mow lawns and shuffle kids to soccer may do you fine at Applebee's, but not at Chez Catherine. Will you see inappropriately dressed people dining here? Yes. It would be hard to imagine Didier Jouvenet and his crew treating them with any less respect than his properly dressed clients. It's known as class. Watch and learn.
Editor's Note: Andy Clurfeld is a former editor of Zagat New Jersey. The longtime food critic for the Asbury Park Press also has been published in Gourmet, Saveur and Town & Country, and on epicurious.com. Don't miss her Q&A with celebrity chef Dennis Foy on page 40.