by Andrea Clurfeld
Taking the Chill Out of Home Cooking
There are two kinds of home cooking. There is the home cooking that involves chopping and miles of counter space, measuring and splatter stains on the stove, heaving heavy pots and brandishing Brillo pads, finding the Microplane and losing time for a siesta. Simmering can describe the scene, from the time you issue an invitation until you pay the dry cleaner for getting red-wine stains out of grandma's linens. This suits some folks. It suits them well. It even makes them happy. Then there is the "home" cooking that involves smart shopping. It makes you happy and allows you to retain control of your life. It's home cooking with help. It requires little more than sourcing ingredients that ease food preparation. Whether you have a designer-showcase kitchen or little more than a galley, smart shopping is the means to a delicious end—particularly when you have neither the time nor inclination for the whole-nine-yards process. Exhale. This is fine. This is permissible. This is also fun. I know because I recently enjoyed mining a number of Union County's best specialty food shops with an eye toward short-cutting the dinner party process. I bought a bounty of food—from raw ingredients to partially prepared options to ready-to-eat dishes—and saw what I could do with them. While I was shopping, I also picked up tips from fellow foragers who told me about a couple of restaurants they'd used as sources for takeout…and turned that takeout into smashingly successful dinner parties. A bounty, indeed. So, come shop with me. I'm sure when you step inside each of these six shops (and the two recommended restaurants), ideas will bubble to the top.
Alan's Orchard • Westfield The new center of the locavore movement in these parts, Alan's Orchards opened in September. It is owner Alan Weinberg's intent to sell food—from poussin and grass-fed beef to in-season vegetables and cheese—all produced within a 150-mile radius. Enter the tidy and inspiring 1,000-square-foot shop and you'll see that New Jersey's got it going when it comes to quality ingredients. Pick a Griggstown Quail Farm's chicken pot pie and rely on that as the centerpiece for a supper with friends. Snag a couple of cheeses from Valley Shepherd Creamery, just outside Long Valley, and partner them with Baker's Bounty breads (typically found at New York's famed Union Square Greenmarket) for starters. Buy whatever in-season fruits Alan has in store and make a warm compote drizzled with a local honey. Or choose a ready-made fruit pie and serve it with the frozen yogurt sold here. If you're more ambitious, roast one of Griggstown's chickens or poussins or break out the grill for a loin of pork from the High Hope Farms division of Ted Blew's Oak Grove Farm in Pittstown. Alan's happy to direct folks in need of certain seasonings and condiments to the Trader Joe's in town. Two-stop shopping isn't bad at all. But thanks to the high quality of the ingredients, you'll need to do very, very little to make a big impression on your guests.
Union Pork Store • Union The sausage capital of the East Coast is owned and operated by Jabi. Jabi (as Jabi himself will tell you) is "a stage name, like Ch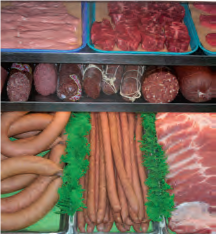 er or Madonna." No surname necessary. But no performer makes spicy mango chicken sausage or lamb-blue cheeserosemary sausage like Jabi and his crew. Jabi simply can't stop creating. "We make at least one new sausage a week," Jabi says as he packs up spicy Buffalo chicken sausages that deserve to be on Super Bowl watching menus everywhere, and ginger-chili bratwurst that takes the concept of fusion in new directions. My thoughts fly as I consider the more than 100 types of wursts, 20 kinds of kielbasa and tubs of prepared foods. Stuffed cabbage? Herring salad with beets? Time with Jabi is not for the faint of decision-making. Don't leave without his spicy turkey sausages with chipotle and prunes. Cooked with cut-up root vegetables and diced tomatoes, they make for a dazzling Moroccan tagine, an exotic stew that can be served over rice, couscous or noodles. The myriad sausages also can be served simply in hot dog buns or hard rolls topped by a quick sauté of peppers and onions. A schmear of mustard is nice. But of the eight types I sampled, I have to say a Jabi creation needs no embellishment to be the star at your dinner.
The Greek Store • Kenilworth Since 1950, the Diamandas family has served forth at this small, crammed-full shop on Boulevard in Kenilworth. They're one of the original ethnic grocers in the area, and they can take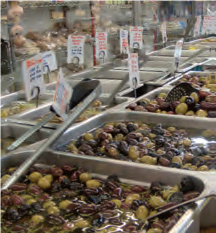 credit for introducing the masses to the delights of moussaka. Rifle through the freezers of local residents and you'll find the Diamandases' Greek meatballs waiting for that night when nothing else but a tangle of linguine topped with a few of those oregano-scented meat poufs will do. You also may find phyllo pies filled with spinach and cheese (aka spanokopita) and wedges of pastitsio, a lasagne-like casserole rich with eggy-creamy goodness. Don't hesitate. Score some of these heat-and-eat entrees for tonight or for your next soirée. Then go to town with selections from The Greek Store's olive bar and refrigerator case. Here all manner of dips in half-pound or full-pound sizes are sold. There are a good 30 different types of olives at the bar. There is no better way to launch a dinner party than by setting out a selection of Greek olives: Amfissa, the large and soft purplish-black variety from Delphi; Ionian, brine-cured green olives from the Peloponnesos; the traditional Kalamates, the fleshy favorite from Kalamata; Thassos, the oil-cured, dry type from the Aegean island of the same name. Partner these with one of the half-dozen varieties of feta, and lay all out with a spirited dip and pita chips. My personal favorite dip is the taramasalata, a decadent spread of fish roe and olive oil jazzed with nibs of shallots and herbs and a squeeze of lemon. Keep for yourself: a tub of tzatziki, the part-sauce, part-salad classic of sliced cucumbers rolling in thick Greek yogurt laced with mint and garlic. It's restorative the morning after.
Mr. J's Deli • Cranford Mr. J's defines the concept of corner deli—corner deli with really, really good food, that is. Owned by Cranford native John Taggart, Mr. J's is the breakfast-lunch hot spot locals pop into for pancakes or cold-cut sandwiches, but also know as their savior for to-go meals. Here you get your chicken parms, your sausage-and-peppers, your francaises, barbecued birds and pans of baked ziti and lasagna. It's where traditional reigns—and those who only wish they had time to cook for
their kid's First Communion or the folks' 50th anniversary go for a personal bail-out. Sure, there's a sizable sit-down space, and many do partake daily of the corner deli's in-store hospitality. But what you need to know when you're in a pinch for party-ready takeout is the name of Mr. J's signature dish: Sloppy Joe. There are almost as many Sloppy Joes out there as there are fellows named Joe. But these piled-high sandwiches, here cut into quarters for easy at-home serving, are superior. Turkey and Swiss are layered with a snappy Russian dressing and extra-rich cole slaw on rye. There are combos renowned for their compatibility: chocolate and hazelnut, for instance, or smoked salmon and cream cheese. But turkey, Swiss, Russian and a phenomenal homemade cole slaw is sandwich nirvana. This winter, when you're suffering from terminal envy of those vacationing on a sunny Caribbean island, lay out a spread of Mr. J's Sloppy Joes with a side show of sausages doing a do-si-do with peppers. Home, sweet home.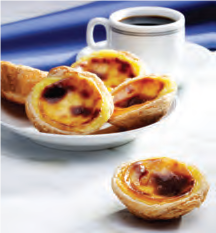 Pinho's Bakery • Roselle Raul and Julia Pinho first landed in Newark's Ironbound, then bounded down to Roselle to open the muchneeded Portuguese bakery that locals quickly made a regular pit-stop. Pinho's doesn't stint on anything, especially variety. There are fist-size rolls and there are divine, pillowy Portuguese babkas, a slightly sweetened bread that suits for breakfast as well as it partners with a rousing Mediterranean-inspired stew for dinner. There are pastries ranging from Rococo to Spartan in style. Meaning, you can get what you need as accompaniments to your dinner at home without fussing over flour, water, butter and sugar. Just don't forget to tote home Pinho's specialty: nata, or custard cups. The little round eggy creations fly out of the store. But the Pinho's crew makes them constantly. For good reason.
Bovella's • Westfield Bovella's has been around since 1949, when it was born in Plainfield as the sweet dream of Michael Bove. Some 36 years ago, Bove moved his pastry shop to Westfield, eventually passing its proprietorship onto family and co-workers. Today it's owned by Ralph Bencivenga, who can't remember not working at Bovella's. That's a little history. For residents of Union County, Bovella's is their pastry past, present and future. For some, there are no birthdays without a Bovella cake. No Christmas Eves without a Bovella cannoli. No Easters without a Bovella chocolate-fudge cake.  I may not be able to imagine life without a Bovella chocolate  mousse bombe. I thought the cannolis and cannoli cake exemplary, the mini fudge balls addictive, the basic raisin scones and blueberry muffins fine ways to start the day. But that bombe — partnering a chocolate cookie of a cake and a spiraling mass of chocolate mousse—is one blast of a confection.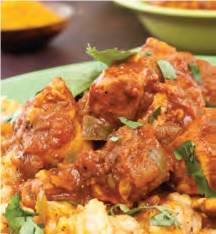 Star of India • Kenilworth Cozy and softly lit, this Indian restaurant is worth your time for a sitdown feast. But I was putting on an Indian-cuisine home show for friends as, well, a lip-syncher might. So I ordered, had it packed to-go, then served it all up without breaking a sweat. I started things off with a handful of crisp, pert cheese fritters (paneer, or panir, pakora) and a spirited little stew of chickpeas and potatoes called aloo chola. Americans don't pair chickpeas and potatoes nearly enough, I thought as I ate. Next, shrimp slow-cooked in a warmly spiced coconut-milk bath (shrimp nirgisi) and chicken in the gentlest yogurtbased sauce infused with tomatoes and onions (chicken pishwari). A winning twosome, any night of the week. Cooks in India have a mastery of eggplant—never, ever pigeon-holing the vegetable. Need evidence? Try Star of India's Punjabi-style eggplant (baingan bhurta) cooked in a tandoor oven with tomatoes, peas, onions and a judicious amount of fresh ginger. Don't forget to include the crown jewel of this restaurant's biryani selection, saffron-scented rice studded with chunks of chicken, lamb and shrimp. Paella of another stripe. I was struck by how easily the food here transported and reheated. It was a smash hit dinner for six.
Thailand Restaurant • Clark Set in an old diner in Clark, Thailand Restaurant has fired up local palates for years. As I waited for takeout, regulars told me it's the one Thai spot they can count on for authentic fare. "They don't dumb it down here," said a gent presiding over a table of eight. "It's not sweet-sour Thai. The spices are more evolved." He was right, I learned, when I took a passel of soups, salads and a grand rice noodle dish to the home of friends who live nearby. Gulf of Siam is a hot-and-sour soup in which chilies and lemongrass warm both shellfish and finfish and mushrooms and tomatoes offer a calming backdrop. The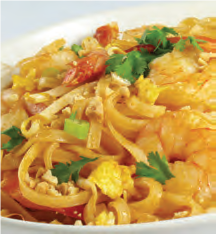 seasonings don't fight with the fishes; they complement. In the coconut milk-based soup tom-kha gai, chunks of chicken laze about the surprisingly light broth amid riffs of lemongrass and kaffir lime. In tom yum puk, a feisty little soup chunked with Asian vegetables and tofu, the lemongrass-lime component comes on stronger. As it should. We swooned over the Grand Palace Salad, a veritable party of grilled beef plied with onions and smacked with chilies and lime. There was no letdown with the nato-sad salad, a rather unusual toss of ginger-licked ground pork enlivened by onions and made elegant by the addition of cashews. I'm an easy mark for rice noodle dishes and my new favorite is Thailand Restaurant's pad kee mna puk, a melange of those silky noodles, crispy fried tofu, egg, Thai basil and shards of vegetables. Sigh. I've got to learn to cook like this.
Editor's Note: Andy Clurfield is a former editor of Zagat New Jersey. The longtime food critic for the Asbury Park Press also has been published in Gourmet, Saveur and Town & Country, and on epicurious.com.