by Rachel Rutledge
A new Ambulatory Surgery Center keeps Trinitas ahead of the curve.
The calculus of running a hospital like Trinitas Regional Medical Center seems to get more complicated with each passing year. That being said, some decisions come down to a simple set of metrics. In the case of TRMC's new Thomas and Yoshiko Hackett Ambulatory Surgery Center, the stars align perfectly. Patients desire speed and convenience, insurance companies want to avoid overnight stays, and surgical techniques and technologies have been evolving at light speed. All of these trends have converged in the$5.2 million, 9,500-square-foot facility, located in the Andrew H. Campbell Pavilion on Williamson Street.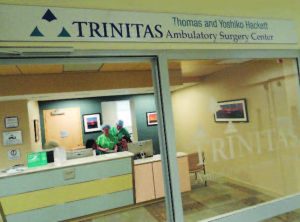 The Center features state of the art operating rooms offering comprehensive outpatient surgical procedures including plastic surgery, laparoscopic gynecological procedures, gallbladder surgery, hernia repair, orthopedic, vascular, podiatric, and pain management surgeries as well as cutting edge hemorrhoid surgery. Andrea Zimmern, MD, Colorectal Surgeon at Trinitas, is the first surgeon in Union County to carry out Transanal Hemorrhoidal Dearterialization (THD) procedures at the Center. "The groundbreaking THD procedure is virtually painless," Dr. Zimmern says. "We tie off all the blood vessels that feed the hemorrhoid, and work in an area of the anal canal that has no pain sensory innervation. It's a drastic, positive change from traditional surgery—patients are back to normal activities usually in less than a week. THD changes the game because we've removed the painful discomfort while minimizing recovery time. That's an amazing advancement when you consider what hemorrhoid surgery used to mean."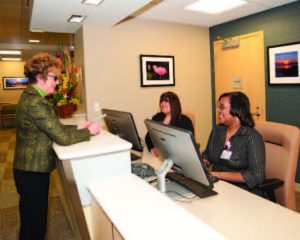 The Center opened for business in March and will help Trinitas handle a growing demand for same-day surgery. From 2012 to 2013, the hospital experienced a rise of more than 15 percent in these types of procedures, and expects 10 to 15 percent growth in this category to remain steady for several years. About 45 percent of the surgeries performed at Trinitas are already of the outpatient variety.
This is consistent with a nationwide trend among hospitals, which now perform close to 60 percent of outpatient surgeries (as opposed to free-standing surgical centers). Not surprisingly, a major reason people opt for hospital-based ambulatory surgery facilities is the proximity to the greater resources of a hospital.
"In our case, it's added assurance for patients who come for same-day surgeries," says Trinitas President and CEO Gary S. Horan. "And by providing a new facility, we will support the work of our current medical staff, strengthen our ability to recruit new physicians, and assure patients of a superior patient experience."
Given changes in the marketplace triggered by the Affordable Care Act, the opening of the Thomas and Yoshiko Hackett Ambulatory Surgery Center at Trinitas could not have been timed any better. Free-standing surgery clinics—for many years operating on an out-of-network basis—have been moving toward in-network status under pressure from insurance companies. Rather than responding to competition after the fact, Trinitas has stayed ahead of the curve with the opening of its new center.
Editor's Note: Numerous organizations, foundations, and individual donors contributed $2 million for the construction of the new facility. For more information on the Thomas and Yoshiko Hackett Ambulatory Surgery Center, log onto njambulatorysurgery.com.