by Andrea Clurfeld
On this night, the roasted chicken was infused with tarragon, snuggled under the skin during its time in the high-temperature oven.
If there's a single dish more satisfying than a properly roasted chicken, I've not found it. Skin crisped by intense heat and tinged with the taste of an herb, maybe subtle, maybe bold. Breast meat juiced by a little oil, a little butter, and hinting of the same thyme or tarragon that streaks through the skin. Dark meat starting to fall from bones, bones that have shared their soul, deepening and enriching what clings to them. Cavities from which you can pull extremes of flavor, perhaps strands of meat, moist to the point of almost drenched, perhaps a sliver of lemon attached to an out-of-the-way part of the bird. A roasted chicken is a contemplative dish, right for a Sunday when obligations either have been escaped or accomplished and supper can be a quiet affair that starts with all good intentions (a fork) and ends with a bit of rascally table behavior (hands) apropos for the food in front of you. Chicken soup has nothing on roasted chicken for me. I prefer chomping to sipping. Roasted chicken also brings to mind three vivid food memories, one actually experienced, one watched from a distance, one merely read about in a magazine.
The magazine account validated the culinary instincts of then-food writer, now-movie maker Nora Ephron as she traveled with friends in Europe. Passing the entrance to a small restaurant, I think it was in Italy, Ephron had the car stopped, stepped out, took a look and a sniff and said something to the effect of, "I bet they do a good roasted chicken here." Upon which she and her party decamped and learned that indeed the restaurant did a splendid roasted chicken. The chicken-from-a-distance unfolded in a series, as I gawked again and again almost 20 years ago at the spit-roasted birds twirling about open-air markets throughout Provence. This was well before American supermarkets figured out selling already-roasted chickens would lure customers, and I was drop-jawed with awe at the spectacle. Never bought one in Provence, though, preferring to tinker around with raw ingredients. Stupid of me.
The actual experience came during a birthday trip to San Francisco a couple years ago, when all I wanted to do was lunge at chef Judy Rodgers's roasted chicken bread salad at her Zuni Café. I did. Make whatever reservations you need – plane, train, blimp – to experience Rodgers's perfect balance of chicken, bread cubes, greens and juices. Until Zuni, there is Verjus, in Maplewood, where roasted chicken has been on the menu since 2001, when the French restaurant opened for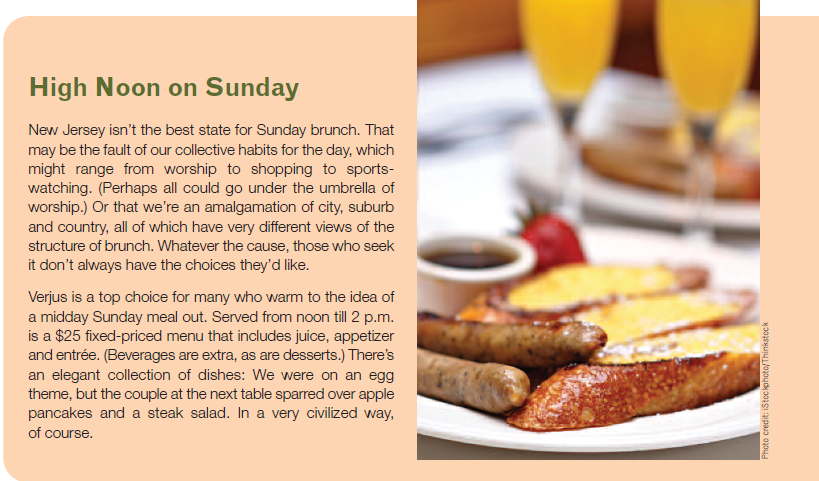 business, and where it might be taken more seriously than at any other restaurant in New Jersey. This is serious praise. The chef-owner Charles Tutino knows his birds. He not only roasts chickens every day Verjus is open, he roasts duck. Both often come in half-bird portions, which may seem an extreme amount of food to anyone who is not an aficionado of expertly roasted birds. The only reason I've ever found to stop eating once a roasted chicken (or duck) is set before me is to save something for the next day's lunch. This requires belief in the benefits and joys of delayed gratification. When the bird is properly roasted, that is not always possible. It was not possible at Verjus. Let's back up a bit, and give you some background as well as appetizers. Tutino is a classically trained chef who worked at French restaurants in New York before coming to New Jersey and setting up shop with his wife Jane Witkin in an understated space they decorated in a style that would mirror the food. There are cloth-covered tables, dark blond wood chairs, silver and stemmed glasses. There are, perhaps, a couple dozen tables. The scene is hushed, adult. You can converse.
Escargot, to start, are textbook, in the Burgundian manner: white wine, butter, a little garlic, parsley and anise. I adore the braised endive, a pert gratin of elegant spears bathed in lemon and sprinkled with a mix of romano and parmesan cheeses, because the vague bitterness cleanses for something richer. Like the duck liver terrine. Talk about a way with bird dishes: Tutino's compact layering is cut deftly by his accompaniments—cornichons, cranberry compote, a slash of Dijon mustard. Though I wouldn't restrict my starter to a mere toss of baby greens, even with Verjus's signature barely-there vinaigrette, I admire the in-season salads here. Dandelion or morels and mache in the spring, frisée and roasted beets in the fall. Soups, too: Count on spinach in the spring, pumpkin in the fall. But roasted birds, always.
On this night, the roasted chicken was infused with tarragon, snuggled under the skin during its time in the high-temperature oven, and served with carrots glazed by ginger-charged honey and garlicky mashed potatoes. The roasted Pekin duck is positively high-toned, compared to the chicken's simplicity, skin lacquered but not blackened by silly sweet stuff, as is too much the fashion elsewhere, and plated with black rice and braised red cabbage. There's a flourish of saucy cranberries, a tart note expertly played. Sure there's meat and there's fish (beef Bourguignonne with a soothingly tame mushroom sauce; lightly crusted salmon with lentils), but what you most need to remember is there's rosé here, from Bandol. A nice Rhone Valley red wine always does right by roasted chicken for me, but there's something restaurant-special about real-deal pink vino with birds. I wasn't so impressed with the desserts at Verjus—we tried a serviceable ice cream terrine anchored by fig ice cream and quince sorbet and an apple tarte tatin that, frankly, needed more apples—but I figured anyone who knows chickens as well as Tutino also might know eggs, so I came back for Sunday brunch.
Why not eggs Benedict, poached, set atop English toasts in a pool of Hollandaise? Or an omelette, with poached salmon and a pile of twice-cooked potatoes? There's even a dessert reward at this time of day and week of very eggy crème brulée, with a suggestion of lavender. As I paid the bill for brunch, I thought about when I could return for another of Verjus's properly roasted chickens and ducks. I thanked the server and said I'd enjoyed the eggs almost as much as the roasted birds at dinner. A gentleman at the next table leaned over and whispered a tip: "If you like the chicken here," he said, "you'll love the chicken salad they do at lunch. With tarragon mayonnaise and a ciabatta roll." My eyes widened. I'd need to pick up a chicken on the way home. Couldn't make it through the day without chicken salad.