by Rick Geffken
An American Returns to Vietnam
By Rick Geffken
I think it happened when Ken Burns and I spoke during the promotional tour for his 18-hour documentary film series, The Vietnam War. The conversation was part of a confluence of happenstances that seemed to be pulling me back to a place whose mere mention still conjures agony, anger, and guilt in those of us who lived through that disastrous period of American history. It felt like the final sign, or permission perhaps, to return to the country where I'd spent the 16 most hazardous months of my life.
And to search for the beautiful South Vietnamese woman who had once been my fiancée.
That was then. In December 2017, walking among Hanoi's street vendors and busking musicians, I was just a tourist, not a whole lot different from the ubiquitous backpackers drawn to the capital city by its cheap lodgings and myriad diversions. I indulged in street foods, seated at the tiny plastic tables the proprietors set up beside their charcoal grills. The barbequed chicken or pork called bun cha, and ban me, the baguette sandwiches slathered with margarine and paté. Both are served with tangy nuoc mam, the fish sauce I could never get enough of. The shops are everywhere, especially the local Highlands Coffee chain. I developed a nightly addiction for the espresso-like Vietnamese coffee flavored with a thick condensed milk. Each cup comes with a small metal drip filter, not designed for the impatient.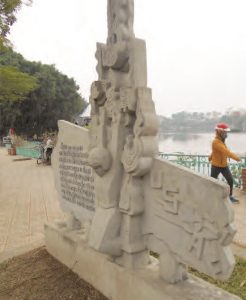 Making my way from a coffee shop to the Ho Chi Minh Mausoleum is as jarring as it gets for an American war veteran. Not too far away is a monument to John McCain's seizure at Truch Bac Lake (left), commemorating where he parachuted after being shot down in 1967. Equally disconcerting was passing through the doors of Hoa Lo Prison (aka the Hanoi Hilton), where captured soldiers and airmen were subjected to deprivation and torture. American POWs had more prescient gallows humor than they knew. The twenty-five-story Hanoi Towers overshadows the infamous prison these days. The day I visited Hanoi's university, the Temple of Literature, built in 1076, I watched proud parents taking pictures of recent grads with their diplomas. They were happy to pose with me, too.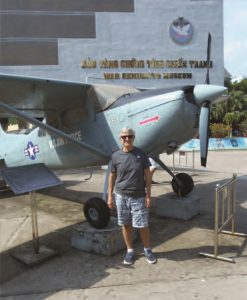 Hanoi was only one stop on my three-week odyssey. In South Vietnam, my friends and I idled a few days in the seaside resort of Vung Tau, called Cap Saint-Jacques by the French. Gorgeous mountain lookouts and theme parks feature huge statues: the Buddha atop one and Jesus another. Our B&B was opposite a wonderful seafood restaurant, where we dined among what looked like members of Vietnamese high society celebrating Christmas. In Ho Chi Minh City (formerly Saigon), Christmas carols blasted day and night from commercial malls and government offices everywhere in the Communist metropolis. Gift-wrapped packages were stacked in store windows, hotel clerks wore red Santa Claus hats, and Christmas trees were decorated with bright lights and outsized ornaments. The incongruity of it all suggested we may have lost the military conflict, but we won the cultural war. The Vietnamese may have to decide one day if that's a good thing
Regardless of where I traveled, it was difficult to find evidence of our war anymore. The Citadel in Hue, the old imperial capital of Vietnam, and the scene of ferocious fighting during Tet in 1968, has been restored. The small civilian homes once sheltered by its thick walls and moats were not rebuilt. The Imperial Enclosure and the Forbidden Purple City were—and they once again honor the Nguyen Dynasty, Vietnam's last. I purchased delicate painted paper lanterns at the gift shop near where so many men from both sides fought and died. On the wide boulevards of Ho Chi Minh City, I saw little of the old  French colonial Saigon, with its distinctive Parisian feeling, that I remembered. Millions of motorbikes now zoom past modern electronic chain stores, western-style gyms and yoga studios, and tall office buildings. Luxury high-rise condominiums line the Saigon River in the incongruously named "Diamond City." Classic old buildings are being taken down and replaced with shiny new skyscrapers, as the city rushes toward world-class city status.
Two reminders of the American War, as the Vietnamese rightly call it, do exist.
The Presidential Palace, where a succession of South Vietnamese dictators lived, is now the Reunification Palace. The War Remnants Museum (above) won't let visitors forget atrocities like Agent Orange and napalm. It's filled with captured American weapons, tanks, planes, and unforgettable images of victims of brutality, both civilian and military.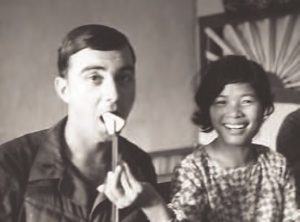 In 1969, as a young Army lieutenant, I flew along the Cambodian border in a Birddog observation plane, spending my days looking for North Vietnamese troops. The bomb-cratered landscape I surveilled resembled the moon Neil Armstrong stepped onto that same year. Occasionally, what sounded like the intermittent buzzing of mosquitos around our plane drew my attention to muzzle flashes from shooters a thousand feet below. As quickly as they appeared, they skedaddled into their hidey-holes on the side of the border we weren't supposed to cross. Being a target of small arms fire will instantly snap you out of revaries contemplating the natural scenic beauty of Vietnam. And out of the remorse for what a large country can do to destroy a small one.
I came face-to-face with beauty when I met Le Thi Nga, one of the interpreters at the 25th Infantry Division's Military Intelligence Detachment in Cu Chi. As did most young Vietnamese women, she wore the traditional ao dai (pronounced "ow-zai"), the flowing and tight-fitting colorful silk tunic worn over long black trousers. We spent hours together almost every day. Eventually, we began exchanging dreams for a shared future as we tried to bridge the cultural gaps between us. When I discovered that she, like me, was Catholic, I was convinced we were fated to fall in love.
Her parents weren't so sure, despite my efforts to impress them by attending Sunday Mass at their small church in Bac Ha village. Not only was I the sole uniformed American in the congregation, the M-16 rifle propped on my kneeler could not have helped them envision a traditional marriage for their daughter. By the time my tour was over, Nga and I decided it was best for us to lead separate lives in very different societies.
Fast-forward nearly five decades. I hired a driver to take me from what I still thought of as "Saigon" to Bac Ha. It had been 20 years since I last heard from Nga in a letter describing an abusive marriage and divorce from a former South Vietnamese soldier. The only clue I had to her whereabouts was an old return address. I had no idea if she was still alive. My driver's English was passable enough to understand where I wanted to begin my search. We left the puttering motor scooters of Saigon's chaotic traffic for the journey northwest. The old dirt road I traveled many times once bordered rice paddies with working water buffalos and a few mud huts with thatch roofs. These days, it's a bustling major highway lined with shops, small restaurants, and not a few large factory buildings.
My first stop was the small village church, my best guess being that the local priest might assist me in locating Nga. The rudimentary house of worship was now a larger, more modern church, apparently serving a prosperous community of believers. Unfortunately, I arrived on a day when no worshipers were around. Near the door of the locked church, the name "Le Thi Nga" appeared on a list of contributors. If this was indeed my Nga, it meant she was still living close by.
A cleaning woman seemed to recognize Nga's name on my old letter but motioned that she had moved away to Cu Chi town some time ago. This was not good news. It meant my search would be more complicated because I'd have no starting point in a city far different, unrecognizable really, from the little town I'd frequented for drinks, food, and other wartime comforts. Next, we stopped an old man on a motorbike. He recognized Nga's name. His translated response was "Is she a lady around 60 years old?" Yes, I said, and he agreed to show us to her home. Were we talking about the same woman?
Our guide led us back to the main road, a divided highway with modern buildings on both sides. It had been dirty and dusty all those years ago, crowded with small restaurants, make-shift laundries, the poor hovels of the men and women who supported our base, and houses of ill repute. The workers were herded through our base security gates each morning to our hootches, where they washed and ironed our fatigues, and cleaned our latrines, burning the half-cut 55-gallon drums of GI excrement with the unforgettable smell of burning diesel fuel. This is as familiar a flashback to veterans as the whoosh-whoosh of Huey chopper blades. Our scooter man pointed for us to park on a side street while he rode off down the sidewalk. Returning within minutes, he motioned for me to hop on the back of his scooter, and off we went, past astonished pedestrians. Near a yogurt and juice store, he gestured toward a side door where he had just told the owner that someone was looking for her.
Tentatively, I made my way down a dimly lit corridor.
"Nga?" I called out. "It's Rick."
I heard footsteps approaching and recognized her immediately despite her look of astonishment. Tears began pouring down her cheeks. We embraced, speechless.
"How did you find me? What are you doing here? Why didn't you write ahead?" she finally stammered in little-used English.
"I wanted to surprise you," I responded, though in truth I had no idea I'd actually locate her.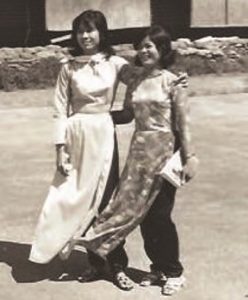 Nga motioned for me to sit. She kept leaving the small kitchen area to compose herself and catch her breath. She said something about me being like a detective to find her, still in shock until she finally settled beside me. I'd brought along some old pictures. Our great friend Hung, her best friend Lan (above left), and my fellow lieutenants: Fly, Sam, and Jim. We lingered over the images of parties at her house. Ba Muoi Ba beer bottles littered tables filled with spring rolls, pho, and other delicacies—my first introductions to what is now world-famous cuisine. What news of Lan? I was distressed to learn she was "sick now," living with her family just a few houses down the street. Of course, I wanted to visit her.
As we entered the open-front fabric and ribbon store, I knew the young proprietress was Lan's daughter even before we were introduced. Uyen had the same fine features as her mother. She and Nga retreated to a back room, asking me to join them a few moments later. I removed my shoes before entering the living room. And there, lying on a bed in a semi-comatose state was our beautiful Lan, very thin and reduced now to breathing through an oxygen tube. Her gray hair was shaved close, no longer the flowing black mane that once framed that exquisite face. Did I hide my shock well enough? I was embarrassed to be in this intimate family place, a virtual hospital room for a gravely ill woman. No explanation of her illness was offered.
Lan could no longer communicate, but Nga and Uyen spoke to her anyway.
"Rick has returned to see you."
I bent down to kiss an inert Lan, whispering I loved her and how I appreciated her kindnesses when we first knew each other. This strong, intelligent woman who once wrote me letters of friendship, to help me understand the language, was dying. Lan's husband emerged from the back of his home. Shirtless in the Vietnamese climate, Nguyen Hoa greeted me with affectionate gestures as Nga explained who this stranger was in his home. I gave him some pictures of a young Lan and a copy of a New Year's greeting she wrote to me before they were married. He reciprocated by showing me his picture as a proud uniformed man, and those of his ancestors enshrined on an altar-like bureau in the living room.
Uyen's brother, Khoi, clearly his mother's son, entered and offered a shy hello. We stepped outside the family home to take pictures. Uyen said, "My family and I would like to thank you for your visiting. My mother must be very happy. We wish you healthy and happiness."
The American War is little more than faded history for the newest generation.
The Vietnamese are a most gracious people, unfailingly polite, kind and self-effacing. In as much of that spirit as I could muster, I took Nga to lunch. At the large outdoor restaurant she ordered egg rolls, deep-fried eel and herb salad makings. Fifty years vanished as she carefully assembled spring rolls on thin rice paper and reminded me to dip them into nuoc mam, peanut sauce, or soy. She laughed as she let me kiss her for the photo in the empty restaurant. "I am single, I don't care!"
Returning to her home, we exchanged small talk in the car's back seat, my hand resting gently on her knee, a gesture more of friendship than intimacy. "I am very happy today," she repeated a number of times. We walked down the narrow village streets toward her old house, where she once invited our friends for fun and diversion. She insisted I wear a nón lá, the Vietnamese conical hat, to protect me from the midday sun. Her humor was still intact as I took our selfie: We looked like "two VC's," she said, referring to the Viet Cong guerillas thereabouts the last time we were together. This very odd couple strolling side-by-side drew bemused glances from the windows of the modern homes that replaced the old thatch-roofed huts. Following the death of her parents in the early 1980's, Nga sold the house. It was torn down, two new homes on its site. "I loved my old house here," she said. I did, too. Two old friends spoke of the past and the reasons they didn't marry. Nga's her mother "cried and cried" at the prospect of her only daughter's leaving. My intuition was that my America might be an overwhelming place for a country girl. I sensed no current disappointment in those decisions, just a reluctant realization of hurdles too high to jump.
After 1975 and the fall of the South Vietnamese government, Nga and others who had worked for the Americans had their ID papers specially marked. She was sent to the fallen Saigon for a two-week re-education class—a far milder punishment than other South Vietnamese "collaborators" experienced. Still, she recalled, "it was very hard." Later, Nga was assigned to work in a tourism office in Vung Tau for five years. She was married and divorced with no children, and has been single for decades. Nga reported that there are no government soldiers around now. Just "too many police…but they leave me alone."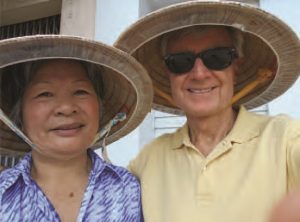 Nga and I held time at bay for several hours, though not quite turning back the clock. Familiarity returned; romance less so. I realize now that a lonely soldier confused warm companionship and a dollop of guilt with true love. I won't diminish what Nga and I had during the war. Had I brought her home to America, there's an even chance we might have grown to love each other enough for a marriage to prosper and thrive. And just as likely she might have become homesick and discontented with a fast-paced and rapidly changing society so different from her traditional life in Vietnam. The exigencies of fate won't allow a resolve to these hypotheticals.
Everyone in town seemed to know and respect Nga. She still walks briskly with the same dignity I recalled, head held high. She's slim-figured with less gray hair than me. All in all, she's made it through the years nicely.
Old friends walked back to my car on a bright and hot afternoon, having said all we could. On a busy Bac Ha street, I asked if I could kiss her good-bye, intuitively knowing her demurral wouldn't be a rejection. No, it would simply not be proper for a single Vietnamese woman to display public affection. Even to an aging foreign man returning to her a lifetime later.