by Andy Clurfeld
"There's a new chef in town…Christopher Albrecht, a protégé of Tom Colicchio…and his is the ultimate farm-to-table future."
By Andy Clurfeld
THE RYLAND INN
115 Old Highway 28, Whitehouse Station
Phone: (908) 534.4011
Reservations recommended. Major credit cards accepted. Open from 5 to 9 p.m. Tuesday through Thursday, 5 to 10 p.m. Friday and Saturday, 11 a.m. to 2 p.m. for Sunday brunch and from 4 to 8 p.m. for Sunday dinner. Prices: Snacks and cheese: $6 to $21. Appetizers: $13 to $22. Entrees: $22 to $54. Side dishes: $9. Desserts: $12. Five-course tasting menu: $75; $120 with wine pairings; five-course vegetarian tasting menu: $65; $110 with wine pairings.
The Ryland Inn is a grand old gal. She sits on a sidecar to Route 28 in Whitehouse Station, set back from the bustle of the highway and possessing an elegance that only the most effective facelifts can provide. Oh, she's had work done, of that you are sure. Yet if you remember her from the old days—say, back in the 1970's—when pioneers to this once-agrarian part of Hunterdon County used to congregate at the bar, you'll feel at once at home with your memories and in awe of the rejuvenating renovations. 
Ryland had a rebirth in the 1990's courtesy of Craig Shelton, a chef who brought it four-star fame and, eventually, a James Beard Award. The kitchen has been manned by a Who's Who of Garden State chefs (James Laird and Anthony Bucco, to name a couple) and visited by luminaries of all stripes: Ronald Reagan dined there, as did the food cognoscenti from Gourmet, who put Shelton on the cover of the magazine in October 1997.
Flash forward to now: There's a new chef in town, and his is the ultimate farm-to-table future. Christopher Albrecht, a protégé of Jersey son and "Top Chef" star Tom Colicchio, is the definition of the chef-of-today. Albrecht talks soil before he talks anything else in the culinary processes. "The most flavorful bounty any garden or farm produces is not an accident," the chef says in literature presented with the check to every table at Ryland. "It's a direct reflection of the condition of the soil."
Ryland has its own farm and Albrecht, best known from his years at Eno Terra in Kingston, also plucks primo ingredients from more than 20 regional farms, food purveyors and producers to make up his evolving tasting menus, a la carte bill of fare and nightly specials. 
Albrecht merges ingredients of the micro-seasonal moment with simplicity of presentation, function driving flourish—such as the pop of crunch the deep-rose pomegranate seeds give the pitch-perfect thin slices of opa supported by tiny leaves of cilantro and celery, sour-slightly sweet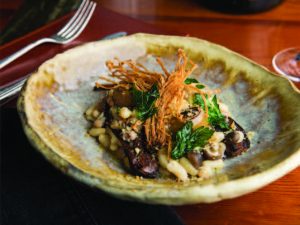 grapefruit in a "snack" of crudo. There is the best dish of the night, a cauliflower-and-mushroom cassoulet, which we begged a portion of from the vegetarian tasting menu. It's not-pretty brown-and-beige, but it is pure soul food, with flageolets and black-eyed peas providing the base, fennel and leeks the counterpoints, and the starring vegetables the binding flavors.
The tortellini stuffed with a trio of pulled game meats—duck, rabbit and pheasant—suffers from tough, hard-in-parts pasta. However, the smoked game broth, streaked with shards of ricotta and shreds of Swiss chard, is so divine, I lift the bowl to my lips to drink down every ounce. But someone on the line didn't watch the pot as the tortellini boiled!
A special of quail stuffed with raisin bread, olives and fennel was stunningly salty, both in its breast meat and the skin of the bird. The red corn grits that support the sweet Nantucket bay scallops taste, well, gritty, but when you connect the grits to the scallops with the grilled radicchio, a light bulb goes off. The bitterness of the radicchio, soothed by the red wine reduction and the richness of bone marrow, bridges shellfish and grain. It works. You eat, and you eat more.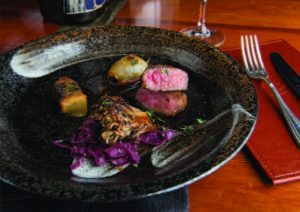 Talk about bridges: Fat pappardelle, fortified by squid ink and midnight black, is given the all-luxe treatment with a Bolognese of venison, the warmth of chocolate and the infusing heat of Aleppo pepper. It's another eat/eat more dish. I didn't feel similarly about the braised and roasted beef duo, with torpedo-shape onions sitting atop the shredded meat and a thick oval of textbook medium-rare beef standing solo on the plate astride the potato-Swiss chard gratin. All good, fine enough, but the heartstrings felt no tug.
If we saw another charcuterie board pass by, we were going to pitch a fit. Instead, we interrupted the dinner's flow by ordering one. There's not just the de rigueur salumi on board, but a riveting chicken-liver mousse and a classic French rolled paté that defines melt-in-mouth sensibilities.
If you've never experienced viognier in its Condrieu incarnation with paté, do so here: Though Ryland's wine list needs to pay better attention to Albrecht's predilections for sauces, seasonings and spices, the 2011 Domaine Faury Condrieu is a bottle that can take you through the charcuteries and many, many dishes here.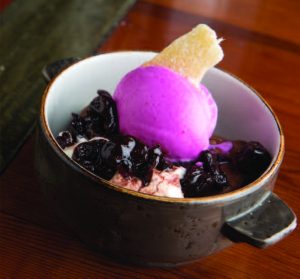 The kitchen needs to take another pass at its maple flan dessert. The flan, thick, pasty and not maple-y, tasted like canned pumpkin pie filling. Its accompanying citrus salad, spiked with Earl Grey, sported unripe segments of grapefruit, while the funnel cake (which looked, oddly, like a fried soft-shell crab) was heavy with batter and oily. And the oval scoop of whipped cream was overwhelmed by cinnamon. In another finale, the chocolate trio, the chocolate-caramel tart was afflicted with un-dissolved sugar and mighty grainy, a flaw neither the hot chocolate nor the icy semifreddo could mitigate.
So we have Ryland past, Ryland of a rebirth era and, now, Ryland looking ahead. With Albrecht, this nationally known landmark has the right stuff for a bright future.
It's up to the folks who brought The Ryland Inn to its present, owners Jeanne and Frank Cretella, to let this chef hold sway.  
SUPPORT SYSTEM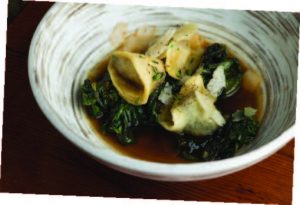 I wondered if Albrecht was getting the proper support in the kitchen with a couple of dishes (quail over-salted, tortellini undercooked). On the whole, the dishes are well-conceived. But, is there a notch that's not yet been kicked up? I think so.
Ryland deserves, Albrecht deserves and diners deserve service that is head-and-shoulders above the crew on the floor of these stately dining rooms. The front-of-the-house staff needs a crash course in propriety and how to serve in a fine-dining setting. 
This isn't about a miscue here and there, but across-the-board fundamentals. Information about specific ingredients in dishes is given incorrectly, knowledge about beverages (particularly wine) is lacking, and basic tableside etiquette ignored, with diners' conversation routinely interrupted and the practice of being watchful from a discreet distance seemingly not taught.