by Andrea Clurfeld
"The menu divined by Bucco is a coming together of contemporary cooking. He trends seasonal, adds a little local, and comes up with American Med as a core."

It's the late 1970s and there's a small crowd at the bar of the venerable Ryland Inn, tucked back off the whoosh of cars on Route 22 in the Whitehouse Station section of Readington, in suddenly populated eastern Hunterdon County. There are fellows just in from jobs in New York, the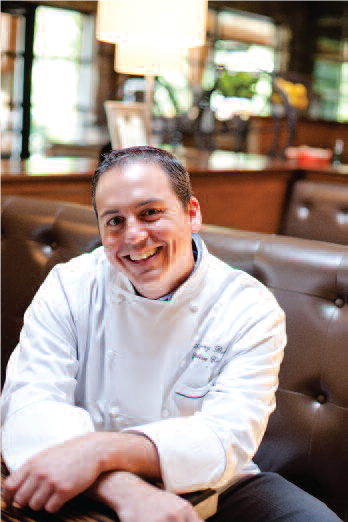 long commute to their new five-bedroom homes on two acres over for the day, there's a smattering of casual dinner-seekers finishing burgers, there are journalists like me, in between night meetings, stopping in to catch the local gossip in a homey, low-key setting. That Ryland's a roadhouse, a pitstop on the outskirts of suburbia. By the time it was purchased and re-imagined as a fine-dining destination, with Dennis Foy briefly installed as the name chef—a front man for then-little-known Craig Shelton—Readington and eastern Hunterdon had sprawled confidently into suburbia and many of the denizens in the immediate 'hood (not to mention surrounding hunt country) were well-heeled and world-wise, ready for haute cuisine in an atmosphere to match, right in their backyards. The 1990s Ryland Inn delivered it all. Soon Shelton was on the cover of Gourmet magazine and the recipient of the food world's equivalent of an Oscar, a James Beard Award. Ryland catered to the food cognoscente and captains of industry in a seamless operation that defied anything New Jersey had seen. Though its last years were rocky—and the flood that six years ago forced the inn to close was tragic—Ryland had made restaurant history in a state once better known for red sauce joints and boardwalk grub. The rebirth of the Ryland Inn a year ago, a vision realized by new owners Jeanne and Frank Cretella, with chef Anthony Bucco, gives us a very shiny new dining toy.
Today's Ryland is posh, suave and ready for parties.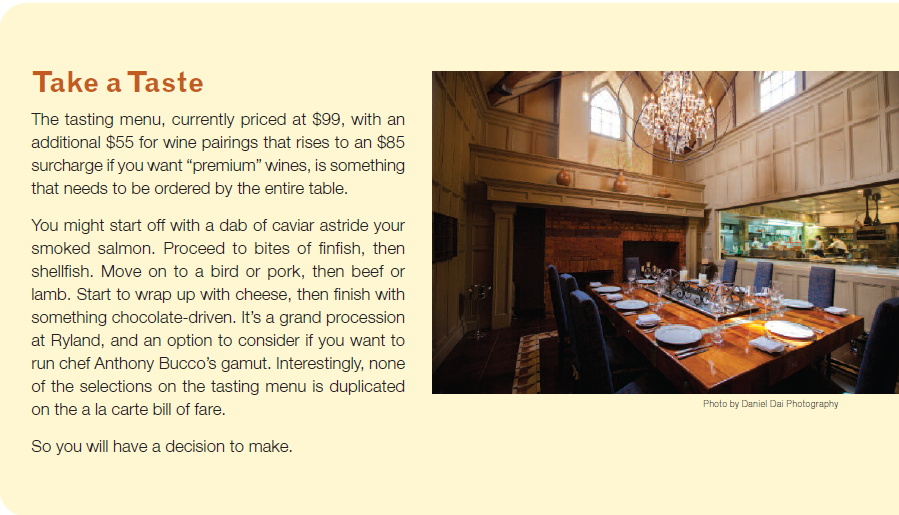 The outdoor entryway that leads to the indoor entryway just about shouts "Have your wedding here!" Once inside, vaulted ceilings, chandeliers that look like they were recycled from Liz Taylor's diamond booty, fabrics and appointments hardly from the off-the-rack collections, and an air of mission accomplished set the scene for rarefied dining. Rather than a pretty charger plate that will be swept away shortly after you're seated, there's a framed picture at your place setting. Something old to add to all the new, I suspect. The Cretellas clearly wanted to bring every aspect of Ryland's past to its high-toned present, and so there's a sense of history in the artwork as well as in the Old-World graciousness of the well-orchestrated service. Come to Ryland to be pampered, once again.
The menu divined by Bucco is a coming together of contemporary cooking. He trends seasonal, adds a little local, and comes up with American Med as a core. You can expect pears and pumpkin in fall, Jersey staples such as birds from Griggstown Farm and fish from Barnegat, and also luxe ingredients the revived Ryland wants attached to its name: foie gras, Berkshire pork, uni. The cavalcade of chi-chi ingredients punctuates the menu, some of them a tad out-of-date (squid ink, white anchovies), some of them more current (red quinoa, shishito peppers). You can go a la carte, you can go tasting menu; you will spend. All entrees are in the $30s, the least expensive starter a salad at $12. Indeed, the wine list struggles at the value end of the spectrum and could stand to be updated at the three-figure range as well with a smarter selection of artisan bottles. But we enjoy our splurge, cosseted as we are in the grand Polo Room, and dispatch a complimentary uni-custard with smiles. I'm feeling quite at home with the Jersey'd version of pasta carbonara, a tangle of squid ink chitarra with ultra-smoky Mangalitsa bacon, spirited Fresno chilies and a dot or five of uni.
It's mod and classic at the same time and, most importantly, it's delicious. So is the stately torchon of foie gras, swaddled with pears braised in vanilla and an onion jam I'd be happy to have for dessert. There's even a dusting of chocolate crumbs to make my case for this starter as a most grand finale. The octopus done Spanish style is terrific, an assemblage of tender meat with crumbles of warming chorizo, those vivacious shishitos, real-deal black potatoes and a kick of zesty chimichurri. Bring it on, anytime. By contrast, the mild purée of fall vegetables is a bland option, but that isn't to say this take on a stylish soup is uninteresting: with twirls of fennel fronds, a smack of fig jam and a sprinkling of pumpkin seed oil, it's both comforting and appropriately warming. Our server tosses in an extra, a black olive cavatelli that strikes me as pure Sicily with its dressing of golden raisin puree kept in check by good, salty capers and buttery pine nuts. Just when I think Bucco is too reliant on sweet, he proves his mettle with a shot of the right balancing agent. The harissa-stoked tomato jam is as fine a friend as grilled swordfish can have, the sweet-hot condiment giving a needed tickle to the rich fish steak. I don't think the red quinoa or eggplant on the dish did as spirited a two-step with the meaty sword, however.
But I love the way the chickpea panisse and riffs of white anchovies play off the steamed red snapper, and thought the spark of lemon basil and snap of skinny string beans kept pace with the plate. Pork belly, especially Hudson Valley Berkshire, took a liking to the cheerful crumb-like topping the folks here dub "granola," and the tart apple and mild butternut squash accompaniments were just-right sides. Desserts trip the globe, but need reining in at times. The yuzu curd "truffle," with astringent Asian pear, a sultry black sesame cake and green tea ice cream works a Far East theme nicely. But flavors warred in the frozen cranberry parfait, with pecan streusel, toasted marshmallow meringue and cloying pumpkin pie ice cream proving too much that's too sweet isn't a good thing. The central taste of cranberry was lost. Tamarind, however, was a uniting element in the peanut butter mousse ensemble that allowed specks of banana and dabs of Nutella to compliment, not cover up. Ryland, rebooted for an era that knows both unbridled luxury and forced restraint. Wow, I think as I leave the space I first set foot in 36 years ago. Lots of bucks have been put into this ol' gal, and she's looking mighty fine. Over the top? Maybe. But not out of sight.