All roads don't lead to (or through) New Jersey. Sometimes it just seems that way. However, you don't have to play the Six Degrees of Separation game to discover prominent historical figures with intriguing connections to the Garden State. It's okay to stop at five: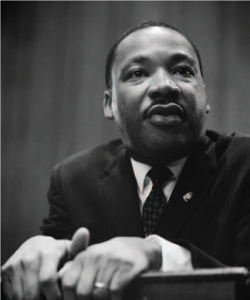 Marion Trikosko
0 Degrees    Martin Luther King Jr.
Dr. King resided in Camden while a seminarian in Philadelphia from 1948 to 1951. On June 11, 1950, he and three companions were refused service at a restaurant in Maple Shade and were threatened with a gun if they didn't leave. They stayed…in what might have been the future Civil Rights leader's first act of courageous civil disobedience.
---
1 Degree     Napoleon
Napoleon's brother, Joseph Bonaparte, played an important role in his sibling's European conquests and served as King of Naples, King of Spain and Lieutenant General of the French empire. He moved to America, sold the jewels he had spirited out of Spain, and purchased Point Breeze in Bordentown—said to be the second-finest house in America after the White House. His grandson, Charles Bonaparte, would become US Attorney General and create the forerunner of the FBI.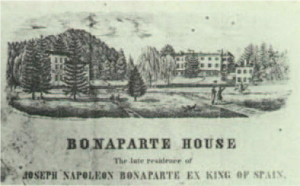 ---
2 Degrees    Marilyn Monroe
In 1954, the sultry actress married former Yankees outfielder Joe DiMaggio. When their nuptials were announced, the slugger received an offer he probably couldn't refuse. Richie "The Boot" Boiardo—a huge DiMaggio fan and notoriously brutal Newark mobster—gifted Joe D. the diamond ring he slipped on Marilyn's finger during their marriage ceremony. Boiardo is said to have been one of the inspirations for Tony Soprano. The ring's original owner is unknown.
---
3 Degrees    Dwight Eisenhower
While enrolled at the US Military Academy, the future 34th President starred for Army's powerhouse football team. In 1912, he ruined his knee against the Carlisle Indian School trying to tackle All-American Jim Thorpe. In 1951, the gridiron legend was portrayed by Burt Lancaster in Jim Thorpe, All- American. Two years later, Lancaster co-starred with crooner-turned-actor Frank Sinatra in From Here to Eternity, with both receiving Oscar nominations. Sinatra, of course, grew up in Hoboken.
---
4 Degrees    W.C. Fields
Fields first shot to fame in the Ziegfield Follies, where he co-starred for several years with fellow comedian Eddie Cantor. As a child, Cantor had been part of a Vaudeville act called the Newsboys Sextet. One of the six "newsboys" was future newspaper columnist Walter Winchell, who many years later arranged the surrender of Murder Inc. boss Lepke Buchalter to FBI chief J. Edgar Hoover. One of Buchalter's henchmen, already serving time in Sing-Sing for rubbing out his own brother-in-law, was Meyer Luckman—whose son, Sid Luckman, became a star quarterback for Columbia and an NFL Hall of Famer for the Chicago Bears. In 1939, after a sensational rookie season for Chicago, Luckman suited up for a playoff game in Schools Stadium as a member of the Newark Bears, who went on to win the American Football Association title.
---
5 Degrees    Machiavelli
Famed Italian political strategist Niccolo Machiavelli dedicated his seminal work, The Prince, to Lorenzo de Medici, the ruler of Florence in the early 1500s. Lorenzo's daughter, Catherine, married Henry Duke of Orleans, who became Henry II, King of France. Using her powerful position, Catherine was the primary instigator of the 1572 St. Bartholomew's Day massacre, a week of mob violence in Paris against French Huguenots. Among the many thousands killed was Petrus Ramus, a prominent humanist whose writings influenced Protestant philosophy in Europe and the American colonies. Ramus's greatest proponent in the New World was Samuel Johnson, a key figure in the Enlightenment and the first president of King's College, now Columbia University. Johnson's successor, Myles Cooper, a clergyman born and raised in England, wrote passionately that the American Revolution was a mistake. In 1775, Cooper eluded an angry mob that planned to lop off his ears, and made it to a British ship that returned him safely to England. Legend has it that the crowd was distracted long enough for Cooper to escape by an eloquent young man named Alexander Hamilton. Hamilton had recently finished his education at the Elizabethtown Academy in Elizabeth. Twenty-nine years later, Hamilton would lose a duel in Weehawken that cost him his life.