by Christine Gibbs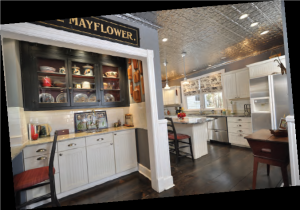 It's that time of year again. For Sale signs are popping up everywhere you look. And once again, it's a buyer's market this summer. House hunters can afford to be picky, and they should be. Holding out for something extraordinary—price wise, property-wise or both—is half the fun of the hunt! When's the best time to make your move? When the stars align and you walk into a home with some feature that blows away everything else you've seen. A charming front porch. A killer kitchen. The master bath of your dreams. A suburban oasis in the backyard. There are a lot of names for the house that speaks to you in that deep, intimate way. We call it the Home Run.
RECIPE FOR SUCCESS • Westfield The owners of this 1880s bungalow pulled off the impossible—a thoroughly m
odern kitchen while maintaining the home's Arts & Crafts charm and functionality.
VISION IN WHITE • Westfield "Heavenly" isn't a word one uses to describe a bathroom, but in this case it's totally appropriate. That claw-foot tub is an updated take on a Victorian classic.
FRONT AND CENTER • Westfield Colonial Revival architecture can be kind of a yawnfest, but the curb appeal of this unusual 1920s eye-opener carries through all 12 rooms.
RULE THE POOL • Scotch Plains Every homebuyer needs a tipping point. After touring the interior of this suburban contemporary, it's the pool that says "Jump right in!"
CLOCK WATCHER • North Plainfield Technically, it would be incorrect to call this magnificent 1911 converted gatehouse a "timeless beauty." No winding required.
BEAM ME UP • Westfield Vaulted ceilings, leaded glass, original wood planking, stone fireplaces—we surrender! It's another gatehouse, this one constructed in Wychwood circa 1928.
Editor's Note: Each of these properties was on the market as of May 15, 2011. For more information contact the listing brokers. All have 908 area codes: Shari Holtzman 233–5555 ext. 210; Frank Isoldi 233–5555 ext. 202; Irene Katz 301–2892; Joan Kylish 301–2043; Sherrie Natko 233–3014.