by Caleb MacLean
Spring initiative highlights organ donation.
By Caleb MacLean
On any given day, more than 120,000 people in America are waiting for an organ transplant. On average, 22 people a day die for lack of a donated organ. There are currently more than 5,000 New Jerseyans on various transplant lists. How this precious material gets from donors to recipients is a mystery to most people. That is where groups like NJ Sharing Network come in.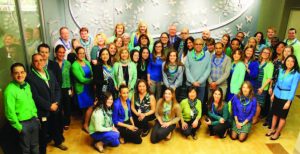 NJ Sharing Network is a non-profit, federally designated organ procurement organization. It was formed three decades ago at about the same time the government passed legislation that required hospitals to present the option of donation to families of potential donors. Since then, organ donation has quadrupled in New Jersey, saving, extending or restoring countless thousands of lives. NJ Sharing Network coordinates the efforts of hospitals, transplant centers, medical examiners and funeral directors, as well as increasing public awareness through education and media outreach. The organization will be particularly busy this April, during National Donate Life Month. Schools, community groups, businesses, elected officials and, of course, hospitals around the country will be demonstrating their support of organ and tissue donation, and encouraging people to start talking about what they would do if a family member becomes a candidate for donation.
"Everyone needs to have the conversation with their family members about what they would do if they could give the gift of life," says Jackie Lue Raia, Assistant Director of Resource Development for NJ Sharing Network. "The idea behind National Donate Life Month is to get the community talking about organ and tissue donation."
In New Jersey, most people are exposed to the concept of donation through the Motor Vehicles donor registry; 34 percent say yes to donation on their driver's licenses. However, at bedside, that number soars to more than 60 percent, which means there is room for immediate improvement. The need for greater participation is magnified by the fact that less than 1 percent of deaths can actually give the gift of life. A person must be in a hospital, on a ventilator—typically as the result of a stroke, heart attack, aneurysm or auto accident with a traumatic brain injury. 
Last year, NJ Sharing Network facilitated 531 transplants. According to Lue Raia, that made it the "best year ever."
NJ Sharing Network operates a fully accredited, state-of-the-art transplant lab, which performs compatibility testing between donors and recipients, and also pre- and post-transplant evaluations—a critical component in assuring the success of transplants for hard-to-treat individuals. The lab handles compatibility determination for a number of regional hospitals, including Trinitas. The organization also has a Family Services division for donor families. 
According to Mary McTigue, RN, the VP of Patient Care Services at Trinitas, as well as Chief Nursing Officer, the professional relationship between the hospital and the Sharing Network is very strong. "Both staffs always work in close collaboration to ensure a caring and compassionate approach towards potential donors and their families," she says. "The skill and expertise of the staff recognizes the sensitive needs of a potential donor family, as well as the drive for a successful outcome for the potential organ recipient."
The engine that powers NJ Sharing Network is its robust corps of volunteers (above). They handle the outreach initiatives that educate the public about donation and transplantation by participating in events or civic groups, businesses, community centers and houses of worship. 
"If the community is more open to talking and being proactive, we would be able to save more lives," says Lue Raia. "Particularly in the area of tissue donation, which encompasses procedures including bone grafts, ACL and rotator cuff repairs and breast reconstruction. Volunteers can speak at pubic events, facilitate programs at worksites, or work at hospitals. Each is highly trained and vetted, with a thorough background check. Anywhere we send our ambassadors, you're getting the best of the best."
What do NJ Sharing Network volunteers have in common?Most have a personal connection to the organization. Jackie Lue Raia herself was a "donor daughter." Six years ago, she was driving back from Newark Liberty Airport with her mother and son when a tractor-trailer slammed into their car on the New Jersey Turnpike. Her mother suffered fatal injuries in the crash. Her organs and tissues ended up going to 43 people. Two years later, Lue Raia decided to meet the two kidney recipients (right). One was the same age as she was, the other the same age as her mom. Soon after, she noticed a job opening at NJ Sharing Network. Needless to say, her experience with organ and tissue donation has proved invaluable.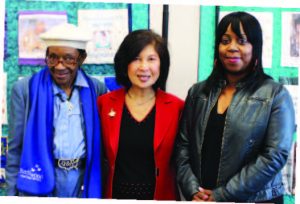 "In part because my mother had not made the decision to be an organ donor," she explains. "We'd never had that conversation. The clock was running out and the siblings had to make a decision. That was my first encounter with NJ Sharing Network. A volunteer met with us and convinced us that this was something my mother would want to do."  
Editor's Note: On June 5 in New Providence, NJ Sharing Network is sponsoring a USATF certified 5K race. For more information on this event call (908) 514–1761. For info on NJ Sharing Network itself, log onto njsharingnetwork.org or call (800) 742–7365. Promotional materials and kits for National Donate Life Month can be downloaded from the web site.