by Katie Quinn
Cheese, wine and bread…this trio is life's essence, a microcosm representative of its nourishment and joy.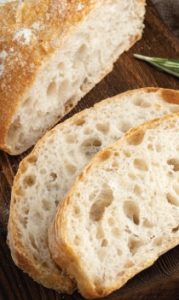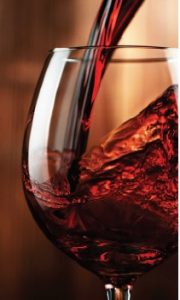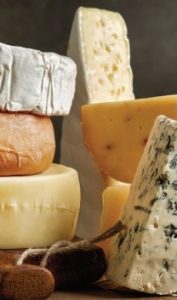 I'm not a highly curated, picture-perfect human. I'm a quirky, line-drawing, scribbles person. Also, I would operate at lightning speed if I could. Thankfully, I've found an antidote to this haste: fermentation. When things aren't moving fast enough for me, fermentation reminds me of the value of waiting. Feeding my sourdough starter every morning, brewing a new batch of kombucha weekly…at the risk of sounding like an unhinged hipster, these are the routines that ground me. The practice of fermentation is as old as civilization itself, but the splendor of it found me in my early thirties while exploring cheese, wine, and bread in England, Italy and France.

Fermentation is under our noses, but is only now entering most people's awareness. It is the process by which a substance breaks down into a simpler substance, altering food with microbes rather than by cooking it with fire. If this produces the most essential, delicious foods on earth, what can the same process do for us, as humans? Our lives ferment; we all have awkward, smelly phases along with delicious, robust ones—mine certainly has.
Cheese, wine, and bread, I think you'll agree, are three of life's most delightful things. They can be found worldwide, each place informing them with its own unique history and stories that extend far beyond the delicious dance on the plate. These are three of my favorite recipes…
Stilton Scones with Cranberries
Scones are as English as Stilton. If you're American, you probably pronounce it scoan, like "stone." In England, it's pronounced scon, like "con.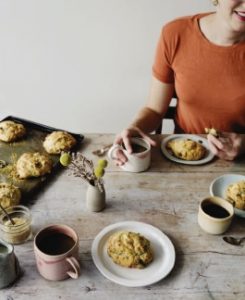 " However you say it, scones are an essential part of the afternoon-tea tradition (and also wonderful any time of day, in my opinion). Cranberries and blue cheese are a winning combination, and especially Christmasy. Another of my favorite variations is to swap out the cranberries for 2 tablespoons of coarsely chopped hazelnuts; if you do opt for the hazelnuts, try the scones with a smear of red onion and port marmalade or another fruity jam to bring the sweet kick.
6 tablespoons (¾ stick/90 grams) unsalted butter, at room temperature, plus more for greasing
2½ cups (300 grams) all-purpose flour
¼ cup (50 grams) sugar
4 teaspoons (15 grams) baking powder
½ teaspoon fine sea salt
2⁄3 cup (160 milliliters) whole milk
1 large egg
2 tablespoons (about 20 grams) dried cranberries
6 ounces (180 grams) Stilton blue cheese, broken into large chunks (about 1 1⁄3 cups)
Position a rack in the middle of the oven and preheat the oven to 400°F (200°C). Grease a sheet pan with a little butter.

In a large bowl, whisk together the flour, sugar, baking powder, and salt until well combined and lump-free.

Add the butter and use your fingertips to rub it into the dry ingredients until the butter is fully incorporated. The mixture should have the consistency of coarse cornmeal. Add the milk, egg, and cranberries and mix with a wooden spoon or silicone spatula until the dough comes together.Gently fold in the blue cheese chunks until just incorporated (you want those chunks to remain intact, not break down into smaller crumbs). The dough will be fairly wet.

Using a tablespoon, take a heaping scoop of the dough (about 2 inches/5 centimeters in diameter, a bit smaller than a tennis ball but bigger than a golf ball) and place it on the prepared sheet pan. Repeat with the rest of the dough, spacing the scoops 1 inch (2.5 centimeters) apart. (The dough spreads as it bakes, so if your pan isn't big enough to space out the scones, you'll need to use two.)

Bake for 5 minutes, then rotate the pan and bake for 5 minutes more. They're done when they're golden, with some browned bumps on the uneven surface. Bake for 2 to 6 minutes more, as needed.

Remove the pan from the oven and transfer the scones to a wire rack. (Some of the melted cheese will have escaped and gotten crispy on your baking sheet—that's the cook's treat to nibble on!) Enjoy warm or at room temperature.
Spaghetti all'Ubriaco (Drunken Pasta)
When Italians discovered the joy of using their favorite beverage (wine) to cook their favorite food (pasta), variations of this plum-colored pasta dish became a standard meal. Spaghetti all'ubriaco—"drunken spaghetti"—isn't as inebriated as it sounds: the heat burns off the alcohol in the wine. In cooking the pasta with the wine, however, the noodles are imbued with a subtle sweetness and depth of flavor. A medium-bodied dry red wine works well here, but honestly, I've used a wide variety of leftover reds. (The origin of this dish is considered to be Tuscany, so if you want to stay regional, you could uncork a Chianti or some other wine made primarily with sangiovese grapes, one of the most important grapes in Italy and grown abundantly in Tuscany.) Ideally, it would be a delicious red wine you would happily drink—and sometimes I do pour myself a glass and cook with the rest—but I also think the adage "waste not, want not" is perfectly applied here: If you have an opened bottle that's past its prime for drinking, this is the perfect use for it. I make this version with nuts, cheese, herbs, garlic, and red pepper flakes. I love garlic, so I use a lot. If you don't love a garlicky pasta, use fewer cloves. Ditto with the red pepper flakes. These simple ingredients are all you need to put together an addicting, lip-smacking plate of pasta. I find these deep-plum strands of spaghetti completely irresistible, as sexy as a satin sheet.
Coarse sea salt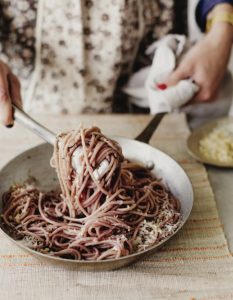 12 ounces (340 grams) dried spaghetti
¼ cup (60 milliliters) extra-virgin olive oil
4 small garlic cloves, thinly sliced
½ teaspoon red pepper flakes
1 cup (250 milliliters) red wine
½ cup (1.6 ounces/45 grams) freshly grated Pecorino Romano cheese, plus more for serving
¼ cup (45 grams) finely chopped nuts (I like pine nuts, walnuts, or almonds)
1⁄8 teaspoon freshly grated nutmeg
Fine sea salt and freshly ground black pepper
Sprigs of parsley, for garnish
Fill a large pot three-quarters full of water and bring it to a boil over medium-high heat. Add a generous amount of coarse salt (the adage "It should taste like the sea" is a good gauge of how much). Cook the spaghetti for 2 minutes less than the instructions on the package for al dente. (You don't want it to be completely cooked because it will continue cooking in the red wine later.)

While the pasta is cooking, heat the olive oil in a large, high-sided pan over medium-low heat. Add the garlic and red pepper flakes and cook, stirring, for 1 minute, or until the garlic becomes fragrant. Pour the wine into the pan with the garlic and stir. Remove from the heat while the pasta finishes cooking.

Drain the pasta, reserving 1 cup (about 250 milliliters) of the pasta water.

Add the pasta to the pan with the wine and garlic over medium heat and stir. Cook, occasionally stirring gently, for 2 minutes, or until the pasta is al dente and has absorbed most of the wine, taking on a plum hue.

Remove the pan from the heat and mix in the cheese and nuts. Stir in a tablespoon (or more) of the reserved pasta water; its starchiness mixes with the fat in the cheese to create a silky coating on the noodles. Finish with the nutmeg, season with salt and pepper, and stir to incorporate well. Taste and adjust the seasoning if you think the dish is asking for it.

Serve garnished with parsley and topped with more cheese, and enjoy slurping down the drunken noodles.
Susie Q's Sour Cream Challah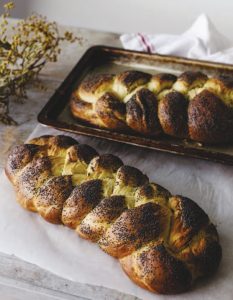 When I started writing Cheese, Wine and Bread, I asked my mom where she initially got her challah recipe, and learned that "mom's loaf " has evolved over time. This current iteration, which she's made consistently for over a decade, was adapted from a dinner roll recipe from a 1990s issue of Cooking Light.
2 (¼-ounce/7-gram) packets active dry yeast (4½ teaspoons)
½ cup (125 milliliters) warm water (around 110°F/43°C)
½ cup (1 stick/115 grams) unsalted butter, at room temperature
½ cup (105 grams) sugar
1 cup (240 grams) sour cream
2 large eggs, whisked
5 cups (600 grams) unbleached all-purpose flour, plus more for dusting
1 teaspoon fine sea salt
1 tablespoon canola oil
1 egg white, beaten, for the egg wash
Poppy seeds, for garnish (optional)
Combine the yeast and warm water in a large bowl. Let stand for 5 minutes.

Cream the softened butter and sugar in a medium bowl using a whisk until smooth. Gradually stir in the sour cream until combined. Set aside.

Add the eggs to the yeast mixture and mix well. Add the sour cream mixture and stir until smooth. Add 1 cup (120 grams) of the flour and the salt. Gradually mix in the remaining 4 cups (480 grams) flour until you have a shaggy dough.

Sprinkle a work surface with flour. Tip the shaggy dough out onto the surface and sprinkle with a couple more pinches of flour.
Knead the dough with the palm of your hand (avoid poking it with your fingertips), adding flour as needed to prevent it from sticking to the work surface and your hands, until the dough is smooth, not sticky, and gently springs back when pressed with a fingertip (also called the "poke test"), about 5 minutes. (Another way to check that the dough has been kneaded long enough is by performing the "windowpane test": Cut off a chunk of the dough—around 50 grams—and stretch it gently between your fingers into a thin sheet. If it breaks too easily, it needs more kneading, but if you can stretch the dough thin enough to see your fingers through it when it's held up to the light, it's good to go.)
Pour the canola oil into a large bowl, then place the dough in the bowl and rotate to coat it with oil. Cover the bowl with a clean dish towel and place in a warm (75 to 80°F /24 to 27°C), draft-free area for about 90 minutes, until the dough has doubled in volume.

Remove the dish towel and punch down the dough. Turn the dough out onto your work surface and divide it into two equal portions. Cut each portion into thirds so you have 6 portions. Roll each of these portions into a rope on a clean workspace (or just in the air, rolling the dough between your palms) about 15 inches (38 centimeters) long. Working with three ropes at a time, braid the ropes, pinching the ends to make sure they don't unravel during the second rise, to form two loaves.

Line two sheet pans with parchment paper or a silicone baking mat. Place each shaped braid on its own pan. Cover each with a clean dish towel and let rise in a warm, draft-free area for 30 to 45 minutes, until they bulk up in size a bit (but are not doubled).

Near the end of this proof, arrange two racks in the oven—one on the bottom notch and the other second from the top—and preheat the oven to 375° F (190°C).

Prepare an egg wash by whisking the egg white and 1 tablespoon of water in a small bowl until frothy. Uncover the dough and use a pastry brush to brush the loaves with the egg wash. Sprinkle with the poppy seeds, if using.

Bake for 35 to 40 minutes, until the loaves are a dark golden brown and sound hollow when you knock on the underside. Make sure to switch the sheet pans' position on the oven racks and to rotate the loaves 180° degrees halfway through to ensure even baking.

Transfer the loaves from the sheet pans to wire racks and let cool thoroughly. Then enjoy!
The draw of these foods is that they take time to be transformed almost magically by the microbes within, which is a comforting prospect, and a necessary antidote to our live-tweeting culture. For instance, when you post a photo on Instagram or Facebook, do you automatically refresh the page as the likes pop up? Imagine if you had to wait two weeks, or two months, before you could see the responses, but when you received them, those responses, although not instantaneous, were somehow able to endure, like a lingering hug or a letter that's traversed an ocean to land in your mailbox. Rather than the quick high of a digital fist bump, you receive a warm embrace. To me, that's akin to the satisfaction fermentation offers.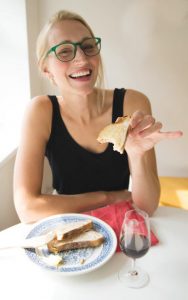 If fermentation is the preservation of food, those same principles of change and transformation must apply to us. We bring a bit of our past selves with us, and a hope for the future. When a new obstacle, opportunity, or question arises—as one always does—all we need to do is take a deep breath and let things ferment. Don't overthink it. Just let it ferment.
Editor's Note:
Katie Quinn's new book Cheese, Wine, and Bread: Discovering the Magic of Fermentation in England, Italy, and France ($29.99) was published in April by William Morrow, an imprint of HarperCollins Publishers. In it, Quinn shares the stories and science behind cheese, wine, and bread, along with dozens of classic recipes. Part artisanal survey, part travelogue and part cookbook, it features more than 100 pieces of art, including watercolor illustrations and color photographs.