EDGE takes you inside the area's most creative kitchens.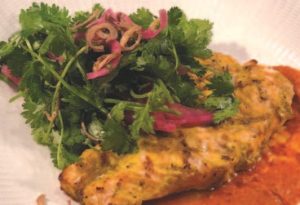 Grain & Cane Bar and Table • Grilled Salmon Tikka with Herb Salad

250 Connell Drive • BERKELEY HEIGHTS (908) 897-1920 • grainandcane.com
Scottish salmon marinated in yogurt, spices and flash grilled. Served with a tossed salad of tender herbs, pickled onion and a light citrus vinaigrette. A beautiful early winter dish that has a warm spice finish and pairs beautifully with a light red wine.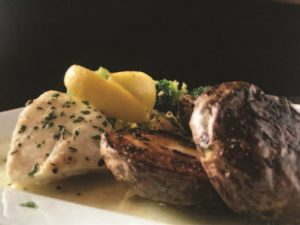 The Thirsty Turtle • Pork Tenderloin Special
1-7 South Avenue W. • CRANFORD (908) 324-4140 • thirstyturtle.com
Our food specials amaze! I work tirelessly to bring you the best weekly meat, fish and pasta specials. Follow us on social media to get all of the most current updates!
— Chef Rich Crisonio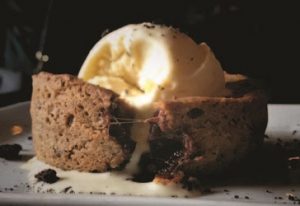 The Thirsty Turtle • Brownie Sundae
186 Columbia Turnpike • FLORHAM PARK (973) 845-6300 • thirstyturtle.com
Check out our awesome desserts brought to you by our committed staff. The variety amazes as does the taste!
— Chef Dennis Peralta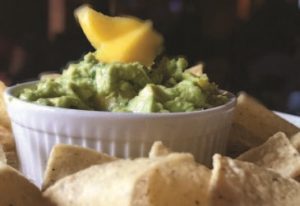 The Famished Frog • Mango Guac
18 Washington Street • MORRISTOWN (973) 540-9601 • famishedfrog.com
Our refreshing Mango Guac is sure to bring the taste of the Southwest to Morristown.
— Chef Ken Raymond
Arirang Hibachi Steakhouse • Pork Belly Bao Buns
1230 Route 22 West • MOUNTAINSIDE (908) 518-9733 • partyonthegrill.com
Tender pork belly, hoison sauce and pickled cucumber served on a Chinese bun.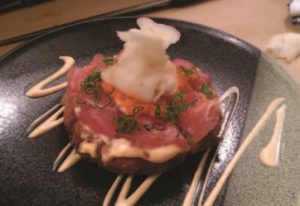 Daimatsu • Sushi Pizza
860 Mountain Avenue • MOUNTAINSIDE (908) 233-7888 • daimatsusushibar.com
This original dish has been our signature appetizer for over 20 years. Crispy seasoned sushi rice topped with homemade spicy mayo, marinated tuna, finely chopped onion, scallion, masago caviar, and ginger. Our customers always come back wanting more.
— Chef Momo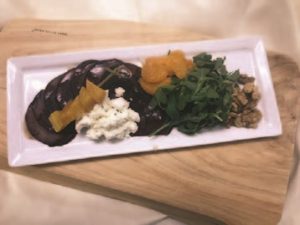 Garden Grille • Beet & Goat Cheese Salad

304 Route 22 West • SPRINGFIELD (973) 232-5300 • hgispringfield.hgi.com

Beet and goat cheese salad with mandarin oranges, golden beets, spiced walnuts, arugula, with a red wine vinaigrette.

— Chef Sean Cznadel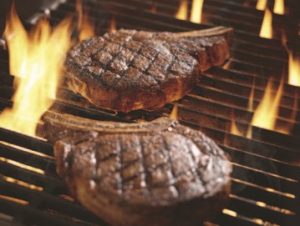 LongHorn Steakhouse • Outlaw Ribeye
272 Route 22 West • SPRINGFIELD (973) 315-2049 • longhornsteakhouse.com
Join us for our "speedy affordable lunches" or dinner. We suggest you try our fresh, never frozen, 18 oz. bone-in Outlaw Ribeye—featuring juicy marbling that is perfectly seasoned and fire-grilled by our expert Grill Masters. Make sure to also try our amazing chicken and seafood dishes, as well.
— Anthony Levy, Managing Partner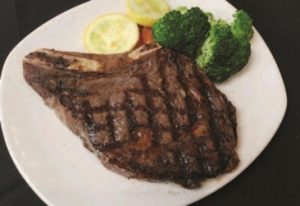 Outback Steakhouse • Bone-In Natural Cut Ribeye
901 Mountain Avenue • SPRINGFIELD (973) 467-9095 • outback.com
This is the entire staff's favorite, guests rave about. Bone-in and extra marbled for maximum tenderness, juicy and savory. Seasoned and wood-fired grilled over oak.
— Duff Regan, Managing Partner
Arirang Hibachi Steakhouse • Japanese Taco
23A Nelson Avenue • STATEN ISLAND, NY (718) 966-9600 • partyonthegrill.com
Choice of Tuna with wakeme, Kobe beef with sushi rice or Rock Shrimp with pineapple. Served in a crispy wonton shell, Asian slaw, topped with spicy mayo and teriyaki sauce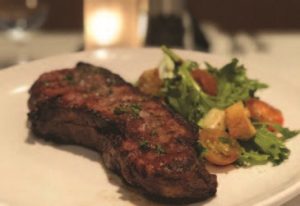 Ursino Steakhouse & Tavern • House Carved 16oz New York Strip Steak
1075 Morris Avenue • UNION (908) 977-9699 • ursinosteakhouse.com
Be it a sizzling filet in the steakhouse or our signature burger in the tavern upstairs, Ursino is sure to please the most selective palates. Our carefully composed menus feature fresh, seasonal ingredients and reflect the passion we put into each and every meal we serve.
Do you own a local restaurant and want to know how your BEST DISH could be featured in our Chef Recommends restaurant guide?
Call us at 908.994.5138