Grain & Cane Bar and Table • Grilled Chocolate Cake
250 Connell Drive • BERKELEY HEIGHTS
(908) 897-1920 • grainandcane.com
A chocolate lovers dream – our Grilled Chocolate Cake is made with moist devils food cake, layered with chocolate fudge and iced with chocolate buttercream. Grilled to order, this process creates a crunchy caramelization that adds a unique texture to this crowd favorite.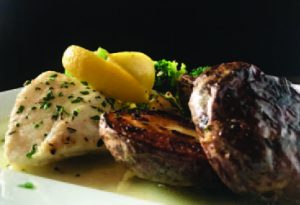 The Thirsty Turtle • Pork Tenderloin Special
1-7 South Avenue W. • CRANFORD
(908) 324-4140 • thirstyturtle.com
Our food specials amaze! I work tirelessly to bring you the best weekly meat, fish and pasta specials. Follow us on social media to get all of the most current updates!
The Famished Frog • Mango Guac
18 Washington Street • MORRISTOWN
(973) 540-9601 • famishedfrog.com
Our refreshing Mango Guac is sure to bring the taste of the Southwest to Morristown. — Chef Ken Raymond
Arirang Hibachi Steakhouse • Wasabi Crusted Filet Mignon
1230 Route 22 West • MOUNTAINSIDE
(908) 518-9733 • partyonthegrill.com
8 oz. filet mignon served with gingered spinach, shitake mushrooms and tempura onion ring.
Arirang Hibachi Steakhouse • Japanese Tacos
986 Route 9 South • PARLIN
(732) 525-3551 • partyonthegrill.com
Crispy wonton taco shell, Asian slaw, topped with spicy mayo, togarashi and our famous teriyaki sauce.
PAR440 • Chilean Sea Bass
440 Parsonage Hill Road • SHORT HILLS
(973) 467-8882 • par440.com
It's pan seared and served over corn, black beans, peppers, celery, pineapple, with a corn coulis sauce.
Ursino Steakhouse & Tavern • House Carved 16oz New York Strip Steak
1075 Morris Avenue • UNION
(908) 977-9699 • ursinosteakhouse.com
Be it a sizzling filet in the steakhouse or our signature burger in the tavern upstairs, Ursino is sure to please the most selective palates. Our carefully composed menus feature fresh, seasonal ingredients and reflect the passion we put into each and every meal we serve.
Welcome Back!
The restaurants featured in this section are open for business and are serving customers in compliance with state regulations. Many created special items ideal for take-out and delivery and have kept them on the menu—we encourage you to visit them online.
Do you have a story about a favorite restaurant going the extra mile during the pandemic? Post it on our Facebook page and we'll make sure to share it with our readers!
EDGE is not responsible for any typos, misprints or information in regard to these listings. All information was supplied by the restaurants that participated and any questions or concerns should be directed to them.