EDGE takes you inside the area's most creative kitchens.
The Office Beer Bar & Grill • Truffled Tots
728 Thompson Ave. • BRIDGEWATER 32–34 Chestnut St. • RIDGEWOOD 1–7 South Ave. • CRANFORD 61 Union Pl. • SUMMIT
619 Bloomfield Ave. • MONTCLAIR 411 North Ave. West • WESTFIELD
Not your average tater tots, these are handmade tater tots infused with herbs and fried until they are crispy golden brown. They are served with white truffle aioli and sprinkled with sea salt.
Paragon Tap & Table • Beer Brined Pork Chop
77 Central Ave. • CLARK
(732) 931-1776 • paragonnj.com
Our pork chops are brined for thee days and served on top of a creamy bacon mac and cheese. It's one of the highlights of our gastropub menu.
— Eric B LeVine, Chef/Partner
The Black Horse Tavern & Pub • Goffles Farm Chicken Breast
1 West Main Street • MENDHAM
(963) 543–7300 • blackhorsenj.com
Prosciutto wrapped Goffles Farm Chicken Breast with roasted new potatoes, marsala herb butter & crispy sage. 
— Kevin Felice, 40North Executive Chef
Piattino Neighborhood Bistro • Pan Seared Atlantic Salmon
88 East Main Street • MENDHAM
(973) 543-0025 • piattinonj.com
Pan Seared Atlantic Salmon paired with a lemon herb risotto, piccata butter and crisped baby arugula.
— Kevin Felice, 40North Executive Chef
George and Martha's American Grille • Crispy Jumbo Lump Crab Croquettes
67 Morris Street • MORRISTOWN
(973) 267-4700 • georgeandmarthas.com
Crispy Jumbo Lump Crab Croquettes with Lemon infused Aioli and Roasted Corn Relish.
— Kevin Felice, 40North Executive Chef
The Office Tavern Grill • Maryland Blue Crab Dip
3 South Street • MORRISTOWN
(973) 285-0220 • officetaverngrill.com
Maryland Blue Crab Dip Sour Dough Bread Bowl filled with Jumbo Lump Crab Dip, served with Old Bay Flour Tortilla chips.
— Kevin Felice, 40North Executive Chef
Daimatsu • Sushi Pizza
860 Mountain Ave. • MOUNTAINSIDE
(908) 233-7888 • daimatsusushibar.com
This original dish has been our signature appetizer for over 20 years. Crispy seasoned sushi rice topped with homemade spicy mayo, marinated tuna, finely chopped onion,  scallion, masago caviar, and ginger. Our customers always come back wanting more.
— Momo, Chef
Publick House • Roasted Long Island Duck Breast
899 Mountain Ave. • MOUNTAINSIDE
(908) 233-2355 • publickhousenj.com
New to our menu this season is the roasted long island duck breast. The duck is seasoned with salt and pepper and slowly roasted to temperature. Paired with creamy, sweet celery root puree and earthy oven roasted portobello mushrooms, the balance of flavors compliments the fat of the duck breast perfectly.
— Bernie Goncalves, Owner
Morris Tap & Grill • Tuna Tartare Flat Bread
500 Route 10 West • RANDOLPH
(973) 891-1776 • morristapandgrill.com
Fresh ahi-grade tuna tossed in a light ginger scallion sauce served on top of a wasabi brushed lavash crisp.
— Eric B LeVine, Chef/Partner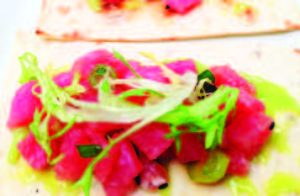 Thai Amarin • Duck Rad Prig
201 Morris Ave. • SPRINGFIELD
(973) 376-6300, (973) 376-6301 • thaiamarinnj.net
A customer favorite, our crispy boneless duck topped with a sweet and spicy chili and garlic sauce is unique only to us. Topped with aromatic basil and lime leaves, our Ped Rad Prig will have you wanting more.
— Amy Thana, Owner
Café Z • Hot "Z" Shrimp
2333 Morris Avenue • UNION
(908) 686-4321 • CafeZNJ.com
Jumbo shrimp encrusted with panko bread crumbs served with our hot and spicy marinara sauce that we make here.
— Patricia Inghilleri, Owner
Chestnut Chateau • Black Seabass
649 Chestnut Street • UNION
(908) 964-8696 • chestnutchateaunj.com
As the cold weather is in full swing, everyone bundles up and likes to stay warm. I embrace the cold and use the best fish caught in the deep blue waters of our east coast. Black seabass is great whole or filleted. The flaky white meat is served with a browned butter sauce that's garnished with capers, baby croutons, parsley and lemon supremes.
— George Niotis, Chef
Mario's Tutto Bene • Vinegar Pork Chops
495 Chestnut Street • UNION
(908) 687-3250 • mariostuttobene.com
Our vinegar pork chops feature three thin-cut Frenched chops that are coated with Italian breadcrumbs and sautéed with sweet vinegar peppers, prosciutto and garlic. They arrive with house-made roasted or mashed potatoes. Our regulars love this entrée.
— John Garofalo, Owner
The Manor • Surf and Turf
111 Prospect Avenue • WEST ORANGE
(973) 731-2360 • themanorrestaurant.com
I pair pan-seared prime filet mignon with a butter-braised lobster, along with fresh seasonal vegetable accents. An airy shellfish emulsion and the creamiest mashed potatoes you will ever taste make for the perfect partners to this classic dish, which has helped The Manor successfully define the art of fine dining for over a half-century.
— Mario Russo, Chef de Cuisine
EDGE is not responsible for any typos, misprints or information in regard to these listings. All information was supplied by the restaurants that participated and any questions or concerns should be directed to them.