EDGE takes you inside the area's most creative kitchens.
Paragon Tap & Table • Crispy Skin Pan Seared Salmon
77 Central Ave. • CLARK
(732) 931-1776 • paragonnj.com
Paragon has been ranked in the top 10 gastropubs since it opened in 2014. In addition to our elevated craft experience we also offer local and sustainable foods such as this Crispy Skin Pan Seared Salmon from Farro Island. I am always looking for new, inventive and seasonal ways to create and pair foods with uncommon balance.
— Eric B. LeVine, Chef/Partner
Arirang Hibachi Steakhouse • Wasabi Crusted Filet Mignon 
1230 Route 22 West • MOUNTAINSIDE
(908) 518-9733 • partyonthegrill.com
We prepare a crusted 8-ounce filet mignon served with gingered spinach, shitake mushrooms, and a tempura onion ring. 
Daimatsu • Sushi Pizza
860 Mountain Ave. • MOUNTAINSIDE
(908) 233-7888 • daimatsusushibar.com
This original dish has been our signature appetizer for over 20 years. Crispy seasoned sushi rice topped with homemade spicy mayo, marinated tuna, finely chopped onion, scallion, masago caviar, and ginger. Our customers always come back wanting more. 
— Chef Momo
Publick House •   Publick House Fish & Chips 
899 Mountain Ave. • MOUNTAINSIDE
(908) 233-2355 • publickhousenj.com
Our fish and chips have been a staple dish since we opened, and one our guests have come back for them time and time again. The secret lies in the delicate beer battering, coating the fish just enough to provide a crispy exterior, while not masking the flakey, delicate cod. With a large pile of our hand-cut, double-fried house fries, this is the perfect dinner any day.
— Bernie Goncalves, Owner
The Barge • Cioppino 
201 Front Street • PERTH AMBOY
(732) 442-3000 • thebarge.com
Our Cioppino, the signature dish of San Francisco, features a fresh, healthy selection of clams, mussels, shrimp, Maine lobster and Jersey scallops—drizzled in Greek virgin olive oil, with fresh garlic and white wine—over homemade Italian linguini. I know it will become one of your favorite dishes.    
— Alex Vosinas Chef/Owner
Luciano's Ristorante & Lounge • House Made Mafalda Pasta Inverno Style
1579 Main Street • RAHWAY
(732) 815-1200 • lucianosristorante.com
Our goal is to give our guests a pleasurable dining experience, with fresh ingredients and personable service in a beautiful Tuscan décor complete with fireplaces. Our house-made Mafalda pasta features slow-braised artichoke crowns, cipollini onions and oven-dried tomatoes in a saffron cream broth. Luciano's is available for dining and private parties of all types.
— Joseph Mastrella, Executive Chef/Partner
Morris Tap & Grill • Grilled Eggplant with Portobello
500 Route 10 West • RANDOLPH
(973) 891-1776 • morristapandgrill.com
In addition to our signature burger featured in the Top 50 Must-Have Burgers in the USA, we also offer vegan options such as this Grilled Eggplant with Portobello, roasted tofu and tomato basil sauce. Our 50 tap lines feature some of the top beers in the country. Keep an eye on our social media and website for upcoming events. 
— Eric B LeVine, Chef/Partner
Spirit: Social Eatery and Bar • Double Cheddar Infused Burger
250 Morris Ave. • SPRINGFIELD
(973) 258-1600 • mclynns.com
It doesn't get better then a double cheddar infused burger from the new Spirit: Social Eatery and Bar.  
— Mark Houlker, Chef
Arirang Hibachi Steakhouse • Volcano Roll 
23A Nelson Avenue • STATEN ISLAND, NY
(718) 966-9600 • partyonthegrill.com
Hot-out-of-the-oven, crab, avocado and cream cheese rolled up and topped with a mild spicy scallop salad.
Galloping Hill Caterers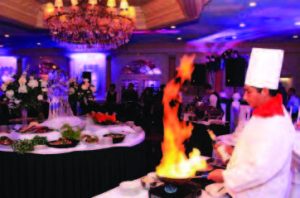 Galloping Hill Road and Chestnut Street • UNION
(908) 686-2683 • gallopinghillcaterers.com
Galloping Hill Caterers has been an incredible landmark for nearly sixty years. We pride ourselves in delivering "over the top" cuisine, impeccable service and outstanding attention to detail. That is the hallmark of our success! Simply, an unforgettable experience. Pictured here is one of our crepes flambé that really creates lots of excitement!
— George Thomas, Owner
Vine Ripe Markets
430 North Avenue East • WESTFIELD
(908) 233-2424 • vineripemarkets.com
Fresh mozzarella is not just for caprese salads and pizzas! Try to pair it with flavors and proteins that accentuate its beautiful texture and subtle flavor. I recommend our store-made fresh mozzarella wrapped with prosciutto di parma and topped with a fig demi-glaze. The saltiness of the prosciutto, paired with the subtle sweetness of the fig sauce provides for a perfect salty/sweet bite every time! Available daily in our deli.
— Frank Bruno, Chief Culinary Officer
Do you own a local restaurant and want to know how your BEST DISH could be featured in our Chef Recommends restaurant guide? 
Call us at 908.994.5138