by Mike Kennedy
A glamorous golf getaway is closer than you think.
As a rule, it's wise to steer clear of playing 18 holes with any golf course owner who tells you one of two things: 1) His handicap is higher than the national debt; 2) He rarely gets in a round at the course he owns. Why is it prudent to avoid such a fate? Chances are, when you walk off the 18th green and settle up, your wallet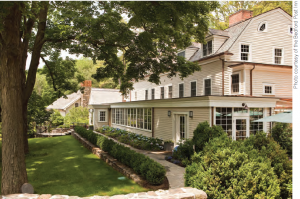 will be noticeably lighter and you'll feel like you just spent four hours in an overgrown cow pasture. That being said, Ken Wang isn't your normal golf course owner. And Pound Ridge Golf Club in Westchester County is hardly your normal course. "It has a sublime rhythm," says Wang, a married father of three sons, MIT grad and brother of famed fashion designer Vera Wang. "You remember every hole individually. The course has a certain harmony and serenity." "May and June are beautiful here," adds Todd Leavenworth, the general manager at Pound Ridge GC, "but you can't beat the fall. That's the best time of year for the course." When Pound Ridge is green and lush, it's a sight to behold. Designed by the legendary Pete Dye, the course is about 90 minutes away from Central New Jersey. It's distinguished by unique rock formations and breathtaking views, including several of the Long Island Sound. In typical Dye fashion, there is an exquisite logic to the course, a quality that appeals to the mathematician in Wang. "It's hard to pinpoint my favorite holes," he says. "I love number 7, number 10 and number 11. They are gorgeous." Leavenworth gushes about the par-3 15th hole known as Headstone. "It's spectacular," he says. "There is white marble behind the green that slopes at about a 20-degree pitch. You can actually hit to the marble and have the ball roll back toward the hole." One feature of Pound Ridge GC that golfers of all levels love is the number of tees per hole—a staple of any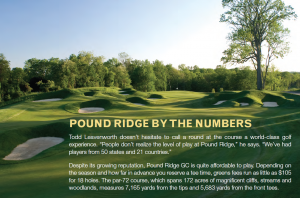 course designed by Dye. There are at least five tees on every hole, and some have six. "Pete is sensitive to the fact that all golfers don't play at the same level," says Wang. "When you play Pound Ridge from the correct tees, it's a very enjoyable experience. The course is unusually fair to women." There's a good reason for that—Dye's wife, Alice. The winner of nine Indiana Women's Golf Association Amateur Championships, she has her husband's ear every time he starts work on a new course. "Pound Ridge was a family affair," says Wang. "Alice gets extremely involved whenever Pete is designing a course. She makes him more in touch with how women play the game." "This is a really fun course for women," he adds. "Probably more so than any other course I know." Dye also puts a premium on exactitude. To score well at Pound Ridge GC, you have to hit the ball straight and the correct yardage. "The first time I played Pound Ridge, I felt like I had stepped into a math problem," Wang recalls. "There's an elegance to the course and artistry to the environment." That's a good way to describe the area surrounding Pound Ridge, as well. The closest neighboring towns are Bedford in New York and Greenwich and New Canaan in Connecticut. Close enough for a day trip, the surrounding area also offers enough to build a romantic weekend or ladies overnight around a round or two of golf. There are great restaurants, charming inns, lots of antique stores and all manner of shopping. Soon, says Wang, golfers at Pound Ridge GC won't have to leave the course for a good meal. He has been working with architects on building a clubhouse. "It's a funny project," he says. "We're talking about a 'destination course' in a residential area. We get local members and people flying in from London and Japan. We have several audiences to please." With the current trend in clubhouse construction trending toward downsizing, Wang has shed his notions of what a traditional design looks like. Fortunately, he has a sister who knows a little bit about style. "Vera is pretty hip," Wang says. "I defer to the higher power. She reminds me that the world isn't filled with wood-panelled walls." There's always a chance that visitors to Pound Ridge GC will bump into Vera. According to Ken, she plays there several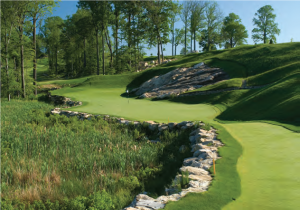 times a year. "Vera is a pretty good player," he says. "I'm probably better on the first ball, but she likes to throw down a second sometimes. She's usually better on that one." Ken's sister isn't the only celebrity who frequents the Pound Ridge area. Richard Gere, Susan Sarandon, Tim Robbins and Mike Myers are among those who claim residency in and around the town. Gere also owns a cozy place there, the Bedford Post Inn (above). While Wang prefers to stay out of the spotlight, he can't deny the legacy he has created at Pound Ridge GC. "I didn't use to think of it in those terms," he says. "I started playing golf as a kid. The idea to buy the Pound Ridge property came after my father built a house in town in 1980. When we decided to turn the course into 18 holes, it took nine years to get all the approvals. Now we have a glamorous golf course that is very sensitive to the environment. It's unlike any other course in the area. It's nice to know that you've built something that will be around for a long while." EDGE
Editor's Note: Mike Kennedy is EDGE's Business Editor. Born and raised in Ridgewood, he is the best golfer on the magazine staff, which is how he pulled this assignment. Mike writes often about the business of sports, and has also authored several children's books.