by Jennifer L. Nelson
Two New Jersey restaurants are elevating the American Gastropub experience.
The menus at Morris Tap & Grill and Paragon Tap & Table have something very special in common, and it's not the word Tap. Both restaurants—in Randolph and Clark, respectively—have built their kitchens on the immense talents of chef Eric LeVine. The East Hanover resident has racked up some serious hardware, including recognition as "Outstanding Chef of the Year" by the James Beard Foundation, Restaurant Guild International's "Chef of the Year" Award, and the International Chef's Association's "Creative Caterer of the Year" and "Chef of the Year" awards. The two restaurants feature extensive lists of craft brews, imaginative spirit and craft-beer cocktails, local farm foods, cutting-edge burgers and an assortment of creative menu items and desserts.
"The great thing about both is that you will always have a unique dining experience," says LeVine. "We're always creating something new and having fun with the menu, and we work hard to keep it interesting and whimsical. It's casual, it's comfort food, but there's always a twist."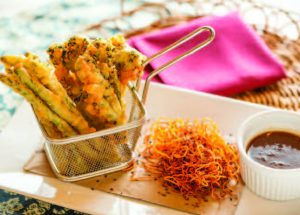 LeVine is known for his ability to make culinary magic happen no matter what he's preparing, whether it's a hand-crafted burger or a six-course prix fixe menu. "We're not pulling food out of the freezer," he points out. "We're making everything from scratch, from smoking our meats in-house to making our own sorbet and gelato."
That philosophy extends to the food truck-inspired selections at Morris Tap & Grill (regulars rave about the award-winning wings) or the rotating "retro" menu at Paragon. Picture a TV dinner menu with entrees like surf & turf with garlic broccolini and apple cobbler served, of course, in a traditional TV dinner tray. "Both restaurants have an amazing team of people who are all about taking the dining experience to the next level and making our customers happy," he says.
One of those people is general manager Mike DeSimone, whose intense interest in craft beer quickly set the restaurants apart from their competitors. "I had craft beer experience, but I'd never been able to put a program together like we did at Morris Tap & Grill," he says. "Initially, we weren't really thinking that we'd have such an influence on the craft beer scene in Morris County, but we quickly realized that we were pioneers. At the same time we were building the restaurant back in 2011, New Jersey was launching its brewing culture."
The timing couldn't have been better. Customers were amazed to find so many local beers on tap, and flocked to the craft-beer events. Those events became a tradition at Morris Tap & Grill and gained instant traction at Paragon, which opened in 2014.
"I give Eric the flavor profiles of the beers, and he builds menus around them," DeSimone says. Along the same lines, DeSimone makes sure his servers and bartenders are attentive and proactive when it comes to pairing craft beers and food. "We don't just hand you a menu and walk away, we guide you through the process and suggest menu items that go particularly well with the beer you're drinking. We also ask what you find appealing about a particular beer and recommend others to try."
While the philosophy and concepts of the two restaurants are similar, there are some differences. Paragon is about half the size of the more established Morris Tap & Grill and the bar tends to be busier. It features a wider selection of New Jersey beers. Clark being more urban than Randolph, Paragon attracts a younger demographic, which in turn makes for a more casual atmosphere. "Paragon really brands the craft experience, whereas Morris Tap & Grill has a broader reach," DeSimone says.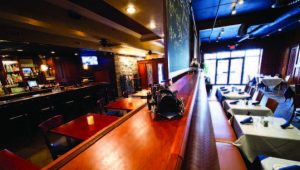 The confluence of skills and experience DeSimone and LeVine brings to Morris Tap & Grill and Paragon Tap & Table certainly helps explain the unique qualities of each location. DeSimone began his career in Hoboken, with stops in New York City, Philadelphia and Charlotte before settling in New Jersey.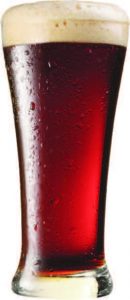 CRAFT BREW FAST FIVE
New Jersey's Craft Beer scene is bursting at the seams.  More than two dozen new breweries will open this year alone. If you're just getting into this trend, here are five Mike DeSimone recommends…
Kane Head High IPA "Brewed in Ocean, it is a world class IPA that hangs with the best of that style from around the country.  Always fresh, which is the most important factor in this style."
Carton Milk Stout "We don't carry Guinness on draught, but nobody misses it once they have tried this creamy, lightly sweet & bitter Milk Stout from the boys in Atlantic Highlands."
Bolero Snort "One of my favorite breweries from North Jersey. Their beer gets better and better. Blackhorn Black Lager is a masterful blend of hops and roasted chocolate malts. Singlehandedly got me drinking lager again."
Forgotten Boardwalk "This beer is on fire! Since they opened a few months ago they have been everywhere. What The Butler Saw Witbier is amazing and will be on tap all summer along at both MTG & Paragon."
Ramstein Double Platinum Blonde "A Weizen Bock from the local masters of the German beers styles. 96 on Ratebeer.com. Fantastic!"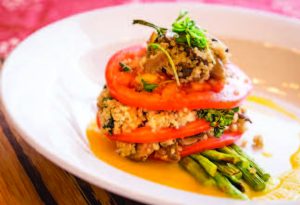 In LeVine's case, one might say that life circumstances bred him for success. His passion for cooking was sparked at age six (thanks to a Disney cookbook, he recalls) in his Brooklyn household, where money was tight. "My mom did the best she could, but I grew up pretty poor," he says. "When it came to food, pickings were slim. You ate what you got, and that was it."
LeVine was working in restaurants at age 12, and went on to work alongside chefs from Italy, Japan and France. He studied at the Culinary Institute of America in New York and, after graduation, cooked for celebrity chef (and EDGE contributor) David Burke at the River Café. LeVine ended up as chef de cuisine at the Marriott Marquis in New York City and, at the age of 23, he was already launching his own catering business.
At age 29, he was told he had cancer. Now in his 40's, LeVine has been diagnosed with cancer a total of five times. While battling the negative side effects of his chemotherapy treatments in 2011, he was also battling it out on the popular Food Network cooking competition show Chopped…and won.
"You come out of the other side of all of this and start looking at things with a very different perspective," he says. "I know now that it's not about me, and I always try to put others first, whether it's my family or my staff and customers. More than ever, I've learned to see past my own personal tastes and how I like to cook and eat, and focus on my customers and their dining experience."
How has celebrity influenced LeVine's work?
"Time goes by and you win awards and you're on TV," he says, "but at the end of the day, I'm not a 'celebrity chef.' I'm just a cook. And I've had to learn the hard way what's really important.
"I'm always a work in progress…and, so far, it has been an amazing journey."
Editor's Note: Paragaon Tap & Table is located at 77 Central Avenue in Clark, just off the GSP.  Morris Tap & Grill is located at 500 NJ 10, about 10 minutes west of Rte 287 and a few miles south of Rte 46.  Eric LeVine has authored two cookbooks: Stick It, Spoon It, Put it in a Glass and Small Bites, Big Flavor: Simple, Savory, and Sophisticated Recipes For Entertaining.
PAYING IT FORWARD
Though chef Eric LeVine's personal health struggles impacted every aspect of his life—including his approach to food and cooking—it also translated into a strong desire to help others in need. LeVine and his restaurants are closely linked with local organizations such as the Family Reach Foundation and the Community FoodBank of New Jersey; he frequently advocates for the American Cancer Society, and has been recognized with their prestigious Heart and Soul Award. He also teaches classes and seminars for organizations like the International Caterers Association to help aspiring caterers develop innovative methods of growing their business. "No matter what, it's about people and doing for others…and hoping to help them make a difference in their own lives," he says.