by Dan Brickley
What's Cooking This Summer? Hopefully Not YOU!
When it comes to summertime beauty, looking good is a whole different ballgame. While winter hues tend to accentuate the delicacies of one's skin tone, hair and eye color, the warmer months are all about bright bursts of color against a healthy, sun-kissed palette. Of course, getting that sunny summery look often means increased UV exposure. Preventing skin damage during
the sultry summer months requires careful attention to protection, hydration, and (of course) daily product application. First rule of thumb—you don't have to hit the beach to grab a perfect tan. TERRACOTTA SUNLESS BALM by Guerlain ($50/5.7 oz) is enriched with 100% natural Moroccan argan oil, so it hydrates, protects, and even helps to regenerate the skin for a smooth, flawless finish. Mimicking the effects of a deeply hydrating body butter treatment, this rich formula is ideal for quenching sun- and wind-parched dry skin. A subtle iridescence also gives your skin a natural glow for several days after the first application. Most importantly, Terracotta will leave your skin looking naturally tan, not orange or streaked. It's quality luxury and, most importantly, it's safe.
If you do plan to tan the natural way, you absolutely must protect your skin before leaving the house. Given the impact of a diminished ozone layer, you just can't be too careful. And just because you don't feel as if you're baking in the high-noon sun doesn't mean you aren't burning. Doctors recommend wearing at least an SPF 15 at all times and these days it's easy to find a light, smooth moisturizer with built-in UV protection (without breaking the bank). I highly recommend RoC RETINOL CORREXION DEEP WRINKLE DAILY MOISTURIZER SPF 15. This wonder product is a huge favorite among skin care gurus. Don't let the name scare you off! This moisturizer helps to visibly reduce expression lines and wrinkles while protecting your skin from the sun's harmful rays. Enriched with Vitamin E and SPF 15 sunscreens, it also helps prevent the signs of premature aging.
It does contain Retinol, however, which can be a challenge. In fact, it's recommended that the user test the product for two weeks while building up the dosage gradually. The buzz on this product is incredible. Although it's relatively new to the market, it's being touted as a miracle cream inasmuch as it's hypoallergenic, non-comedogenic (won't clog pores), oil free, and amazingly inexpensive (only $18.00/oz.). And since a good base cream won't send you into foreclosure, ladies, I say splurge on your lips! CHANEL'S AQUALUMIERE SHEER COLOUR LIPSHINE is super light for those hot, balmy nights and also packs an SPF 15. Even at $30.00 a tube, don't waste time shopping around. Survey says "Monte- Carlo" will be this summer's hottest shade, so grab it while you can!
For the fellas, don't be swayed by what your buddies tell you! Harsh sun, salt-water, and chlorine hold as many dangers for your skin and hair as they do for the ladies. Unless you want to end up looking like George Hamilton, here are some tips for summer maintenance. First of all, shaving is key. The ART OF SHAVING'S LEMON ESSENTIAL OIL ($22/5 oz.) is the perfect shave cream for summer. Rich with glycerin, coconut and other essential oils, it leaves your skin smooth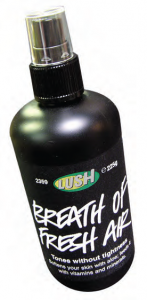 and moisturized. But, once you've got a stubble-free, clean canvas of a face…what to do? This is where great unisex skincare comes in. What's a beauty regimen without the quintessential summer face soap? Origins A PERFECT WORLD DEEP CLEANSER WITH WHITE TEA (5 fl . oz./150 ml) might sound like an afternoon drink, but as soaps go, it's life changing. This perfect foaming face wash is formulated with nature's rare Silver Tipped White Tea. In a preemptive sweep, dirt-grabbing minerals combined with the gentle, skin-compatible cleansing action of palm and coconut oils plus oat amino acid reach deep to help detoxify and free skin of harmful, free radical-releasing impurities before they settle down and cause skin-aging oxidation, dehydration, and irritation.
Now that your face is smooth and clean, there's just one more step. Toner is essential for healthy skin in warm weather climate. Lately, vegan products have become all the rage. long last, I believe a non-chemical toner has finally been perfected. LUSH BREATH OF FRESH AIR TONER ($17.45/8.4 fl . oz.) is pretty much as naturally perfect as it gets. It rehydrates dry skin with soothing, nutritious ingredients like real sea water (fetched from deep in the Pacific), natural spring water, aloe vera gel, patchouli oil, rosemary oil, and seaweed absolute. Just a spritz softens and balances, while it refreshes and renews. Everybody needs a little extra help when it comes to maintaining a fresh face when the heat is on. So follow these tips, be prudent, and enjoy a skin-tillating summer.
Editor's Note: Dan Brickley was the host of TLC's A Makeover Story for three seasons. He has authored numerous articles on fashion and beauty.