by Yolanda Navarra Fleming
Role of Ambulatory Surgery becomes more vital as Covid-19 subsides
By Yolanda Navarra Fleming
The numbers are tricky to pin down as Covid-19 cases rise and fall from coast to coast, but it appears that at least a third of Americans put off needed healthcare in the first four months of the pandemic. That figure covers everything from scheduled tests and screenings to minor procedures to actual emergency room visits. Caution is never a bad thing, but fear—especially fear fueled by a lack of accurate information (or sometimes way too much of it)—can exert a powerful influence on our decision-making. Often to our own detriment.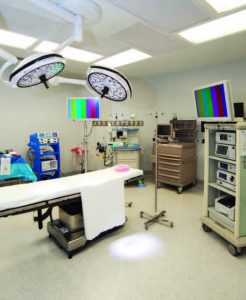 As Trinitas worked to stay a step ahead of the coronavirus this past spring and deliver a high level of healthcare to those who needed to be admitted, another part of the hospital—the Ambulatory Surgery Center (ASC)—was closed and waiting to safely reopen, and is now firing on all cylinders. "Ambulatory" in the case of the ASC reflects its Latin root (abulatore: to walk).  The ASC is an outpatient facility that allows our clients to have same-day procedures. Although there is always some risk in any type of surgery, the layer-upon-layer of Covid-19 precautions that have been adopted, as Trinitas doctors learn more about the virus, has minimized the risk of contracting and spreading the virus in the main hospital as well.
"Our Ambulatory Surgery Center provides an optimal environment for our patients and their families, as we do not treat Covid-19 patients in this facility," says Donna Leonard, Peri-Operative Managing Director. "The atmosphere there is warm, calm, and peaceful. The ASC staff is professional, knowledgeable, and empathetic, in addition, our equipment is state-of-the-art. An important consideration when choosing an ASC site is knowing that we are a hospital-based facility, and all of the resources of Trinitas Regional Medical Center are at our disposal at any time, for any reason."
The doctors, nurses, and technicians at the Ambulatory Surgery Center are skilled and experienced in a wide range of specialties and outpatient procedures. The ASC Operating Room handles:
General Surgery
Laparoscopic Surgery
Vascular Surgery
Plastic Surgery
Gynecological Surgery
Ear/Nose/Throat Surgery
Pain Management
Orthopedic Surgery
More complex procedures are performed in the Main Operating Room at Trinitas, where the same rigorous cleaning and sanitizing procedures take place.  These procedures include all of the above in addition to the following:
Robotic Surgery
Total Joint Replacement Surgery
Genito-Urinary Surgery
Ophthalmic Surgery
Complex ENT Surgeries
Both OR areas are staffed by Board Certified Anesthesiologists, all nursing personnel are certified in Basic Life Support (BLS), they also have or are working towards becoming Advanced Cardio Life Support (ACLS) certified. Many Trinitas RNs are bi-lingual and multi-lingual. Most Registered Nurses have their Bachelor's degree or are currently in a program working towards obtaining a BSN. We have several RN's with BSN's who are now Master's degree holders in Nursing, and several more currently pursuing this highly regarded professional degree.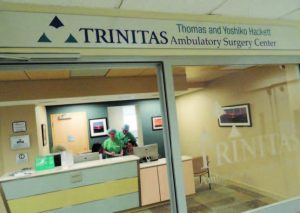 The $5.2 million 9,500 square-foot Ambulatory Surgery Center opened in 2014. Since then, more than 10,000 patients have been treated there.
"It's only natural to have a little fear where medical care is concerned, especially given the current environment," says Leonard. "The medical community has expressed concern that necessary testing and procedures have been delayed due to the fear of being exposed to the virus if they choose to come to the hospital. The ASC center has taken and continually updates all precautions to keep our patients and staff safe. We confidently state that we are offering a safe environment for the return of patients to our facility."
Editor's Note: The Thomas and Yoshiko Hackett Ambulatory Surgery Center at Trinitas is part of the hospital's main campus at 225 Williamson Street in Elizabeth. For more information, visit njambulatorysurgery.com.