Jack Perrone comes home to New Jersey.
By Ghilianie Soto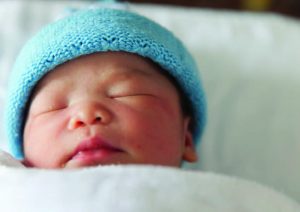 There is something humbling about Dr. Jack Perrone. He exudes a calming energy that allows patients to open up and share concerns they may have pertaining to their health. It could be that Trinitas Regional Medical Center's newest obstetrical surgeon is from the Midwest and brings a friendly demeanor and charm to the workplace. One thing's for sure: His passion for women's health has made him an asset in the community.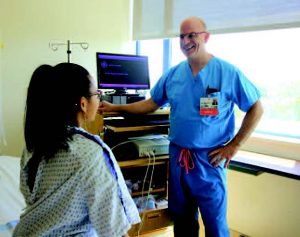 Though born and raised in Minnesota, Dr. Perrone is no stranger to the Garden State. He made his first New Jersey connection in college, graduating from Rutgers and receiving his medical degree from the University of Medicine and Dentistry of New Jersey (UMDNJ). He completed his residency at the Mayo Clinic School of Graduate Medical Education and has been practicing obstetrical gynecology for 21 years. He led his own private practice in Rochester, Minnesota as part of Olmstead Medical Center, a not-for-profit organization serving southern Minnesota. 
"I wanted to come back to the East Coast for the second phase of my career," says Dr. Perrone. "Once I met the delightful people at Trinitas and saw the potential for growth here, there was no question this is where I belong."
At Trinitas Regional Medical Center, the birthing facilities offer a modern maternity unit with private accommodations. The labor, delivery and recovery rooms Trinitas participated in the American Heart Association's Little Hats, Big Hearts program to empower new moms to live heart-healthy while raising awareness of congenital heart defects.
are decorated to approximate a homelike atmosphere, and allowing mothers to remain in one room throughout the birthing process. State-of-the-art facilities and skilled staff of experienced obstetricians, anesthesiologists, neonatologists, midwives, and nurses are available in-house, 24 hours a day, and ensure the best possible care for mother and child.
Dr. Perrone enjoys delivering babies and taking care of women through pregnancy, childbirth, and the postpartum period. Trinitas's maternity services include Labor & Delivery, an Intermediate Care Nursery, and a Mother-Baby Unit. A Level II Nursery offers sophisticated technology and treatment for ill and high-risk infants who require concentrated care and attention. Trinitas also offers TOLAC (trial of labor after cesarean) for women who desire vaginal delivery after a prior cesarean section.
"One of the best things about being part of the Trinitas network is working so closely with my medical and nursing colleagues to help educate our patients and the community," he says. "Being a resource is an important piece of what makes the work I do so meaningful."  
Trinitas has worked to advance care by eliminating the element of the unknown and offering a variety of courses in preparing for parenthood, including "Labor, Delivery & Recovery," "Breast Feeding" and "Caring for Your Baby." New to their services is a partnership with The Baby Box Company. Through this special initiative, parents who complete the learning module on "safe sleeping" for their newborn receive a box filled with premium products and information on safe sleeping habits. Partnerships like these furnish parents with education and resources to give their babies a safe start in life. 
With two daughters of his own, Dr. Perrone understands the importance of making sure parent and child receive the necessary resources and tools to lead healthy and happy lives.