The connective tissue between modernism and realism is not always easy to understand. Or  to see. Chantell Van Erbé thrives in that space. Her intense, dreamlike mixed-media creations radiate emotion and truth…and each is a personal invitation to get a little bit lost in her mind.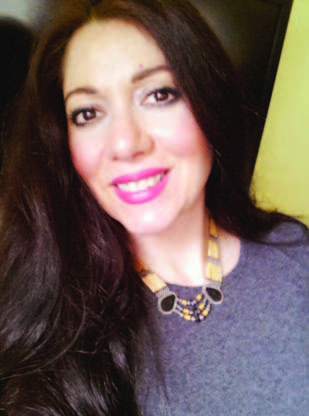 Contemporary mixed media artist Chantell Van Erbé of North  Bergen grew up in a family where art was "definitely in the blood." Born in 1969, she drew freely on the walls of the family's brownstone as a child in Weehawken. "I was surrounded by culture from birth," she says, describing museums and art galleries as her "playgrounds" during the 1970s and 1980s. "I had little choice but to submit to a higher creative vision." Painting is self-expansion, Chantell believes, a beautifully maddening and meditative process: "My technique is best described as process overflowing in transition." Indeed, it exudes raw energy, fresh vision, bold colors and immediacy of place. Her art is less the reality she sees than the reality  she remembers and, as she responds to subjects in both inner and outer worlds, she discovers new ways to encourage viewers to mindfully enter her work. "Art is a series of evolutions, numerous characterizations and endless connotations," she says. "What tremendous power in those three letters!" 
Among the honors and accolades Chantell Van Erbé has received during her three-decade career was a recent solo exhibition entitled Transcendence at The Butler Institute Of American Art in Ohio. Her work was also featured earlier this year at the National Arts Club in New York in support of the Metropolitan Museum of Art.  
—Tova Navarra