by Andy Clurfeld
"Chef Juan Placencia has branched out from his cozy Peruvian restaurant Costanera in Montclair to open this self-styled Pan Latin beauty." 
By Andy Clurfeld 
Midway through the cachapa at Somos, I'm realizing it is the ultimate every-meal food. A corn pancake that's more flavorful than those based on wheat, it's not in need of a blast of sweet nor a slather of dairy to entice. It requires no wake-up call from a caffeinated beverage to wash it down nor a counterpoint of anything chilled to stimulate the taste buds. Its inherent sweetness is mitigated by starch, balanced by moisture and toyed with by a chef who understands its potential intuitively and by virtue of practice. 
This cachapa, a homey number that spans all but the rim of a white dinner plate, is topped with a warming stew of leeks and mushrooms punctuated by pops of corn kernels and given a quick flourish of cilantro and cojita. The crowning glory? Tangy tomato jam, plopped not so much artfully as purposefully in the shape of rough quenelles atop the whole thing. The ensemble has a charming peasant-y quality to it, and its potential as breakfast, lunch or dinner makes me happy chef Juan Placencia has branched out from his cozy Peruvian restaurant Costanera in Montclair to open this self-styled Pan Latin beauty in North Arlington.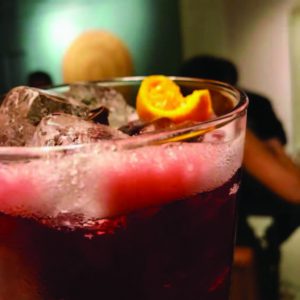 Somos is large. You enter to a posh tavern of a space that shows how architect-designer Michael Groth likes playing with geometric shapes as much as Placencia likes stretching the parameters of traditional ingredients and classic dishes. Banquettes make little rooms out of a cluster of four round tables set for two. Semi-circular high-tops align to form the outline of another, larger circle. Chairs with short backs belly up to a bar softly lit from both the floor and the underside of the counter. There are arches as doorways and shelving and also as ornament and decor. You segue to a dining area that's far less dramatic, set with light wood tables and chairs and lighting that's not about creating a scene. That's the purview of the food.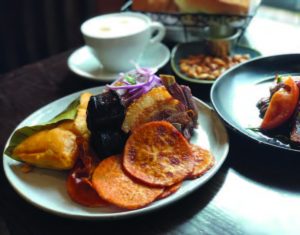 You can eat the cachapa all night, if you'd like, or you can pry chunks of black bass from slivers of red onion in a ceviche that's brightened by a vivid soup of tomatillo flecked with nibs of avocado, snips of cilantro and the suspicion of chilies. Grab the tortilla crisps angled on top to scoop up the tomatillo broth—or ask your server for a sauce spoon. The ahi tuna ceviche is richer and more spirited, with its base of coconut milk plied with rocoto and lime. In this one, use the strips of fried plantain to sop up the sauce. I couldn't ask you to leave behind the chicharron de pescado for the chicken-filled croquettas: The silky cod crusted in quinoa and topped by both a chop of tomato salsa and an aioli infused with sweet piquillo peppers is a terrific table partner for the pert fritters deftly fried and synched to the tune of aji amarillo chile peppers. 
Though little at Somos weighs in as heavy in the startertapas round, working a couple of salads into your meal is all-around wise. I think Placencia's warm quinoa salad ranks as the standard by which all other main-dish tosses should be judged: It's served slightly warm and the elements that mingle with the tiny seeds—kabocha, Bartlett pear, Brussels sprouts, chorizo, tomatillo— are either chopped or crumbled so as not to overwhelm the focus of the salad. The signature Somos salad starts with large leaves of Bibb lettuce and tops them with a haystack of spiralized carrots and onions, as well as avocado and, yup, more quinoa. The best part of this one? A vigorous sofrito vinaigrette that lifts familiar ingredients.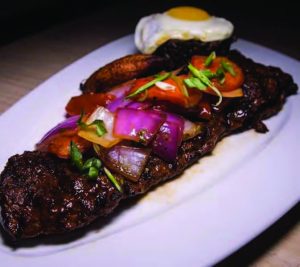 If you wish, you can stop here, with a full slate of small plates that will evolve and change with the seasons and the desires of Placencia and his chef de cuisine Roberto Carnero. The main courses are scaled back in quantity and also achievement. Peruvian pot roast is shredded and served with wide noodles in a spare sauce of tomato, carrot and even green peas. Chicken is roasted with achiote, plopped on mashed potatoes and a messy splay of limp jicama slaw dressed in something that gave it a garish magenta glow. Branzino, grilled with little seasoning, was a snooze alongside yuca fries with far less personality than mainstream French fries, plain white rice and a metal ramekin of bland pico de gallo. The patatas bravas, which we paid for as an extra side, needed more of the good romesco aioli. But they had flavor.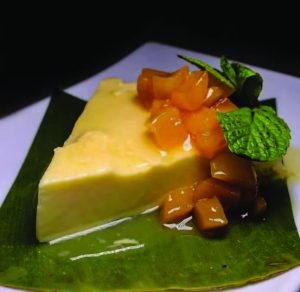 Don't expect the pineapple tres leches to look like any tres leches you know: Here, it's served as a layered parfait in a clear, tall glass, with a zippy coconut-rum sauce and chunks of passionfruit laced within—and a toasted mashmallow-y substance on top. My dining companions really liked it, as well as the squash doughnuts drizzled with a cinnamon-streaked fig relish. Me? I could've returned to bliss with the cachapa.
For when you find that one-in-a-million dish that does it all, you stick with it
Behind the Scenes at Somos
Juan Placencia is a bona fide star chef in New Jersey. Born in Lima, Peru, he came to the United States as a toddler and got his first whiffs of the restaurant life at the places his parents owned and operated. If you know Oh! Calamares, now in Kearny, you know where Placencia got his start. He went to culinary school and then, in the early aughts, worked at top restaurants in Manhattan, including Gramercy Tavern and Eleven Madison Park. Before opening his own restaurant, he did turns at Gotham Bar & Grill and Del Posto, to learn more about the operational side of things. In 2010, he opened the BYOB Costanera in Montclair. Somos opened in the late fall of 2018. The chef's team includes chef de cuisine Roberto Carnero; the architect-designer Michael Groth; general manager Brian Bode; and beverage consultant Rachael Robbins. They are the "we are" at Somos—which translates as just that.
SOMOS
185 River Road, North Arlington 
Phone: (201) 621.0299 • somosnj.com 
Open weekdays, except Tuesdays, for dinner; open Saturday and Sunday for lunch and dinner. Major credit cards and reservations accepted. Prices: Tapas and starters: $7 to $14. Main dishes: $17 to $27. Sides: $4 to $5. Desserts: $8 to $9. There's a cocktail list ($11); glasses ($8) and pitchers ($26) of sangria; wines by the glass and bottle; and beers on draft and by the bottle.