by David Burke
There are no second acts when it comes to throwing a football party. Here's how to get it right the first time.
The mid-winter football party. Call it a tradition. Call it a cliché. Call it what you want, but don't call me if the menu features burgers, dogs and slaw. As a former running back and linebacker, I'm telling you that you must respect the game. And that means you must respect the food you serve during the game. Long after the final whistle blows, and the X's and O's are a distant memory, you want your friends and family to still be talking about your culinary playbook. Some basic guidelines. Have your guests come an hour before kickoff. Prepare everything in small, individual portions. This makes eating neater and increases the likelihood that people will take home the leftovers. Assign a different "buffet coach" for each quarter. You'll be moving food in and out of the game like Tom Landry, so it's important to have an extra set of eyes, ears and hands to help you—and someone to keep the buffet area clean. Finally, print out a lineup of the food you plan to serve, and when it's scheduled to appear. Think of it as a game day program. It helps people pace themselves and gauge how much to eat.
PREGAME I love it when I walk through the door at a football party and see something totally unexpected. Caviar, eggs Benedict, pastramied salmon—something that tells me this party is going to be fun. It's like running a double-reverse or a wildcat on the first play of the game. The crowd starts buzzing and the defense is thrown back on its heels. I love that. You can really get the party going with a pancake bar. Bet you've never seen one of these. Set up a griddle, a container of batter, and various fillings and toppings. Everything from pieces of fresh fruit to shreds of Peking duck. People love making pancakes. They take five minutes and bring out the kid in us. And it's really fun if you have kids at the party. Everyone will improvise. Some people will use them like soft tacos. It's a wonderful way to get people to start interacting with the food, and one another, as they arrive.
FIRST QUARTER As people settle in for the start of the game, bring the big time finger food out to the buffet. By that I mean items you can eat with your hands. Food fumbles can ruin a party, and I think people make a way bigger mess trying to eat with a knife and fork on a couch than they do eating with their hands and a couple of napkins. Traditionally, this is where you might be tempted to serve burgers and dogs. If you do, I'm throwing the penalty flag. Instead of hamburgers, I'd suggest meatloaf. Find a recipe you like, make tiny, individual football-shaped sliders and serve them on rolls. They only take 15 or 20 minutes to cook, and they come right out of the oven hot, like fresh baked cookies. I serve them in my restaurants and people love them. If you must have dogs, then think about serving chorizos, or doing franks in a blanket. But if it's simply a pork product you're craving, why not go with BLTs? Use double-cut bacon, and heirloom tomatoes if you can find them. You could also add some guacamole. Who doesn't love making themselves a BLT? By the way, a great hot side dish for a football party is tater tots. Buy them in a bag and doctor them up a little. They go great smashed into the BLTs, and the leftover ones are good for food fights.
SECOND QUARTER You've heard of an option play? Well, your option here is chili. This is one of the things you can cook the day before and it only gets better. Serve it with chips in little copper-pot bowls lined with tortillas. Amazing! Everyone has his or her own take on chili. Personally, I think most are too sweet. Use lots of meat and a little sauce, almost like a Bolognese. The meat should have some texture. You want your chili to have heartiness, and you get that with the right combination of acid, salt, sweet and a sense of heat. I also add puréed bell peppers. The fat should come from the sour cream or cheese. I'm not a bean guy, unless it's vegetarian chili. If you must, offer beans on the side as a mix-in.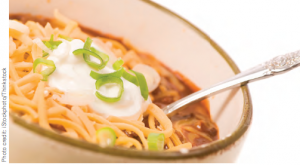 HALFTIME This is where you can get a second use out of the pancake griddle. Clean it off during the first half, keep it warm, and then fire it up for people to make the ultimate grilled cheese sandwich. Buy a bunch of different varieties and let people experiment. If you've opted for BLTs in the first half, make sure to set aside a few slabs of bacon and sliced tomatoes. Football parties aren't about super-healthy eating, but it's a nice idea to offer a salad. I would go with something more manageable and interesting than lettuce. Think about a bean salad. Mix great northern white beans, black-eyed peas, green beans cooked until they're not too crunchy, chopped tomatoes, garlic, basil and olive oil. You can break this out at halftime, too.
THIRD QUARTER A championship football team comes out of the locker room at halftime with a game-changing plan that's full of surprises. The third quarter means it's time for kebabs! This is another item you can assemble in advance. They are fun to make the night before. Marinate the completed skewers and keep them refrigerated until game time, when they go under the broiler on the grill while the marching bands take the field. The kebabs don't have to be huge, and the way to serve them is inside a tortilla. Squeeze the tortilla and pull. You have a great little fajita.
FOURTH QUARTER Pizza. Seriously. Toward the end of the third quarter, get your oven good and hot and start making little individual pies. Use the leftovers from the first-half spread—cheese, pancake and chili toppings, meatloaf. People can individualize their own mini pies, or you can surprise them. By this time, some of your guests may be groaning, but if they've paced themselves they should have room. The added benefit of finishing the game with pizza? There's less to clean up and put away, and you can send people home with the extra pies. Believe me, they'll take them.
TWO-MINUTE DRILL But wait. The final two minutes is crunch time, right? That means dessert—something totally underrated at football parties. This is your opportunity to roll out the team colors. We're not talking cupcakes here. Cupcakes are a rookie mistake. They are time-consuming to make, a pain to eat, and you're never really happy with the way they turn out. Think fresh fruit. Giants fan? Raspberries, strawberries and blueberries over vanilla ice cream. Jets fan? Use grapes, kiwis and Granny Smiths. Steelers fan? That could be a problem. If you have black fruit in the house you've probably killed your guests already. By the way, the grownup version of this dessert is spectacular. Pre-scoop the ice cream into clear glasses the night before (with team logos, of course). Heat up the fruit in a pan with a little OJ and marmalade, sugar, sweet wine or brandy, and throw in a cinnamon stick. Add the fruit to the ice cream, shake on some powdered sugar and bingo— you've hit pay dirt!
Editor's Note: David Burke owns Fromagerie in Rumson, Primehouse in Chicago, Prime in Connecticut, and Fishtail, David Burke Townhouse, and David Burke Kitchen at the James Hotel in Manhattan.