by Yolanda Navarra Fleming
A unique collaboration puts healthy choices within reach of a "growing" population. 
By Yolanda Navarra Fleming
At roughly 125,000 residents, Elizabeth ranks as New Jersey's fourth-largest city. According to the Centers for Disease Control, 37.96 percent of its residents are classified as overweight and 28.71 percent are obese—particularly in the Bayway, Elizabethport, and Midtown areas. Complicating matters is the fact that 17 percent of Elizabeth's population lives below the poverty line, and that many residents do not have easy access to grocery stores because of physical distance or immobility.      
For people like Brandy Rumola, her husband, and two children, who live in the Mravlag Manor housing project, Elizabeth's Mobile Market program—sponsored by Groundwork Elizabeth and The Foodbank, and organized by the Shaping Elizabeth coalition—offers more than a hand-out.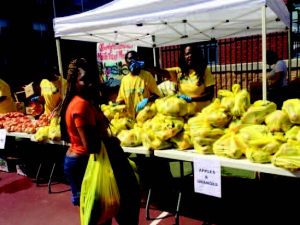 "Eating healthy is one of those things I've been meaning to do, but had a hard time with," says Rumola, a 36-year-old stay-at-home mom whose children are 13 and 10. "The Mobile Market is such a help because we get fresh vegetables and fruits, which means a few less dollars I have to spend. But they also give us recipes…and I've learned about portions, saturated fat, and things I didn't know before."
In 2013, a group of organizations known as the Shaping Elizabeth coalition came together to mastermind a plan to stem the spread of chronic disease with a combination of health screenings and services, nutrition education, food distribution, and community gardening. They began with a grant from Shaping NJ (the state partnership for nutrition, physical activity and obesity prevention), and support from the Gateway Family YMCA.
Catherine J. Hart, deputy executive director of the Housing Authority of the City of Elizabeth (HACE), which helped establish the Mobile Market program, says it's not just about the food.
"It brings residents together," she says. "HACE has enlisted a team of resident volunteers who distribute the food, which means they get out and meet one another directly. They look out for each other. The young people help the seniors in carrying items back to their houses. If someone can't [physically] make the distribution, residents volunteer. There's a tremendous amount of communication between staff and residents enabling HACE to bring in other forms of assistance and support."
Alane McCahey, project manager of Shaping Elizabeth and Senior Director of Community Initiatives at The Gateway Family YMCA, adds that eventually residents will be able to be trained in food handling, which could also mean future job opportunities.
"Our guiding principle is to bring the resources to the people, versus trying to get people to come to us," McCahey explains. "We're much more apt to get people to make changes in their lives that way. We want people to be part of the solution so it's more of a partnership. It's one thing to have food handed to you, and another to know how to best use it. We'll also offer education by a nutritionist from Trinitas."
Recently, the coalition received another grant from the Robert Wood Johnson Foundation, involving NJ County Health Rankings and Road Map, one of the RWJ's subsidiaries, as well as the City of Elizabeth, and Proceed Inc.
A program called Play Streets—sponsored by Gateway Family YMCA, City of Elizabeth, The Shaping Elizabeth Community Health Initiatives, and the Community Food Bank of NJ—creates a block party atmosphere to welcome residents in various neighborhoods to engage in activities that speak to their specific needs through children's activities, health screenings, and more. Last year, through the Safe Kids Program at Children's Specialized Hospital, free bike helmets were given out to kids who attended.
Early on, Trinitas organized the One Flight Up, Two Flights Down campaign to encourage walking for physical fitness. But the hospital also conducted a walkability audit of the city to determine what improvements could be made.
"We've come a significant way," says Joseph L. McTernan, Sr. Director of Community and Clinical Services at Trinitas Regional Medical Center. "We focus on putting our community first. We have put a lot of work, time and effort into ensuring that the groups learn to work together as a team. The groups are structured for strong collaboration and sharing information between partners. We're working well together even as we tackle some of the harder topics."
With the help of Jonathan G. Phillips, executive director of Groundwork Elizabeth, residents take matters into their own hands by growing produce in community gardens. "We are involved in so many ways," says Phillips. "We're proud to be part of the coalition working with NJ Health Initiatives to build a culture of health in Elizabeth.
As for Brandy Rumola, she wonders if the Mobile Market is a benefit that's here to stay—because it's one of those things that just seems too good to be true.
"I genuinely hope they keep the program going," she says. "I know other families that depend on it because there isn't a grocery store close by. Not everyone has a car or has money to take a cab. It benefits the whole community."
Hart offers comfort by adding, "At a time when funding is limited and opportunities are scarce, the Shaping Elizabeth collaboration has been—and will continue to be—beneficial not only for the agencies but for the people we serve: They will benefit from the services that as a group we can provide."