by Francesca Piancone
I'm so tired, I haven't slept a wink… I'm so tired, my mind is on the blink.
Beatles aficionados will recognize these lyrics from the Let It Be album. Truth be told, the group's weary words should resonate with anyone who has ever been sleep-deprived for more than a night or two. The fact is, we've all been there—from punching the snooze button for an extra five minutes, to skipping that 5:45 a.m. spin class in hope of additional Zs, to heading straight for the couch after a long workday. So why is feeling fatigued so common? Why is having a healthy sleep so important? And what would be the downside if we just let it be? Health and sleep are inherently intertwined. Sleeping is a regenerative process for both the mind and body. A sufficient amount of quality slumber helps to maintain a healthy heart, metabolism and endocrine system.
Since most of us spend one-third of our lives buried in a pillow, it is important to have healthy and consistent sleep on a regular nightly basis. For some, however, nights featuring the cardinal eight hours are few and far between. According to the National Heart, Lung and Blood Institute, about 70 m llion people in the U.S. have a sleep problem and 40 million of these are chronic problems. Maybe you are a habitual snorer; you wake in the night and have difficulty falling back asleep; you've gained a significant amount of weight in the past year; or you kick during sleep. All of these symptoms and more can be associated with sleep disorders, though they are often under-diagnosed. All are curable. If left untreated, however, they can lead to serious health issues. Insomnia (the inability to fall asleep or stay asleep), for example, results in loss of concentration, reduced productivity and poor alertness.
Over time, insufficient sleep creates chaos within metabolic hormones, which can lead to obesity and diabetes. Sleep Apnea (breathing stoppage and diminished oxygen levels) can affect one's blood pressure, heart and brain. It can lead to serious cardiovascular complications, including hypertension and strokes. While sleep disorders are prevalent in adults, they are increasing for children. If untreated, children may experience emotional, behavioral and learning disorders. As with most diseases, the symptoms triggered by sleep disorders can escalate over time. That being said, not all sleep-related difficulties are actually classified as disorders. There are many modifications that can be performed to improve sleep habits, such as shortening naps, avoiding caffeine and alcohol, and fixing a bedtime and wake-up time.
SEEING A SPECIALST If making a few lifestyle changes doesn't do the trick, the next move is seeing a sleep specialist and undergoing a sleep study, which can diagnose and ultimately cure the disorder. Unfortunately, many people shy away from submitting to this type of procedure. They picture themselves in a bleak hospital sub-basement, on an uncomfortable cot, with wires connecting them to a bank of machines. The reality is quite different. At the Trinitas Comprehensive Sleep Disorders Center, for example, homey bedrooms await the troubled sleeper. The state-of- the-art facility offers monitored diagnostic sleep studies that are designed to quickly reveal the disorder. Trained sleep specialists and technicians work together on each study and conduct follow-up appointments with a subject's physician. All cases are reviewed by Dr. Vipin Garg, the center's Medical Director. Dr. Garg is board- certified as a Sleep Specialist, as well as in Pulmonary Medicine, Critical Care and Internal Medicine.
One of the center's goals is to make patients feel as comfortable as possible during their stay. The center on the TRMC campus consists of four bedrooms—each with a personal bathroom and television and other amenities. To fulfill the growth and demand for more space, the center expanded to the Homewood Suites by Hilton in Cranford early in 2010. There are now two fully equipped bedrooms at this property. Dr. Garg notes how important it is to feel comfortable and at ease during a sleep study in order to gather the most helpful results. "The psychological mind-state of sleeping in a center is not the same as being at home," he explains. "We try to make it feel as if you are in a hotel, rather than a hospital. We have access to all resources from the hospital's many departments, and facilities at the hotel are extended to patients, including breakfast and the gym." Sleep studies and treatment provided at the center are personalized for each type of sleep disorder. The staff is certified and trained in many disciplines and an array of treatment options is available.
If the problem is neurological, a neurologist will meet with the patient. For breathing issues, a pulmonologist will be present. If significant weight-loss is deemed beneficial to a sleep apnea patient, dieticians and surgery options are at hand. All sleep disorders are curable and patients have the opportunity to choose from treatment types. For example, if diagnosed with sleep apnea, depending on the case, one can undergo surgery for tonsil removal or sleep with a CPAP machine, which delivers additional air through the nose.
ONE NIGHT ONLY Typically, a single night of monitoring can result in a lifetime of quality sleep. The process is simple. Patients are instructed to do what they would typically do before any night of sleep, to ensure regularity and comfort, such as reading or watching TV. Patients are hooked up to leads that measure eye and leg movement, heart rate, airflow measurements and more—all while specialists watch the sleep behavior on video monitors. After roughly one week, the patients are asked to come back, results are reported and treatment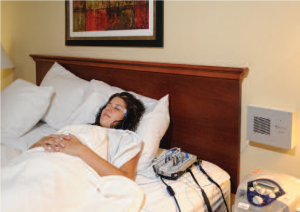 arrangements are made. For those who cannot (or will not) leave home to participate in a study, Dr. Garg proposes an alternative possibility: an at-home sleep study, using a new portable device that collects the same useful data. Success stories are hardly few and far between at Trinitas Comprehensive Sleep Disorders Center. On the contrary, the center conducted nearly 1,500 studies in 2012, including adults and children. One of Dr. Garg's favorite stories concerns an eight-year-old boy, who was prescribed ADHD medication after meeting with a psychiatrist and pediatrician for hyperactivity and inattention in school.
The boy's mother mentioned his nightly snoring to the pediatrician, who recommended a sleep study. Dr. Garg diagnosed a severe case of Obstructive Sleep Apnea. After addressing the apnea, the ADHD medications were no longer needed, the boy's performance in school drastically improved, and he became more energetic after losing weight. "The importance of sleep is an issue that has been previously ignored," Dr. Garg laments. "Many times an internist fails to realize sleep disorders may be the problem at hand, because different questions are asked during a physical than during a sleep study. The impact of a sleep study is huge. It is a very natural, non-invasive process with no known side effects. The technology is getting better day by day, and we have had a lot of success." Healthy sleep is imperative for us as individuals. By diagnosing and treating a sleep disorder, future serious issues can be avoided. The Trinitas Comprehensive Sleep Disorders Center is one of many centers that can help in the journey of pursuing quality sleep habits. Don't let it be. If you are experiencing sleep difficulties, talk to your physician or sleep specialist about a center near you, and get on the road to a dreamy recovery.
Editor's Note: The Trinitas Comprehensive Sleep Disorder Center is accredited by the American Academy of Sleep Medicine. It is located at 210 Williamson St. in Elizabeth. For more information, call 908.994.8694 or log onto njsleepdisorderscenter.com.