by Andy Clurfeld
"Bulgogi jeongol, marinated beef cooked with a tangle of sweet potato noodles that mingle with mushrooms, tofu and vegetables, is a party in a pot."
By Andy Clurfeld
Seoulville
45 West Main St., Somerville. Phone: 908.854.4100
Open Tuesday through Thursday from 11:30 a.m. to 9:30 p.m., Friday and Saturday from 11:30 a.m. to 10:30 p.m., and Sunday from noon to 9:30 p.m. Note: Seoulville takes a late afternoon break Tuesdays through Fridays and closes from 3 to 5 p.m. Closed Mondays. Major credit cards and reservations accepted. Prices: Appetizers: $6 to $15. Barbecue dishes: $23 to $29. Dolsot (rice bowls): $15 to $17. Soups: $13 to$17. Casseroles (jeongol): $35 to $38. Entrees: $14 to $32. BYOB.
Kimchi jjigae is the Statue of Liberty of soups, beckoning for generations to the tired, the poor of health, those huddled under quilts struggling to breathe free of wintertime colds and flus. It is potent of broth, fired as it is by spices seeping from fermented vegetables and long-simmered pork belly, and soothing of texture, with slices of tofu and slivers of tenderized cabbage, radishes and other roots turning up in every bite. Kimchi jjigae fortifies the ailing body as it restores the flailing soul. It's a wonder of a dish, and Seoulville, a relative newcomer to Somerville's ever-diversifying restaurant scene, nails it.
Seoulville is the result of a natural progression: In before-culinary-enlightenment times in Somerville (and many county-seat centers of New Jersey suburbia), you had your red-sauce Italian joints, your chow mein Chinese joints, your continental masquerading as classy (dress up and take out Aunt Gert for her birthday) or slumming (diners didn't serve moussaka in those days), and little else. Then came the white sauce known as alfredo, Szechuan and something called "cuisine minceur," or a lighter side of French cuisine that blew the lid off the butter-and-cream classics and made us feel virtuous and oh-so-nouvelle.
Was it sushi that helped us shake off the shackles of the 1950s Germanic meat-and-potatoes diet? The advent of olive oil? The Eurail pass that allowed post-grads to travel and travel and eat and eat? All of that, for sure. During the course of a decade or two, Japanese, Mexican, Indian, Greek, Spanish, Portuguese, Mediterranean from many ports, island fare and, critically, strains of America's own regional specialties, came to star on menus at everyday-style strip-mall restaurants throughout the Garden State.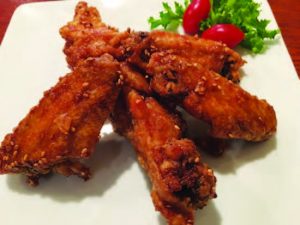 Why it has taken more than a decade of the 21st century for Jerseyites to welcome Korea's comfort foods to their backyards puzzles me. But after years of trekking to Fort Lee, Palisades Park and Edison, I'm grateful that Brian Kim and his parents Helen and Kenny were brave enough to bring Seoulville to at least one corner of New Jersey that lacked real-deal bibimbap.
Is there a food more comforting than this stew of a salad that flips crusty-topped baked mac-and-cheese on its fanny and actually weighs in as nutritious? Seoulville's casserole of rice, beef (or chicken or tofu), slivers of mushrooms, carrots, spinach, daikon, a runny fried egg, a scattering of sprouts and, on the side, a cup of gochujang (a Korean chili paste embraced by millennials who spoon it on everything they eat while curled up on Klippan sofas) is filled with ingredients we know. Here, they're re-assembled, cooked in a stone bowl that crisps some of the rice, and brightened by that smoky-hot-sweet-mysterious sauce it doesn't take a prophet to forecast as the successor to salsa.
Brian Kim, the front-of-the-house man at Seoulville and the guy who truly wants to teach gochujang, kimchi jjigae and bibimbap to the uninitiated, is happy to guide you through the menu of classics tailored, in varying degrees, to American ways. Give a listen, give a try. You can eat your same-old any time.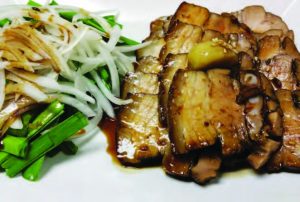 For here, the chicken wings come glazed sweet and spicy—and that do-si-do of dolce and daring isn't sticky and cloying, but invigorating to the meat. Which is the point. The seafood and scallion pajeon, a pancake that tilts in texture to an omelet crossed with a crepe, isn't even a tad oily, allowing the shreds of shrimp and squid to take charge. My favorite starter is the fried tofu, batter-dipped cubes with taut, crisp crusts that squirt with milkiness. Eat a cube, with or without a brush of sweet soy glaze, then check out the banchan–small bowls of vegetables and condiments, including cubed radish, sliced cucumbers, pepper-licked potatoes, marinated mungbean sprouts–and enjoy the interplay.
Made for sharing, and worth the investment, is the Korean hot pot. Bulgogi jeongol, marinated beef cooked with a tangle of sweet potato noodles that mingle with mushrooms, tofu and vegetables in a broth that tastes meaty but is all about slow-cooking with shiitake mushrooms, is a party in a pot. Stir in a spoonful of gochujang; snag a leaf of lettuce from your bossam platter and pile some of the beef and vegetables inside, wrap and eat; mix some of your banchan with your bulgogi on a side plate. This food is all about customizing to your own tastes. Your own expanding tastes, I hope.
Speaking of bossam, Seoulville's pork belly boiled in water scented (I suspect) with ginger and garlic, peppercorns and onion till super-tender—then seared and served with leeks and onions—is minimalist compared to some contemporary takes. But comforting it is, and if you ply it with the sauces and banchan, you'll be well on your way to understanding not only how to eat Korean, but what you can do to charge up your own dining regime at home.
Grilled beef short ribs are a no-brainer to eat and love. Served on a hot plate, meant to be speared and fired and consumed without judgment, they're one of Seoulville's relatively shy dishes. So is the cod braised in a soy-based sauce and served with a splay of mild vegetables. It reminds me of a tame version of miso-glazed black cod, a dish made famous at Nobu—a dish that once seemed as foreign as, well, kimchi jjigae.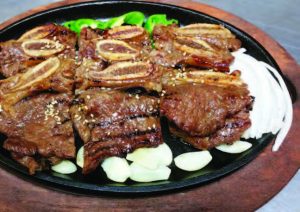 For weeks after that dinner, I thought of Seoulville. Its mission to serve as a bridge between mother country authentic and suburban Jersey educational did make me a little sad, however. I kept wishing the Kims didn't feel that need to cotton to Western palates at all. But they are in it for the long haul, definitely wanting to take locals on a culinary trip. I stopped back with a friend, ostensibly for bowls of a couple of soups I'd missed, but really to see how the little place with the big heart was doing.
The room was nearly full at an early-dinner hour. I looked at the menu and chuckled. How could I not have ordered the famous "Hangover Soup," arguably the most loved of Korean standards, my first time there? Its beefy broth, fortified with both soybean paste and red pepper paste and strewn with cabbage, sprouts and vegetables, might not have the infusion of jellied oxblood that the original must possess, but it scares my friend's cold into submission. A seafood broth bolstered by that same spicy pepper seeps into soft tofu and infuses it with hints of shellfish, riffs of chilies; it makes for a soup I find magical.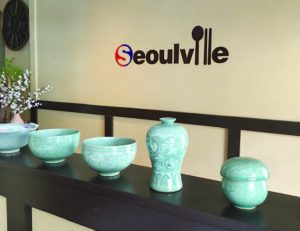 Seoulville, a modest but pleasant storefront with subdued décor and the most welcoming of service, could be part of the natural progression of things culinary. It might just be what the good denizens of New Jersey had to work up to. But it's also about a carefully orchestrated menu by the Kim family and a style of cooking that's at once educational and experimental, yet purposefully easy to digest. We're getting there.
BYOB
It's possible my love for Korean food is fueled by its compatibility with wine. Specifically, gewurztraminer, the fruit-forward, spicy personality white wine that adores intensely seasoned foods—particularly ones plied with chilies. Bring to Seoulville your best gewurz, be it from Meyer-Fonne or Albert Boxler. In reds, consider an un-shy number from Spain, perhaps something from Rioja or the Ribera del Duero. Or a Priorat. You want something that allows its fruits and heft to be balanced by spice and a little earthiness; a high-alcohol, amped-up, resolutely "big" wine will be discordant with the nuances of seasoning in Seouville's signature dishes.