by Douglas R. Macpherson
Anguilla… Served Up Family Style
My snow shovel is hung in the work shed with care. When St. Nicholas comes, well, I just won't be there. Nor will Ellie, my wife, who by mid- December is already winter-weary. Have I mentioned our three almost-grown offspring? They won't be there, either. The White Christmas of which we all dream is the white that we so fondly remember from the sugar sand beaches of Anguilla, down in the Caribbean. For that is exactly where we'll be over the Christmas/New Year holiday.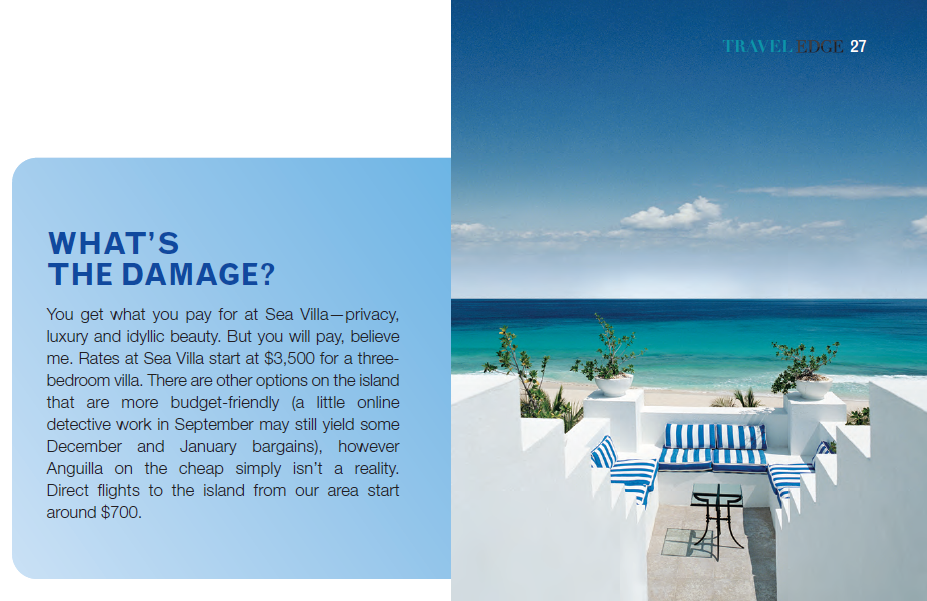 Furthermore, we're all looking forward to a present free Christmas. You heard me. No Christmas presents! For the second year in a row, we are happily swapping center-city shopping—with its canned Christmas carols, its street corner ding-a-ling Santas, its life-threatening escalators and all those green/red/green-again traffic lights (and still we don't budge)— for a tropical sunrise by our utterly beautiful pool. Or perhaps a pre-breakfast snorkeling expedition to watch the lobster lolling in the deep just off our private beach. Our 20-year-old pre-law genius puts it this way: "Dad definitely does not need another Hermes necktie, Mom does not need another silk scarf and no one in this house needs another cashmere anything." Miss 18 and Worldly Wise says, "Christmas on a beach and under a palm tree? Heaven!" Last and anything but least, our 16-year-old Wimbledon hopeful says Christmas afternoon men's doubles tennis is, like, "Crazy." How my family came to opt out of that most traditional of American holidays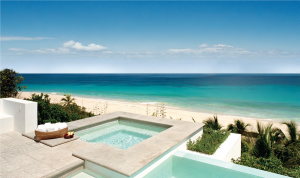 —Christmas complete with jingle bells and holly wreaths, with fruit cake and office parties and retail hysteria—is a tale worth telling. And even more worth hearing. Actually, the lion's share of credit goes to my brother-in-law, Harvey, my wife's brother, father of a lissome 15-year-old daughter and a bruiser of an 18-year-old all-A's fullback who is currently weighing bids from half a dozen ivy-covered colleges. Harvey and my sister-in-law, Liz, live in Chicago, where winter is nothing to joke about. Two years ago Harvey packed his nearest and dearest off to the pint-size Caribbean island of Anguilla for the Christmas/New Year holidays. His enthusiasm for that experiment knew no bounds. "And we all loved it," he crowed on the phone. "Next year you and Ellie and the kids are coming too." I was not an immediate pushover. "I don't know…two weeks of hotel living…I'm not so sure." "But it's not hotel living. We leased a villa! I'm e-mailing you pictures. Just take a look."
And within minutes pictures, as if lifted from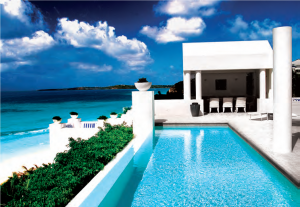 Architectural Digest, filled my laptop screen. What was not to love? Sea Villa overlooking Long Bay. A white stucco house sequestered by palm trees. A sparkling infinity pool bordered by white chaises heaped with brilliant blue pillows. Our very own private beach. The interior views were no less seductive. An acre of bed in the master bedroom with a white marble, sky-lit bathroom that was bigger than most peoples' living rooms. Arching over all was the bluest of skies, dipping down to join an even bluer sea. "And the beauty of it is, a staff of three comes with the house. No cooking, no cleaning, breakfast in bed or by the pool or wherever you choose. Doug, this is one deal you can't pass up. Next year," he vowed. "We'll all go." It's true I had to do a little strong-arming when I first broached the idea. From the kids came the usual protests: ski trips, Broadway tickets, parties of all kinds. But I held my ground. "Your cousins loved it," I said. "We're going to try it. How many more all-together family Christmases do we have?"
To my astonishment, Ellie put up no resistance at all. "We should give it a try," she said—a tribute, I suspected, more to her brother's judgment than to mine. "But what about the cost?" "Actually, we'll save money," I told her. "No Christmas presents." And so it was. To call last year's Christmas/New Year holiday a success is the understatement of the century. This year will be even better because we know just what to expect. Sea Villa sits on its own three acres of landscaped turf. When I close my eyes I see bougainvillea, palm trees, blue-blue sky and a luminous slice of Caribbean sea in the midst of which sits 7,000 square feet of unabashed luxury. Ellie and I have one master suite, Harvey and my sister-in-law have the other master suite. The cousins will be sharing the other four bedrooms, each with a palatial bath. It is not, to put it mildly, boot-camp living. Our days will be spent in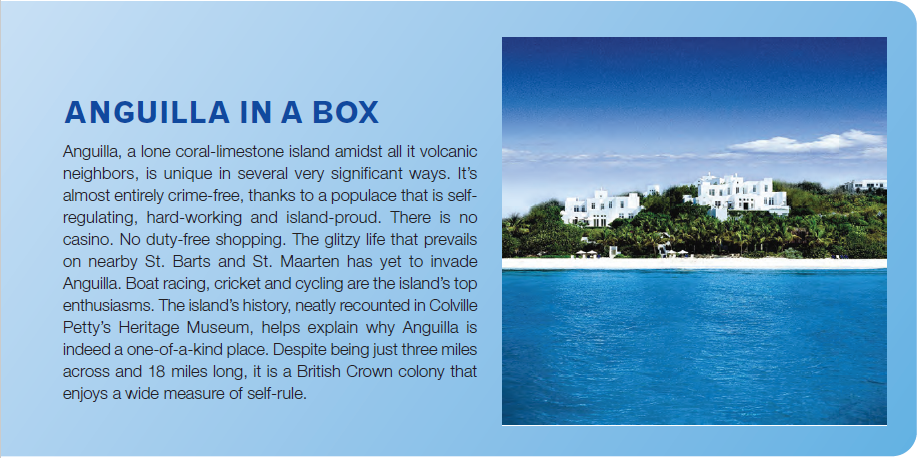 sinful bliss.
We'll certainly be snorkeling every day, and if we're lucky, we'll dine at night on the lobsters we spear that very afternoon. We'll have plenty of killer-family tennis. Sea Villa comes with all privileges on the adjacent 18-holf golf course, designed by Australia's great White Shark, Greg Norman. Which translates into a round or two of killer-family golf. Last year we celebrated Christmas at St. Andrew's Anglican Church, where we were welcomed like long-lost friends. It was in a mood of celebratory joy that we joined the church choir, sending our Hark the Herald Angels Sing floating through the open windows to drift out across the incredibly blue waters. As of now, it's yet to be decided whether we will all go out for Christmas dinner—a tempting option since Anguilla is blessed with some truly wonderful owner/chef restaurants. Last year we celebrated Christmas at Veya Restaurant, a very special gem, hidden in a tropical forest.
The food and the service matched the best of anyplace we'd ever dined and the outdoor, candlelit ambiance struck exactly the right note of family holiday celebration. This year, who knows? There's an undercurrent building for Christmas dinner at home, meaning on the terrace at Sea Villa, where the staff will spoil us outrageously and we can top off the evening with a midnight swim. We'll see. If you're wondering, for the most part we stuck to our iron rule of no Christmas presents. But if truth be told, some (whose names I won't mention) escaped and found their way, like bloodhounds on the scent, to one of the island's several ZaZaa boutiques. It specializes in island jewelry, beachwear, evening what-have-you's and the female consensus in our household was that it was well worth the price of the excursion. Last year we met several American families who have made Anguilla their new home base. That's not for us, at least not yet. For the moment, with school tuitions stretching off beyond the far horizon, we're content with our holiday pilgrimage. It's the best White Christmas that Irving Berlin never dreamt of—the white, white sands of Sea Villa and a family holiday that tops even the finest of partridges in the finest of pear trees, on-island or off.