by Mike Cohen
For lovers of food and wine, the winter festival in Key West offers unparalleled bang for the buck.
A gentle breeze moves through your sun-kissed hair. Sand and sea squeeze up between your toes. You catch the unmistakable aroma of fresh-caught seafood on the grill. You take another sip of wine and scan the impossibly blue water for dolphin fins breaking the surface. You'd swear someone is playing that Jimmy Buffet song you haven't heard since college. In fact, you'd swear it's Jimmy Buffet. And you might just be right. It's January in Key West and (uh, yeah) there's a reason why people flock to this southernmost tip of Florida's famous coral cay archipelago.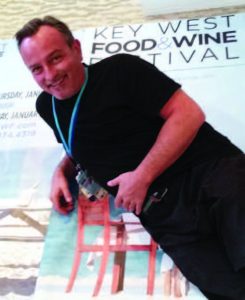 The last week in January is a particularly popular time to visit Key West, especially for sun-worshipping foodies. That's when the sleepy town perks up for the Key West Food & Wine Festival, which just completed its sixth spin around the block (the block being Duval Street, main drag of the Conch Republic). The brainchild of local legend Marc Certonio (left), the Wednesday-thru-Sunday gathering is, happily, still something of a well-kept secret. There are more than 30 different events, including various strolls, tastings and beach parties—but with dozens, not a mob of hundreds. Also, Certonio has cultivated strong relationships with wine purveyors and wine makers, so you're likely to see wines of small production and hard-to-find beauties. This year, Archery Summit, Foxen and Byron wines were being poured.
In case you're wondering, Key West has changed in recent years. Its reputation as a laid-back, booze-soaked haven for alternative couples and fast-lane refugees has always had more than a little truth to it, but over the last decade I've noticed a lot more vacationing families and cruise-ship tourists in the Florida Keys. During the festival, however, they play second fiddle to all the food and wine devotees.
WEDNESDAY
The 2015 festival started off with a bang. Stephanie Southgate (left) from Noble Wine Estates had an intimate gathering of 25 people to sample wines from around the world. All rated 92 and up from Robert Parker, Wine Spectator and Steven Tanzer. Once we stumbled out of that one, we had the option of joining one of three neighborhood strolls through downtown Key West before turning in.
THURSDAY
On Day Two, I had the pleasure of working with James Braun (left), a product manager for one of the big whiskey distributors in South Florida. We partnered on a two-hour talk about whiskey and scotch, during which attendees sampled 17 different whiskeys. All different, all boutique and incredibly delicious. The host restaurant, Square One, served small bites of raw fish and pot stickers that blended perfectly.
It only got better. Thursday night was the official welcoming party, Key West style: flip-flops, shorts and loose shirts for the guys, swim club casual for the ladies. The Beachfront at Casa Marina resort offered 10 different wines, a carving station to die for, and a buffet bursting with seafood fished out of local waters. This event alone was worth the price of the plane ticket—and it was just a warm-up for dinner at the nearby Strip House (it's not what you think). Luciano Castiello from Banfi Vintners of Montalcino, Italy shared his passion for wine and the story of the fabled Banfi family. Each course delivered to our table was accompanied by an impossible-to-find, small-production selection from his winery. Returning to the room that night, I was holding my stomach wondering how I could possibly make it through three more days. Obviously, I'd have to force myself to soldier on and take one for the team!
FRIDAY
Friday brought a special section of Santa Barbara wines, along with the makers, to talk about all the West Coast goodies they brought. Buttonwood, Byron and Foxen wineries were represented at the Hyatt Resort, which overlooks the water and (as I discovered that evening) offers a spectacular viewpoint for Key West's world-class sunsets. The property actually hosted two days of wine-intensive seminars, brunches and dinners.
Friday at the festival also featured a chocolate-making seminar, chocolate and food pairing with wines, a Key West kitchen tour, an East vs. West sunset wine tasting, and—ta-dah!— the Grand Tasting, the focal point of the five days for people like me. This year's Grand Tasting took place poolside at the brand spanking new Marker Resort. More than fifty wines were poured at tables arranged around the two pools in an enclosed deck area. The evening had an easy vibe, live music, a cool breeze and knowing whispers: Did you try that pinot over there? The malbec from Argentina was incredible. As I raved about the New Zealand sauvignon blanc while chewing on my third coconut shrimp, my date reminded me that we had dinner reservations.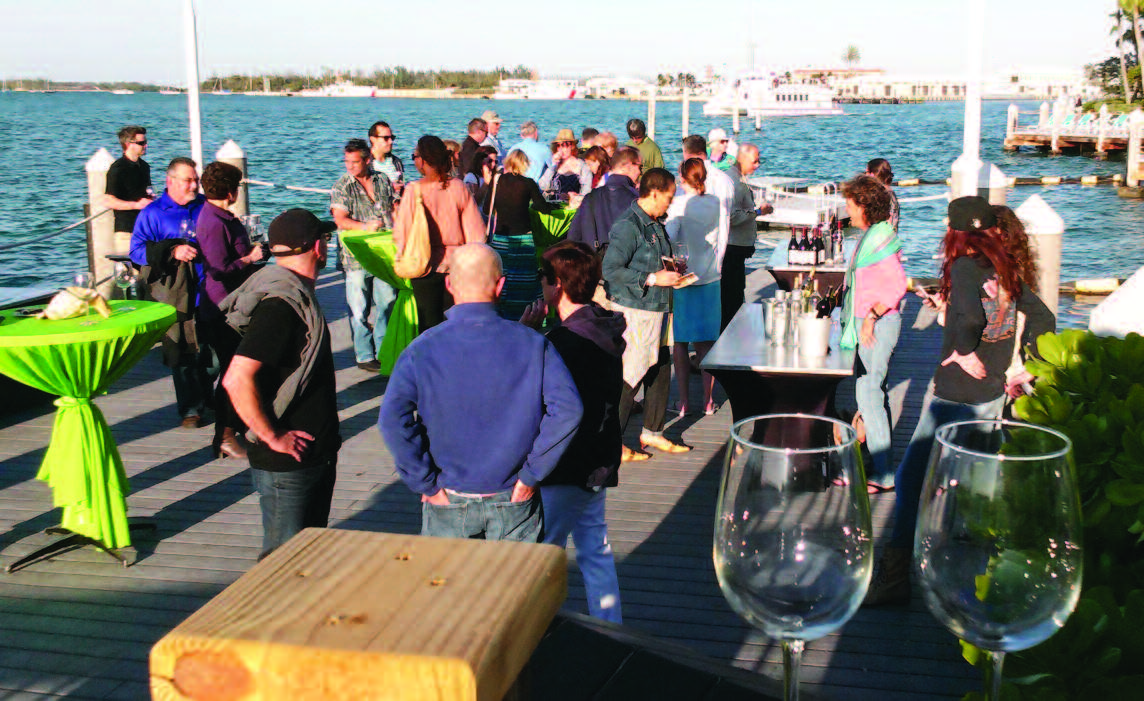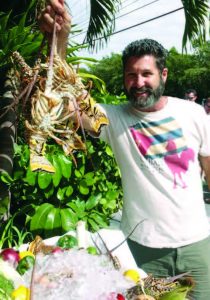 On Marc Certonio's advice, we snagged a pair of tickets to the event at Charlie Mac's, a local spot that has some of the best food in town. Juan Hernandez (right), the southeastern director for Domaine Select wines, was conducting a six-course, six-wine dinner for 30 people. I don't even know where to begin, but suffice it to say that when the braised pork and pasta dish came out paired with a semi-dry Lambrusco, my eyes rolled back into my head. That was course four or five. At some point, Juan decided that seven courses was better than six; either that, or I just lost track. Chef Michael Schultz was the man behind the culinary madness. He is the chef for Pat Croce's various restaurants and establishments in Key West and he has an unbelievable talent for all things fish. If you do one thing when you come down to Key West, eat at one of Chef Mike's establishments (my favorite is the Turtle Kraals cevicheria at the marina).
SATURDAY
No trip to the Keys is complete without a shrimp boil. On Saturday, we crossed over the bridge from Key West onto Stock Island and settled into our seats at the funky, island-cool Hogfish Bar and Grill, where one can track the comings and goings of the shrimp boats that make this place famous. We watched the shrimp go from boat to pot, and Hogfish served them with a Mark West pinot. We walked off this meal on Duval Street. Well, maybe that's not entirely accurate. More than 20 establishments on this half-mile strip were pouring small-production wines, so it was more of a sultry stroll. Hungry again? It was back to the Hyatt deck that evening for cheeseburgers in paradise, with wines to match. A Santa Barbara winemaker dinner followed, but by then we were spent.
SUNDAY
Sunday is getaway day. But who wants to leave? We returned to Stock Island for Prosecco and jazz at Rustica Pizzeria before packing up and checking out. As the festival-goers on our flight settled in for the trip back home, I noticed more than the usual wriggling and shifting as we all tried to get comfortable.
Somehow, in just five days, the seats had gotten smaller.
Editor's Note: Mike Cohen is EDGE's Food Editor. A longtime New Jerseyan, he recently made South Carolina his permanent home. He teaches wine courses at The College of Charleston. Check out his Q&A with Key West Food & Wine Festival founder Mark Certonio at edgemagonline.com.
The 2016 Key West Food & Wine Festival is scheduled for January 27- 31. The festival is comprised of more than two dozen ticketed events‹most of which are extremely limited. For more information or to reserve space in 2016, log onto kwfwf.com.