by Tova Navarra
Father and daughter artists have existed for centuries of art history, although daughters weren't recognized back then. As a result of groups such as the feminist Guerilla Girls, the daughters eventually received credit for their own masterful work. Not the case with Richard A. Botto and Lisa Botto Lee, who fit the description by an unknown author: "Not only a father is an example for a daughter, but a daughter is a great inspiration for a father." Richard and Lisa are both classically trained and are representational artists who embrace narrative realism. What a great and eternal bond!
About the Artists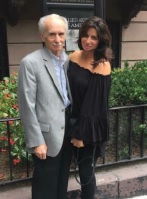 My father and I have never exhibited together," says Lisa Botto Lee, a New Jersey native now of Weston, FL. "We're so excited to see our work side by side." She and her father, Richard A. Botto, of Ridgefield Park, have many accolades. Both do portraits, nature, wildlife, and figurative work. Richard specializes in equine paintings. Says Richard, "It's been a privilege to paint some of the greatest harness champions," among them are Moni Maker and Marion Marauder, a Triple Crown winner. A graduate of Pratt Institute, Richard studied at the Art Students League, his work has been exhibited in the National Academy of Design, NY, The Trenton Museum, Bergen Museum of Arts & Sciences, NJ, the Butler Institute of American Art, OH, The Harness Racing Museum & Hall of Fame and other prestigious venues.
Lisa, a fifth-generation of muralists of Northern Italy, won awards in regional, national, and worldwide competitions and has exhibited in the Versace Mansion, Miami, Salmagundi Club, NY, The National Arts Club and The Art Center Renewal (ARC) and other venues. And speaking of family, Lisa's mother, Marguerite, is a watercolorist and former art teacher. She and Richard traveled throughout the US, Canada, and Europe to photograph horses. The Botto family continues a mighty line of masters.
—Tova Navarra