by Sarah Rossbach
Hot Time in the Old Town 
Horns honked and car traffic surged on all four sides of Tiananmen Square. Thirty years had passed since I last set foot on these ancient stones. Back in 1981, there were 35,000 cars in Beijing. Now there are five million. Where were the waves of bicycles, the main form of transportation of Mao and Deng Hsiao-ping's eras?
It was mid-week, mid-morning in the third-largest city square in the world—in the capital city of the most populous country on the planet. My return trip was just a few hours old and already a lifetime of change was noticeable.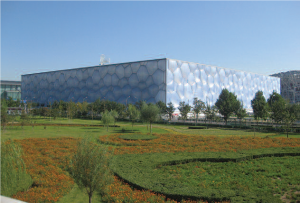 Scores of Asian tourists mingled, snapped photos and followed their leader's flag or umbrella. Each group was differentiated by color-coded beanies of red, pink, orange, blue and even Burberry-like plaid. There were no green beanies in sight—to wear a green hat symbolizes a cuckolded husband. I imagined the bird's-eye view of the square might look like a giant's game of Chinese checkers.
The general appearance of the tourists spoke volumes about the changes Beijing has undergone. Head-wear uniformity notwithstanding, their attire seemed very much global, ranging from chic and muted to loud t-shirts and jeans. Where were those once-ubiquitous blue Mao jackets? These days it would probably be easier to find one on eBay. And while some of the tours were Korean or Japanese, most hailed from the Chinese provinces. The people had come to Beijing to learn and appreciate their country's venerable history—a rare and nearly impossible pursuit for the average Chinese citizen three decades ago.
How, I wondered, are all these hard-working citizens finding leisure time to sight-see when there's a GNP to grow? My knowledgeable guide, Steven Zeng, pointed out that these folks were likely headed to the Bird's Nest or the Ice Cube (below), the enormous structures built for the 2008 Olympics. In Beijing,
he said, Westerners come to see the old, while the Chinese actually visit the city to see the new. If you believe the tourism numbers, more Chinese now visit the Olympic compound than visit the Great Wall and Forbidden City. Combined. The Olympic compound is a popular tourist destination, particularly if you have your children in tow.
For instance, the Ice Cube, where Michael Phelps scored eight gold medals, is now a water park with a wave machine. The eye-catching Bird's Nest has been used for everything from soccer tournaments to opera productions, and doubles as a snow theme park in the winter. I was told you even can do your laps around the track on a Segway. Directly to the south of Tiananmen Square sits Mao's Mausoleum, a vast granite-columned building with a yellow-tiled roof. There you can pay your respects to the embalmed leader, who lies in state in a crystal coffin. To the north beckons the Gate of Heavenly Peace, which leads to the Forbidden City, for centuries the Emperor's domain.
Last year marked a full 100 years since the fall of the Ching Dynasty. It was a tumultuous century that saw the end of the millennia-old Imperial Dynasty system, the quasi-democracy of Sun Yat-sen, the Japanese invasion, the rise of Communism and Mao and, now, a Capitalist–Socialist hybrid featuring upward mobility and upscale stores, neither of which would have even been thinkable a couple of generations ago. The mere juxtaposition of these buildings reveals a country in transition. China is trying to embrace the old, the new and, as I found, in some cases even the retro. I was focused on revisiting former haunts—to see what had changed and what hadn't. My itinerary, it turns out, will work just as well for a Beijing first-timer as it does for an old hand like yours truly. Whether you are mapping out your own sightseeing or evaluating tours, make absolutely sure your final picks include these excursions:
Take a morning to stroll around the Forbidden City—the Throne Hall, the Hall of Jewelry, the courtyard decorated with nine tiled dragons (right), the Imperial emblem. Don't be afraid to go off-piste and head west through a gate to enjoy a quiet, tree-lined walk to the Painting Museum, a 17th Century pavilion built by a self-anointed Emperor who ruled only 45 days. Most of the tourists milling around the Forbidden City are Chinese. Very few Westerners are visible.
Grab a taxi and stop by the Temple of Heaven to the south, where the Emperor journeyed each year to pray for good crops, good weather and a good year to maintain his divine right to rule: the Mandate of Heaven. By the way, taxis are amazingly inexpensive. Just make sure you have your destination written in Chinese characters.
Set aside a day and travel an hour or so outside of Beijing to the Great Wall, and then to the feng shui-approved Ming Tombs, where 13 Ming Dynasty Emperors are buried. Walk along the four-mile spirit-way (right).
For an in-city getaway, visit the Summer Palace. Take a boat ride across the lake. Check out the Marble Boat built by the Dowager Empress Tzu Hsi with money earmarked to develop the Chinese navy. Stroll along covered, painted walkways.
Climb the Bell Tower for a nice view of Beijing. Enter the touristy-but-charming shop on the ground level to sample and buy teas that they claim cure or prevent myriad illnesses, ranging from diabetes (Pu'Er), poor blood circulation (Litchi Black Tea) and even cancer (Dragon Well Green Tea).
Visit the Yonghegong, a 17th century Tibetan Buddhist Lamasary. It originally housed court eunuchs, but after a few decades was converted into a Lama Temple. Buddhist monks still worship and tend the temple grounds.
Explore the Hutongs. These old neighborhoods are made up of the traditional Beijing house structure: four buildings constructed around a central courtyard. Sadly, I found that many had been demolished to make way for the Olympics. Pedi-cab drivers can cycle you around these scenic and now-endangered neighborhoods.
Shop Liu Li Chang, the "antiques" district of Beijing. The shopkeepers here are very nice and encouraging, almost to the point of being obsequious. I was told several times what a great eye I had, how I had unearthed their best treasures. The quality of the items isn't what I remembered 30 years ago, however.
Now a few words about food. If your idea of Chinese cuisine is what the waitress brings to the table at P.F. Chang's, you may need to adjust your expectations. When I first visited China in the early 1980s, most of the day-to-day (nonbanquet) meals were pretty greasy and sometimes mysterious in content and origin. I remember one fellow traveler, a cautious Italian, lived off a large wedge of Parmesan that he brought into the country. He would shave it onto the Chinese risotto served at each meal.
By comparison, today B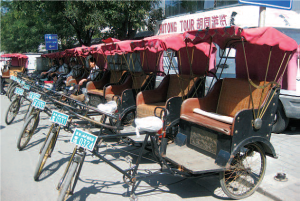 eijing's restaurant scene is cosmopolitan. Indeed, when I asked my second-day guide, Clark Du, where I could sample a "typical" Beijing meal, he shrugged. He and his friends typically ate Italian or Japanese. I had good luck food-wise on my return to Beijing. In the spirit of full disclosure, I should mention that I stayed at the new Ritz-Carlton in the Financial District. The room was clean and sleekly comfortable and the food was very good. However, Chinese food still can range from good to bad to ugly. That being said, each meal—from the budget Jya-jiang noodles in a Hutong restaurant, to the steaming bamboo baskets of pork and crab dumplings in a fluorescent-lit shopping mall, to the bean curd and seafood served in a former Imperial garden by waitresses in Manchu robes—has its rewards. You do need to be choosy when dining out, as some aspects of Chinese food—and restaurant hygiene—are not for the meek. As a rule, I suggest staying away from spare parts.
Steer clear of chicken or duck feet, tripe, and intestines, not to mention sea cucumbers and sea slugs. When I was there, th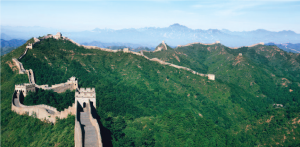 ere was hoopla about a funny story on Chinese food, sanitation and hygiene written by David Sedaris. To be sure, the non-hotel toilets can be daunting and require strong glutes and thighs. Use your imagination. Also, it's a smart idea to carry you own tissue in case there's a run on toilet paper. On the bright side, I think that, thanks to the Olympics, the Chinese have cleaned up their act with respect to uncovered hacking, phlegm-spitting and allowing babies to defecate in the streets. At least I didn't notice it this trip. To many the hygiene is a deal-stopper, but to me, I say Vive la Difference. It's all part of the great adventure that is China.