by Andrea Clurfeld
In the realm of wines & spirits,  Old School has a definition all its own.
By Andrea Clurfeld
The bottle stood before me, 3000ml emptied, the memories of a classic night with classy friends still percolating at full tilt. The evening technically had started a couple months before, with the acquisition of that XXL-size bottle of the 2010 Pepiere Muscadet Clisson. Once procured, I began thinking about what I would do with a bottle holding 20 glasses of one of the world's finest-ever Muscadets. To be honest, the thoughts came quickly. Oysters, lots and lots of oysters. People on board who would appreciate the partnership of oysters and the wine born to drink with them. Simple. And it was—because something that resolutely traditional can be trusted without the need of flourish or frill.
It's old school, and you don't muck with old school.
COMFORTABLE & COMPELLING
Old school is indeed where reliable meets riveting. It's the intersection of something at once comfortable and compelling. It's always that way, that very same way. When I think about "old school" wines, I don't think of the big guns of, say, California cabernet and Rioja in Spain, or first-growth Bordeaux, but of the umpteenth generation of a family grape farm in a back-roads part of France or Italy. I don't think of state-of-the-art wine-tasting rooms, but of a woman in the dusky cellar of a small vineyard in the southern Rhone Valley shrugging when asked the stupidest tourist question of all time ("What's your favorite wine?") and responding politely ("That depends on what I'm eating.")
I think of a Riesling from Ostertag in Alsace, France, when I'm craving Asian. A Prosecco from Italy's peerless Bisson when a little something needs celebrating. A murky Malbec from Cahors in the way south of France when I'm headed for a supper of a meaty stew. They're my classics, my go-to's, my versions of old-school wines.
The Clisson falls into that category. I could frolic through descriptions of this particular wine from Pepiere, made by the masterful and grape-respectful Marc Ollivier in the southern part of the Muscadet appellation of the Loire Valley in France. (OK, I can't resist: It's ripe, and considerably richer, than its Loire peers in citrus fruit, fruit that darn near takes on a honeyed quality. Yet it manages to be crisp and sharp and mineral-strong, a study in balance.) But, truly, like my favorite Ostertags—like my other personally anointed classics—it's most significantly about heritage, a purist master, M. Ollivier,  plucking grapes for his Clissons from vines ranging from 60 years old to 90 years old and following only traditional farming and vinification methods start to finish. Nothing in the lineage quits, not grape, not method, not winemaker.
COCKTAIL HOUR
If you're a cocktail maven, you may feel the same way I do about your drink of choice. You're not particularly impressed with the try-anything-every-way current cocktail-crafting school of thought. There's something rather unassailable about a perfectly made Manhattan that needs only the best ingredients and a barkeep who understands proportion, balance.
That's not to dismiss the rage for cocktails concocted of the most meticulously made spirits, cooled as appropriate only by solid-block ice, and garnished with accents both organic and obscure. They're admirable and often delicious. They're just not old school. That old school is embodied by something the Father of American Gastronomy himself, James Beard, who advised in his seminal James Beard's Menus for Entertaining (recounted in the more recent A History of Food in 100 Recipes by William Sitwell) that a "large cocktail crush for 40" start about 6 or 7 o'clock, proceed to 8:30 or 9, and include both "enough food so people do not need to go to dinner," a "full bar," "some champagne" and "white wine with cassis."
"A small elegant cocktail party for 10," to be given in honor of a "friend who loves the elegant things in life or a visiting mogul," would sport nothing less than chilled champagne and vodka meant to accompany "caviar, smoked salmon, foie gras." The epitome of old school, heh?
Or perhaps something in between? Say for 20 or 30? Go with hearty fare, advises Beard the party bard, served astride a variety of drinks, plus "beer, champagne and chilled dry sherry."
SHERRY?
Yes, sherry. Now that's an old school fundamental hardly reserved for female detectives of advanced age (and experience) conjured by Agatha Christie. Sherry isn't just for sweetening a pot of stewing mushrooms or spiking soup, but most apropos as a segue from day to evening and/or from dinner to a little night reading. I've long admired the line from Lustau and the way Spaniards serve an impressive range of dry sherries with an equally impressive range of jamon, the cured porks of Spain.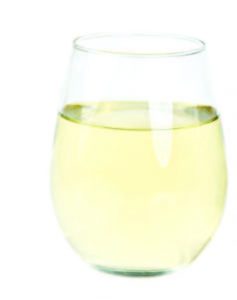 Feeling inspired to go old school? You don't have to invest in a mint's worth of single-malt Scotches. (Though checking out some small-batch Bourbons with proper pedigrees will add to your education.) You can ponder life's most serious questions over a spot of Port (the value-priced Fonseca Bin 27 will do, and nicely) or toast the night to come with a Bordeaux wine glass filled with Lillet on the rocks, served with a twist of orange peel or a squirt of fresh lime juice. The aperitif from western France charms with its mysterious mix of wine, fruit and herbs—and it is mysterious, since the folks at Lillet long have refused to divulge the recipe. You can plow through Sitwell's 1,000-page tome fortified by one of those acquired-taste spirits, Campari, Pernod or Aperol. You can even make a martini, as long as you follow the rules of cocktail crafting set down in the Jazz Age.
Or you can do as I did, and track down a super-size bottle of a wine for the ages—a classic such as the Clisson that allows you to pour freely for your very best friends. Because, after all, Old School imbibing means effort happens behind the scenes so the entertaining is easy.
Editor's Note: Andy Clurfeld is a former editor of Zagat New Jersey. The longtime food critic for the Asbury Park Press also has been published in Gourmet, Saveur and Town & Country, and on epicurious.com. Her post-Sandy stories for NBCNewYork.com rank among the finest media reporting on the superstorm's aftermath and recovery.