by Christine Gibbs
As one patient learned the hard way, time does not heal all wounds.
Henry Schroeding, a 66-year old Delaware resident, was one of the more than five million Americans who deal with chronic, non-healing wounds. He tried self-treating a leg injury he incurred in the summer of 2009, employing over-the counter remedies for about 6 months. But the infection only became worse. Schroeding then opted for professional help at two reputable wound care centers in Delaware, where he underwent various treatments, including a vascular closing and a skin graft—unfortunately without much permanent improvement. In fact, a trip to the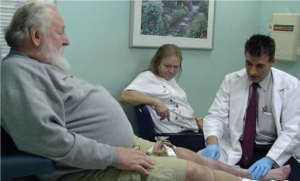 beach the following summer resulted in the wound festering still further into a situation so serious that it could easily have become limb-threatening. Out of sheer frustration and in near panic, Schroeding resorted to doing his own research on the Internet and identified two out-of-state hospitals with highly renowned wound care centers: Johns Hopkins in Baltimore and Trinitas Regional Medical Center in Elizabeth. The Hopkins website cited a 60-70% heal rate, whereas Trinitas claimed more than 90% overall. That made the choice easy.
Within two days of his initial phone call (and much to his pleasant surprise), Schroeding had an appointment at The Center for Wound Healing & Hyperbaric Medicine at Trinitas. His attending physician was Dr. Morteza Khaladj, DPM, FACPPM, Chief of Podiatry and Director of the Podiatric Surgical Residency program at Trinitas since 2006. Dr. Khaladj assured Schroeding that the Wound Center, which opened in 1997, is acknowledged to be one of the finest in the country, having received the Robert Warriner III, MD, "Center of Excellence" award from Diversified Clinical Services (DCS) in recognition of its excellent clinical results and its record for successful healing outcomes and overall patient satisfaction.
Dr. Khaladj attributes the center's high ranking to its ongoing research, its challenging residency program, and its internal product testing and evaluation system. "That's what keeps Trinitas in the vanguard of healing centers," he says. The Trinitas Wound Center specializes in treatment of very serious and chronic wounds, many of which have undergone failed treatments elsewhere. It offers therapeutic treatments using three of the latest wound technologies: • Hyperbaric Oxygen Therapy or HBOT: administered typically to patients presenting with non-healing wounds from conditions such as gangrene, carbon monoxide poisoning or unsuccessful skin grafts. This involves placing the patient in a special chamber that delivers a healing 100% oxygen-rich environment through the bloodstream to the wound. • Apligraf Living Skin Device: utilizes a biological dressing produced under laboratory conditions that was first used in New Jersey at Trinitas, bringing relief to many patients suffering from limb-threatening venous leg ulcers and other types of hard-to-heal wounds. • Vacuum Assisted Closure (VAC): exerts controlled negative pressure, which helps to remove infectious material and promotes the growth of new blood vessels in preparation for successful grafting. Each patient is different, of course, but when pressed for an average healing time statistic at the Trinitas Wound Center, Dr. Khaladj indicated it typically might range from 4-6 weeks up to 2-3 months.
He affirmed that any individual suffering with a wound that shows no improvement within two weeks should be examined by a medical professional. For individuals with serious chronic conditions such as diabetes, any significant wound should be examined at least by a general practitioner as soon as possible. If the wound persists despite medical attention, then a wound treatment center should be consulted to benefit from their expertise and technologically advanced treatment alternatives. In Schroeding's case the VAC therapy was determined to be the best treatment. After initial testing and final diagnostic assessment, he was admitted to Trinitas for a surgical procedure that involved removal of some affected muscle tissue. He continued to undergo weekly VAC treatments for the next 2 months. He also underwent a second skin graft, which this time was a total success.
Throughout his treatment, Schroeding did experience some pain, but at a level that was manageable with daily doses of aspirin and sometimes a more serious pain killer. Finally, after a total of almost 10 months of treatment, his wound was no more. As an overall assessment of his experience at the Trinitas Wound Center, Schroeding says that it was "way over 10 on a scale of 1 to 10"—and that his stay was the best time he ever spent in a hospital. "When I hit the call button, someone actually came right away. Amazing!" In short, although Trinitas was approximately 160 miles away, Schroeding gladly made the weekly 300-mile roundtrip that totaled more than 14,000 miles over his more than nine months of treatment. Dr. Khaladj adds, "Through all of our ongoing research and successful patient treatments, we know what works and what doesn't work." That would account for the center's heal rate of 98%…and Henry Schroeding's response to the question How are you doing? "Terrific!"
EDGE Editor's Note: Henry Schroeding was interviewed while undergoing his treatment. Both he and Dr. Khaladj can be seen on YouTube at http://www.youtube.com/ watch?v=LfjrlDVbTwQ. For more information on the Trinitas Center for Wound Healing and Hyperbaric Medicine, call 908-994-5480 or www.WoundHealingCenter.org.