by Natalie Rizzo
A plant-based training table is the key to optimizing performance.
I remember the exact moment I understood the phrase "hitting the wall." I signed up to run a half-marathon right before my thirtieth birthday, even though I had never run more than three consecutive miles. I figured it shouldn't be too bad—I was healthy and, just like many new (and sometimes experienced) athletes, I thought good overall nutrition would carry me through the 13.1 miles. When I did the run, I felt terrible and I couldn't understand why. I didn't know I needed the extra carbs and sugar that are necessary for long-distance running, and I thought I'd consumed enough water throughout the day to stay properly hydrated. I couldn't have been more wrong.
Sports nutrition, I would come to understand, is different than general nutrition.
General nutrition is about eating the right nutrients for overall health. Sports nutrition? It has much more nuance, including nutrient timing, meal composition and hydration. Throw plant-based eating into the mix, and you've got a recipe (pun intended) for confusion. As a registered dietician, I admit I may be biased, but I believe that plant-based nutrition can play as important a role in performance as training. In fact, choosing the right foods at the right time can profoundly enhance your performance.
Something else I have learned is that those foods don't have to be boring, complicated, or tasteless. Protein is the number-one concern among many plant-based athletes. If you are a tournament tennis player, an ocean swimmer, a long-distance cyclist, a serious runner like me, or just a workout monster, you may be wondering if you're getting enough protein on a plant-based diet. Or perhaps you struggle to understand how much you need daily. Let me assure you that eating enough protein on a plant-based diet is feasible and easy.
There are a couple of calculations you need to grasp when it comes to protein, namely the relationship between portion size and protein source. Generally speaking, you may need to increase your portion sizes when cutting meat from your diet because plant-based foods tend to be lower in calories and protein than animal foods. For example, three ounces of tofu have about 10 grams of protein and 90 calories, whereas three ounces of chicken have about 20 grams of protein and 200 calories. Consequently, you need to eat double the amount of tofu to get the same nutrients as chicken. However, tofu isn't the only source of protein on a plant-based diet. Beans and legumes, other soy products, nuts and seeds, and whole grains are also excellent sources.
Protein is one of three primary macronutrients that the body needs in significant amounts in order to provide calories and energy for basic daily functioning. The other two are carbohydrates and fat. Although foods are often categorized as "carbs" or "fats" or "proteins," it is important to recognize that most foods contain a combination of at least two, if not all three. It's also important to understand more about each macronutrient in order to maximize its benefits to your workout and training goals.
Another concern of athletes who fuel their performance through a plant-based diet is whether they are getting the proper amounts of micronutrients—the vitamins and minerals that come from food. There is a long list of essential vitamins and minerals, and some are less prevalent in plant-based foods. I like to refer to these as "micronutrients to watch." The most critical are iron, calcium and vitamin B12. It requires a bit more effort to make sure you don't end up with a deficiency in these areas, but it's not difficult once you get into a habit of it.
The question I receive most often is, What should I eat before my workout? Which brings me to meal timing. If macronutrients are the "who" of fueling, meal timing is the "when, what, and why." Having a solid understanding of what to eat before, during and after a workout can help you build a quick and simple meal when you don't have time to cook. Trust me, a small tweak to your fueling routine can make a big difference. In putting together the book Planted Performance, I probably spent as much time addressing meal timing and meal plans for different types of training regimens— and how to incorporate recipes into your training day—as I did on the recipes themselves.
If you've read this far, chances are you're either already on a plant-based diet or you're looking to incorporate more plants into your diet and need a boost. Either way, you may suffer from the common misperception that it is difficult to put a delicious, hearty dinner on the table that fills you up without weighing you down—particularly if there are others at that table who haven't fully embraced a plant-based diet. The fact is that you can absolutely make a well-balanced, delicious, plant-based dinner with a mixture of the three key macronutrients (carbohydrates, protein and fat), as well as vitamins, minerals and antioxidants.
The filling meatless mains in the pages that follow will not only satisfy your taste buds, but also help you refuel and recover for tomorrow's training.
Wild Rice and Mushroom Umami Burgers with Roasted Red Pepper Aioli
These burgers combine savory ingredients with a vibrant vegetable sauce. If you prefer to use an egg in place of the flax meal mixture, go right ahead!
For the patties:
2 tablespoons flax meal
6 tablespoons warm water
1 tablespoon vegetable oil
1⁄2 cup diced white onion
2 cloves garlic, minced
1 cup diced white mushrooms
1⁄4 cup raw unsalted walnuts, finely chopped
2 tablespoons low-sodium soy sauce
1⁄2 teaspoon ground cumin
11⁄2 cups cooked wild rice
1⁄2 cup panko bread crumbs
For the roasted red pepper aioli:
1⁄2 cup mayonnaise or vegan mayonnaise
1⁄4 cup roasted red bell peppers
1 clove garlic
1⁄8 teaspoon salt
4 hamburger buns, for serving
Lettuce, for serving
Sliced tomato, for serving
Line a baking sheet with parchment paper.
To make the patties, in a small bowl, make a flax egg by combining the flax meal and water. Let sit for at least 5 minutes, until the mixture thickens slightly.
Warm 1 tablespoon of vegetable oil in a large skillet over medium heat. Add the onion and garlic and cook for 2 to 3 minutes, until the onion is translucent. Add the mushrooms, walnuts, soy sauce, and cumin and cook for 3 to 4 minutes, until the soy sauce reduces. Remove from the heat.
In a large bowl, combine the flax egg with the vegetable mixture. Add the wild rice and bread crumbs. Mix until well combined.
Form four equal patties from the mixture and place them on the prepared baking sheet. Refrigerate for at least 1 hour to set.
While the burgers are setting, make the aioli. In a food processor, combine the mayonnaise, roasted red bell peppers, garlic, and salt and process until smooth.
Heat 1 tablespoon of vegetable oil in the same large skillet over medium-high heat. Place the burgers on the pan and cook for 4 minutes on each side, until they are golden brown.
To assemble, place the patties on buns, then top with aioli, lettuce, and tomatoes. Serve right away or store in a sealed container in the fridge for up to 5 days or in the freezer for up to 1 month.
Makes 4 servings Prep Time: 10 minutes, plus 1 hour to chill Cook Time: 15 minutes
Sweet Potato and Black Beans Enchiladas
Enchiladas may seem like a complicated dish but making them at home is easier than you think. Feel free to use vegan cheese or leave off the cheese entirely.
1 sweet potato, cut into large chunks
1 cup chopped cauliflower (about 1⁄2 small head)
1⁄3 cup diced red onion, plus more for serving
1 tablespoon diced jalapeño, plus slices for serving
2 cloves garlic, minced
2 tablespoons vegetable oil
1 teaspoon chili powder
1⁄4 teaspoon ground cumin
1⁄4 teaspoon salt
1 can (15.5 oz) black beans, drained and rinsed
2 tablespoons fresh lime juice
6 (8- to 10-inch) soft flour tortillas
1⁄2 cup salsa verde
1⁄2 cup shredded Cheddar cheese, Mexican cheese blend, or vegan cheddar
Diced red onion, for serving
Sliced jalapeño, for serving
Chopped fresh cilantro, for serving
Preheat the oven to 375°F. Line a baking sheet with parchment paper.
Bring a large pot of water to a boil over high heat. Add the sweet potato and cook for 20 minutes, until fork tender. Drain the water and set the sweet potato aside. Remove the skins from the sweet potatoes and place the flesh in a large bowl. Mash the flesh with a fork.
Meanwhile, in a large bowl, combine the cauliflower, onion, jalapeño, garlic, vegetable oil, chili powder, cumin, and salt. Stir until well combined. Spread the cauliflower mixture on the prepared baking sheet and bake for 20 minutes, until golden around the edges.
Transfer the roasted cauliflower back to the large bowl. Add the black beans and lime juice and stir well.
Lay each tortilla flat and fill the middle of each tortilla with the vegetable mixture before rolling them up.
Place half of the salsa to the bottom of a 9×13-inch casserole dish. Place each filled tortilla in the casserole dish with the rolled part facing down. Add the remaining half of salsa and the cheese on top. Bake for 20 minutes, until the cheese is fully melted.
Remove the enchiladas from the oven and garnish with red onion, jalapeños, and cilantro. Serve immediately or store in a sealed container in the fridge for up to 5 days.
Makes 4 servings Prep Time: 10 minutes / Cook Time: 1 hour
Greens and Beans Soup
White beans are a standout ingredient in this soup due to their nutrition profile. Not only are they a good source of plant-based protein and fiber, they are also an excellent source of iron and folate, two nutrients necessary for blood and brain health.
2 tablespoons extra-virgin olive oil
2 stalks celery, chopped (1/2 cup)
2 carrots, chopped (3⁄4 cup)
¼ white onion, diced (¼ cup)
4 cloves garlic, minced
1 cup chopped artichoke hearts
1 teaspoon dried rosemary 3⁄4 teaspoon salt
¼ teaspoon dried thyme
2 (15.5 oz / 439 g) cans cannellini beans, drained and rinsed
4 cups low-sodium vegetable broth
1 cup water0
2 tablespoons fresh lemon juice
2 cups packed packed chopped stemmed kale
Salt and freshly ground black pepper
Warm the olive oil in a large stockpot over medium heat. Add the celery, carrots, onion, garlic, and artichoke hearts and cook for 3 to 4 minutes, until translucent. Add the rosemary, salt and thyme, and stir. Cook for 5 minutes.
Add the beans, broth, water, and lemon juice and bring to a boil. Reduce the heat to low, cover, and simmer for 20 minutes, until the vegetables are soft.
Using an immersion blender, blend the soup until it has reached a very chunky consistency; you should still be able to see full beans and vegetables. If you don't have an immersion blender, transfer half of the soup to a blender and blend, then put it back in the stockpot with the remaining soup.
Add the kale to the pot, increase the heat to high, and bring to a boil. Reduce the heat to low, cover, and simmer for another 10 minutes, until the kale is wilted. Season to taste with salt and black pepper.

Serve immediately or store in a sealed container in the fridge for up to 7 days or in the freezer for up to 3 months. Heat before serving.
Makes 4 servings Prep Time: 10 minutes / Cook Time: 45 minutes
The benefits of plant-based diets, including vegetarian and vegan diets, have been well studied for their role in disease prevention and overall health. They are rich in whole foods such as fruits, vegetables, beans, legumes, nuts, soy, seeds and whole grains, and contain plenty of beneficial nutrients—including vitamins, minerals, fiber and antioxidants.
The American Institute for Cancer Research recommends that Americans consume two-thirds of their dietary intake from vegetables, fruits, whole grains and beans. In the 2015–2020 Dietary Guidelines for Americans, vegetarian diets are recommended as one of three healthy dietary patterns.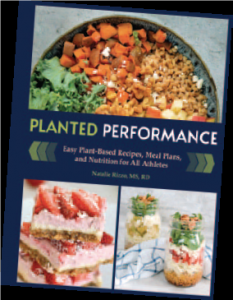 Vegetarian diets also improve several heart-disease risk factors, including abdominal obesity, blood pressure, blood lipids and blood glucose. What's more, for those who suffer from risk factors for heart disease, such as high cholesterol, a vegetarian diet may reduce cholesterol levels, decrease markers of inflammation, protect against plaque formation in the arteries and improve heart health without the use of cholesterol-lowering drugs. Consequently, vegetarians have a reduced risk of developing (and dying from) heart disease. Researchers attribute these benefits to the abundance of fiber and the scarcity of saturated fat in vegetarian and vegan diets. Additionally, compared with meat-eaters, vegetarians and vegans have a lower risk of developing type 2 diabetes and cancer, especially gastrointestinal cancer. EDGE
Editor's Note: Natalie Rizzo, MS, RD, has been a vegetarian for more than a decade and a competitive runner for almost as long. Her new book Planted Performance: Easy Plant-Based Recipes, Meal Plans, and Nutrition for All Athletes (NewSeed Press, 2023) simplifies complex sports nutrition information and contains chapters on meal plans, pre-workout breakfasts and lunches, hearty dinners, side dishes and desserts. Portions of this story and all three recipes appear in her book. Natalie is the owner of Greenletes.com, a plant-based sports nutrition blog and podcast. She has written for numerous sports and fitness publications and frequently appears in television segments on health and wellness.