by Mark Stewart
Home is where the heart is. And your main artery is Route 22.

Reunions can be tricky business. In this era of e-blasts, e-vites and e-stalking, we tend to overlook the raw courage it often takes to actually show up and confront your past face-to-face. P.F. Kluge's new novel, A Call from Jersey, is all about reunions. Not just the familiar "Class of…" gatherings that roll around every half-decade or so. The author casts his net wide to examine reunions of all shapes and sizes, ultimately tugging at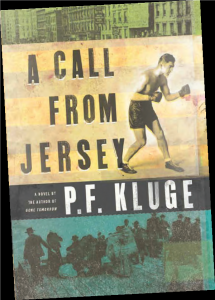 the very nature of estrangement and reconciliation. The Union County hamlet of Berkeley Heights serves as the epicenter for much of A Call from Jersey. Kluge is an unapologetic Jersey Boy with an intimate understanding of the suburban landscape. The story, much of it set in the 1980s, stretches across generations and cultures—and occasionally through the Holland Tunnel—to connect a father and son so preoccupied with how their lives have turned out that they can barely manage an adult conversation when they're together. Gentle ironies define this relationship. Hans, a seventy-something German- American, is feeling lost in America. His son, George, is a travel writer capable of describing the exotic and mundane with equal aplomb, yet can't quite put his finger on exactly where, or even what, "home" is. Kluge, it's worth noting, is the man who supplied the literary inspiration for a pair of iconic films, Dog Day Afternoon and Eddie and the Cruisers. The former, about a Brooklyn bank robbery gone agonizingly awry, starred Al Pacino, fresh off Serpico and his two Godfather triumphs. The latter, about a fictional 1960s Jersey rock band, probably qualifies as a cult classic; certainly that's true here in the Garden State. From a storytelling standpoint, the most appealing aspect of Eddie—the book and the film—is how effortlessly the narrative moves between past and present. Kluge utilizes time-shifting to great effect again in A Call from Jersey, transporting readers back to the 1930s in order to cobble together a kind of baseline for his characters. There we meet a young Hans, fresh off the boat from Germany, determined to shed his "greenhorn" label and start an American family. As the gap narrows between Hans and George, both timewise and relationship-wise, the author fills in the pertinent details to set up the surprise finish. The most distinctive aspect of A Call from Jersey is how comfortable Kluge is in his two different skins. The book is narrated in the first person, but alternates between Hans and George. The pressure of getting it right for two characters, says Kluge, is outweighed by the advantages of writing in multiple voices. "When you are writing, you are faced with that choice between first and third person," he explains. "The first person is attractive to young writers because you can put a lot of yourself into the persona of the narrator. That's fine, except there are certain places you can't go. You can't 'play the field'—you're a little bit stuck with that one person. The third person offers a larger palette, but you are at a distance from the characters." "I like the idea of alternating first person narrators, though it's not without problems. The voices have to be persuasive and can't be too much alike. That challenged me, but I like it when it works. It combines the advantages of first and third person." As Kluge's two main characters stumble toward a long-neglected father-son reunion, they also pursue reunions of their own. George, feeling lost in his late 30s, is staring down the barrel of his 20th with that familiar mix of expectation and anxiety. Kluge, it is worth noting, is headed toward his 50th reunion this fall. In his case, it's a not-insignificant trip from Gambier, Ohio, where he is Writer in Residence at Kenyon College. "The reason I faithfully attend my high school reunions is to see how lives are turning out," he explains. "It's what writers do. At a certain point, elements of competition, appearance and accomplishment dominate reunions. But over time it mellows out. You just want to stare at people and remember and connect. Reunions are about wanting to belong to that same bunch you had in the beginning. Or what's left of it."
Editor's Note: A Call from Jersey was published by The Overlook Press in September 2010. The author's previous novel, Gone Tomorrow, was named one of the best books of 2008 by NPR.