by Ghilianie Soto
Trinitas launches a new telehealth initiative. 
By Ghilianie Soto 
In the healthcare business, it's all about follow-up. Heading into 2017, Trinitas established Project ECHO to build on the successes of Crisis Assessment Response and Enhanced Services (CARES) and Statewide Clinical Outreach Program for the Elderly (S-COPE)—two of its most innovative outreach initiatives. CARES, a statewide funded program by the NJ Division of Mental Health and Addiction Services, is a crisis response team for community dwelling adults with intellectual and developmental disabilities and co-occurring mental health and behavioral disorders. S-COPE provides a similar service to older adults in long-term care. The monitoring, coaching and regional training offered by the CARES and S-COPE teams were strictly on-site.
Project ECHO extends these vital offerings via the Internet.
Project ECHO—which stands for  Extension for Community Healthcare Outcomes—uses virtual conferencing via a platform called Zoom to hold sessions with guests and partners, including group homes, day programs, hospitals, nursing homes, and clinicians who manage cases for CARES and S-SCOPE. Partners can participate via smartphone, laptop, desktop or tablet. Family members of an individual diagnosed with behavioral health issues can also submit cases for review by Project ECHO experts
"Our motto is 'Move the right knowledge to the right place and to the right people,'" says Lucille Esralew, Ph.D., Clinical Administrator of CARES and S-COPE, who oversees Project ECHO. "Instead of transporting individuals with complex needs long distances to specialists, we can now provide specialty consultation at the primary point of care. Partners can essentially conference in from the comfort of their own homes if they so choose." 
The aim of Project ECHO is to equip providers, families, and clinicians with best-practice approaches to serve individuals with complex problems. Where extreme solutions are often offered by an agency or provider that could potentially be more detrimental to the overall mental health of a client, Project ECHO provides a space to fully review the case and offer alternative solutions with the client's best interest. Project ECHO also serves as a tool to train community providers, facility providers as well as students in social work, nursing, psychiatry, professional counseling and psychology. 
Each Project ECHO session includes two case presentations and a brief exercise or didactic on a related topic. All client information is kept confidential. The sessions last approximately 1.5 hours and consist of an inter-professional team known as "The Hub." The Hub of the Project ECHO team includes psychologists, advanced practice nurses (APNs), social workers, behaviorists and professional counselors. The client never appears during the session, nor are the sessions intended to be a method for delivering treatment. The intent is to increase the number of professionals involved in providing care and services to a particular client
Project ECHO was originally developed in 2003 by Sanjeev Arora, MD, and his team at the University of New Mexico. The program was initially designed to train and mentor local providers in rural New Mexico in the care of HIV patients due to the scarcity of specialists and the difficulty in accessing specialty care. Dr. Esralew—along with several Trinitas staff members including Leone Murphy, APN (S-COPE), Bonny Uchenna Life (CARES), Phil Caruso LPC (CARES), and Mobin Chadha (LCSW)—attended a five-day training session in Albuquerque in late 2015.  
Project ECHO sessions are held twice a month for S-COPE and CARES, and are broadcast out of Trinitas' New Point Campus in Elizabeth. Another specialty project involving developmental disabilities and dementia was recently added. This program is funded by an HRSA Geriatric Workforce Enhancement Project, through which Trinitas partners with Rowan University School of Osteopathic Medicine.
Although Project ECHO's telehealth format is used worldwide, current applications and resources for behavioral health with vulnerable adults remain limited in New Jersey. While some parts of the state are heavily populated—with competent psychiatrists and behavioral health experts—other areas are in real need of critical guidance. 
"There will never be enough specialists, but we can train and incentivize those who do exist," explains Dr. Esralew. "There has to be a mechanism that matches the needs of each client with a provider in order to make changes to the system of care for these individuals."
With over 1,000 cases seen by CARES in the state of New Jersey in 2016, Project ECHO is poised to make a profound difference in a lot of lives in 2017.  
For more information on Project ECHO contact: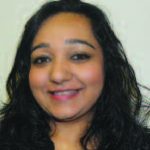 Mobin Chadha, LCSW
Clinical Coordinator, S-COPE mchadha@trinitas.org
For more information on CARES  call 1-888-393-3007. For information on  S-COPE call 1-855-718-2699.