The Trinitas Emergency Department will double its size by the end of 2017.
By Caleb MacLean
Trinitas Regional Medical Center celebrated its 15th anniversary last month by unveiling plans to renovate and expand its Emergency Medicine Department. During the decade and a half since the merger of Elizabeth General and St. Elizabeth Hospital (which created TRMC), ER visits have been steadily increasing. The $18 million makeover will add 24,000 square feet of space and take place in three stages, to be completed some time in 2017.
"In 2013, we saw nearly 72,000 emergency department visits," says Trinitas President and Chief Executive Officer Gary S. Horan. "With the expansion, we'll be better able to continue to offer the highest level of patient care possible."
The expanded Emergency Department, adds Horan, will offer patient care more rapidly and efficiently through new equipment that is positioned much closer to Emergency Department treatment areas.
"The expansion will include a new ultrasound room and a CT Suite for a 128-slice CT Scanner, which will reduce the need to transport patients to other testing areas."
Besides doubling the number of treatment areas from the current 26 to a total of 52, the new facility will also provide an environment to reduce patient anxiety and offer a private area for families needing quiet time. The staff, meanwhile, will be trained to direct potentially disruptive patients to an area where they are less likely to distract doctors and other ER patients. A new lounge will also be created for First Responders from the various EMS squads that transport patients to the hospital.
Why the steady climb in emergency visits? According to Dr. John D'Angelo, Chairman of Emergency Medicine, many in the community do not have easy access to a primary-care physician. "They rely on Trinitas for treatment of the flu and urinary tract infections that might be more commonly treated in routine visits to a primary care physician," he explains. "Also, with a population that is growing older, we see more cardiac and stroke cases due to age-related factors."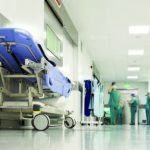 Trinitas has successfully integrated advanced emergency lifesaving treatment methods into the emergency angioplasty treatment process, Dr. D'Angelo points out. "Our team effort uses a '30-30-30' rhythm. 30 minutes for EMS responders to reach the patient, perform an EKG, and get the patient to us.  30 minutes for the Emergency Team to receive, stabilize and transport the patient to the cath lab. Then, 30 minutes for the Catheterization Team to open the occluded artery."
"Simply put," he says, "every minute we save means a better outcome for patients."